Greg Danford, "Rainbow Over Machu Picchu"
Burlington City Arts curates art exhibits in three areas of the airport: the Skyway, the area above the escalator and the walls facing security for Gates 1 through 8. Whether you've arrived early for a flight or are waiting to pick up passengers, do take the time to look around!
Jim Westphalen, "Tillotson Farm, East Corinth"
In June, the Skyway features Jim Westphalen's photographic narratives about the decay of rural America's built landscape. Mareva Millarc's bold abstract paintings, allowing for personal interpretation and blurred realities, are on view in the Gates. And Charlie Bluett's contemporary color-field paintings, evoking "America's vast and varied environments," appear by the escalator. If you're going up, be sure to turn around and look at the wall behind you. But watch your step!
Starting in July, the "Faces of the Family Room" exhibit appears in the Skyway. In it, Steve Mann's portraits celebrate the diverse families who make use of the programs at Burlington's Janet S. Munt Family Room. Greg Danford's landscape photography appears in the Gates, providing a peek into his decades of world travel. ("I have always believed that the best investment you can make in your photography is plane tickets," he writes.) Finally, Mary Hill's abstract paintings and textile designs — which she calls "an adventure into the unknown" — are mounted by the escalator.
Charlie Bluett, "Winter Layers" and "Winter Long Trail"
All of these artists live or have spent time in Vermont. Please enjoy examples of their work at the airport and on their individual websites.
Find more information about Burlington City Arts and its downtown gallery and programs at burlingtoncityarts.com.
---
Mary Hill, "Gather Together"
Burlington City Arts organise des expositions d'œuvres d'art à trois endroits dans l'aéroport : dans le Skyway, au-dessus de l'escalier mécanique et sur les murs qui font face à la sécurité pour les portes 1 à 8. Que vous soyez arrivé à l'avance pour votre vol ou que vous attendiez des passagers, prenez le temps de regarder autour de vous!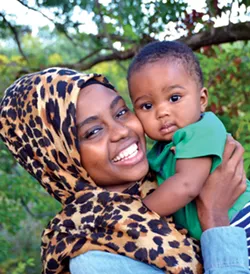 Steve Mann, "Faces of the Family Room #3"
En juin, dans le Skyway, place aux récits photographiques de Jim Westphalen sur le déclin du patrimoine bâti de l'Amérique rurale. Dans le secteur des portes, venez admirer les toiles abstraites et audacieuses de Mareva Millarc, qui estompent les contours de la réalité et laissent libre cours à l'interprétation. Et les peintures contemporaines par champs de couleurs de Charlie Bluett, qui évoquent "les vastes contrées de l'Amérique", sont exposées près de l'escalier mécanique. Si vous montez, ne manquez pas de vous retourner pour regarder le mur derrière vous. Mais faites attention à la marche!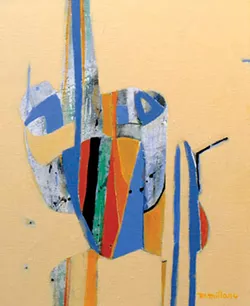 Mareva Millarc, "Remnants"
À partir de juillet, l'exposition "Faces of the Family Room" sera présentée dans le Skyway. Les portraits de Steve Mann rendent hommage aux diverses familles qui font appel aux programmes de l'organisme Janet S. Munt Family Room de Burlington. Les photos de Greg Danford, qui seront exposées dans le secteur des portes, donneront un aperçu de paysages croqués pendant des décennies lors de ses voyages dans le monde entier. ("J'ai toujours pensé que les billets d'avion étaient le meilleur investissement à faire en photographie", écrit-il.) Enfin, les tableaux abstraits et les créations textiles de Mary Hill — qu'elle appelle "une aventure dans l'inconnu" — sont accrochés près de l'escalier mécanique.
Tous ces artistes vivent ou ont passé du temps au Vermont. Vous pourrez voir certaines de leurs œuvres à l'aéroport et d'autres sur leurs sites Web.
Pour en apprendre davantage sur Burlington City Arts, ainsi que sur sa galerie du centre-ville et ses programmes, rendez-vous sur le site burlingtoncityarts.com.