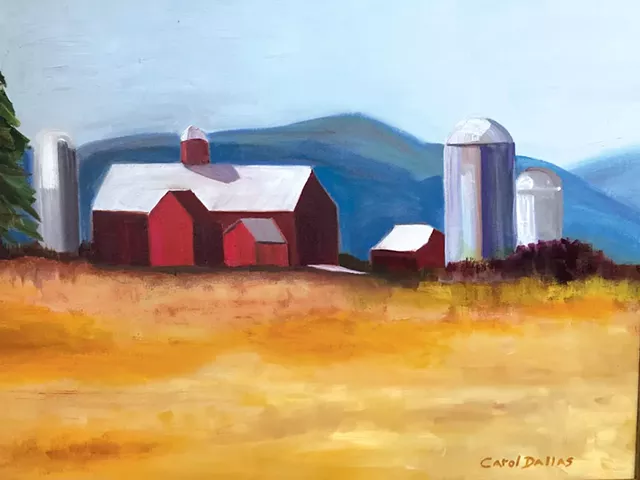 Carol Dallas, "Vermont Barn With Silos"
Burlington City Arts curates art exhibits in three areas of the airport: the Skyway, the area above the escalator and the walls facing security for Gates 1-8. Whether you've arrived early for a flight or are waiting to pick up passengers, do take the time to look around!
In June, painter Judy Hawkins' landscapes of Vermont marshes, fields and skies appear in the Skyway. Nancy Calicchio's en plein air works, playing with light and shadow, hang in the Gates. And Cameron Davis' "Endless Spring" series, capturing a spirit of renewal and awakening, can be seen above the escalator. If you're going up, be sure to turn around and look at the wall behind you. But watch your step!
Through July and August, the Skyway features paintings from the late artist Lee Garrison, whose gestural and expressive canvases capture the flowers, grasses and waters she observed through the course of more than 40 summers spent in Vermont. Carol Brown Dallas' oil and watercolor works, on view in the Gates, are inspired by the New England landscape. Rooster Robinson's abstract color field paintings — described as a "dance of push/pull" with shape, line and color — hang by the elevator.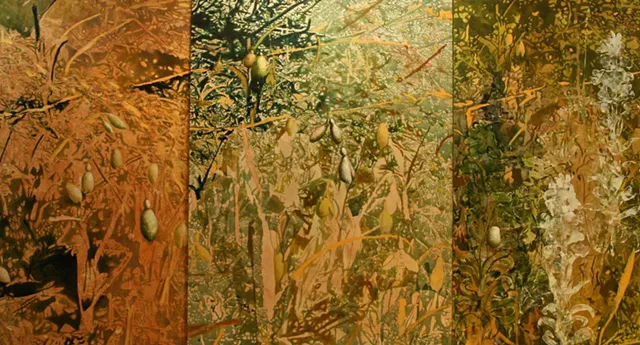 Cameron Davis, "Endless Spring"
All of these artists live or spent time in Vermont. Please enjoy examples of their work at the airport and on their individual websites.
Find more information about Burlington City Arts and its downtown gallery and programs at burlingtoncityarts.com.
---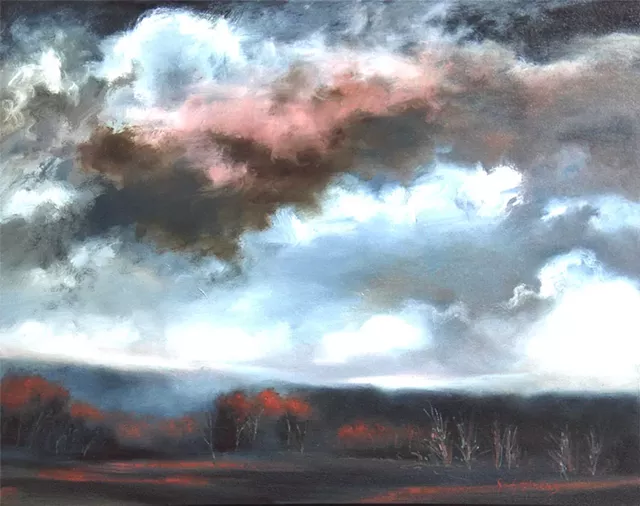 Judy Hawkins, "Follow the Light"
Burlington City Arts organise des expositions d'œuvres d'art à trois endroits dans l'aéroport: dans le Skyway, au-dessus de l'escalier mécanique et sur les murs qui font face à la sécurité pour les portes 1-8. Que vous soyez arrivé à l'avance pour votre vol ou que vous attendiez des passagers, prenez le temps de regarder autour de vous!
Nancy Calicchio, "Hay Bales"
En juin, venez admirer les paysages du Vermont – marais, champs et ciels – de la peintre Judy Hawkins, dans le Skyway. Dans le secteur des portes, les œuvres de Nancy Calicchio réalisées en plein air évoquent des jeux d'ombre et de lumière. Et au-dessus de l'escalier mécanique, ne manquez pas d'admirer la série « Endless Spring » de Cameron Davis, qui capte l'esprit de renouveau et d'éveil propre au printemps. Si vous montez, ne manquez pas de vous retourner pour regarder le mur derrière vous. Mais faites attention à la marche!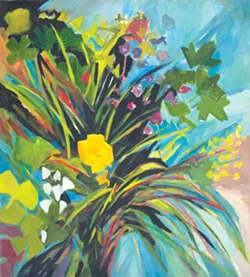 Lee Garrison, "Untitled (Bouquet)"
En juillet et en août seront exposés dans le Skyway les tableaux pleins de mouvement et d'expression de la défunte artiste Lee Garrison, dans lesquels elle a dépeint les fleurs, les pelouses et les plans d'eau qu'elle a observés pendant plus de 40 étés passés au Vermont. Les huiles et les aquarelles de Carol Brown Dallas, qui seront présentées dans le secteur des portes, sont inspirées par les paysages de la Nouvelle-Angleterre. Enfin, près de l'ascenseur, vous pourrez voir des abstractions chromatiques de Rooster Robinson, qui ont déjà été décrites comme une danse de formes, de lignes et de couleurs, en mouvement constant.
Tous ces artistes vivent ou ont passé du temps au Vermont. Vous pourrez voir certaines de leurs œuvres à l'aéroport et d'autres sur leurs sites Web.
Pour en apprendre davantage sur Burlington City Arts, ainsi que sur sa galerie du centre-ville et ses programmes, rendez-vous sur le site burlingtoncityarts.com.