Mike Sipe, "Grazing Horses"
Burlington City Arts curates art exhibits in three areas of the airport: the Skyway, the area above the escalator and the walls facing security for Gates 1-8. Whether you've arrived early for a flight or are waiting to pick up passengers, do take the time to look around!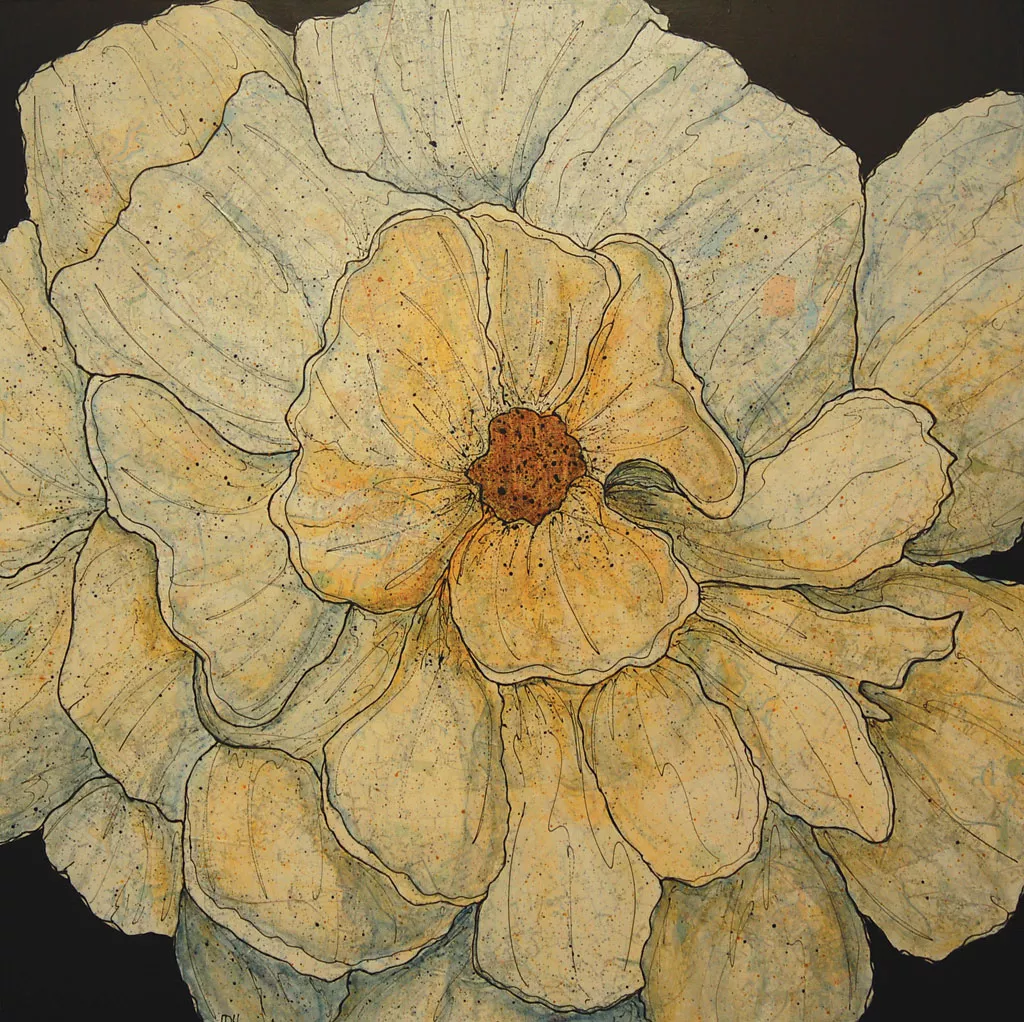 Johanne Durocher Yordan, "In All Directions"
In June, the Gates area features Roger Coleman's abstracted, nature-inspired paintings. In the Skyway, Mike Sipe presents large-format photographs of the Lake Champlain region. Johanne Durocher Yordan's abstract paintings — enhanced by maps, sheet music and text — can be seen over the escalator. If you're going up, be sure to turn around and look at the wall behind you. But watch your step!
Also for the month of June, look around the airport for Torin Porter's steel and wood sculptures that explore humanity as it exists in his imagination.
Throughout July and August, Jeff Clarke's photographs of global travels are on view in the Gates. In recognition of Burlington's 150th birthday, historic photos of the city in the 1860s are displayed alongside contemporary snapshots of the same views; you'll find this "then and now" exhibit in the Skyway. Lee Garrison's abstract paintings of flowers, grasses and waters hang by the escalator.
All of these artists live in or have spent time in Vermont. Please enjoy examples of their work at the airport and on their individual websites.
Burlington City Arts organise des expositions d'œuvres d'art à trois endroits dans l'aéroport : dans le Skyway, au-dessus de l'escalier mécanique et sur les murs qui font face à la sécurité pour les portes 1-8. Que vous soyez arrivé à l'avance pour votre vol ou que vous attendiez des passagers, prenez le temps de regarder autour de vous!
En juin, dans le secteur des portes, vous pourrez admirer les toiles abstraites, inspirées par la nature, de Roger Coleman. Dans le Skyway, place aux photos grand format de Mike Sipe, prises dans la région du lac Champlain. Les peintures abstraites de Johanne Durocher Yordan, assorties de cartes, de partitions de musique et de textes, pourront être aperçues au-dessus de l'escalier mécanique. Si vous montez, ne manquez pas de vous retourner pour regarder le mur derrière vous. Mais faites attention à la marche!
Également en juin, les sculptures de bois et d'acier de Torin Porter, qui représentent l'humanité telle que l'artiste la conçoit dans son imagination, seront disposées un peu partout dans l'aéroport.
En juillet et en août, les photos de Jeff Clarke, qui illustrent ses voyages à travers le monde, seront exposées dans le secteur des portes. Pour souligner le 150e anniversaire de Burlington, des photos historiques de la ville dans les années 1860 seront affichées aux côtés de clichés contemporains des mêmes lieux; cette exposition « avant/après » aura lieu dans le Skyway. Les peintures abstraites de Lee Garrison, représentant des fleurs, des pâturages et des plans d'eau, seront suspendues près de l'escalier mécanique.
Tous ces artistes vivent ou ont passé du temps au Vermont. Vous pourrez voir certaines de leurs œuvres à l'aéroport et d'autres sur leurs sites Web.