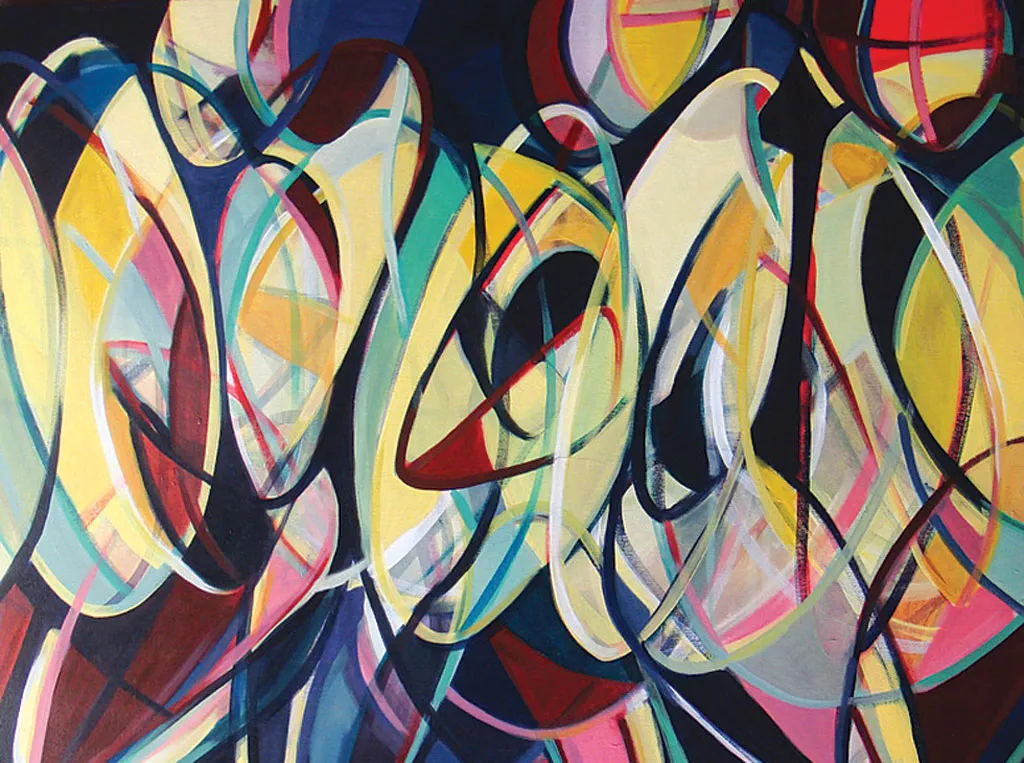 Jessa Gilbert's "Gesture"
Burlington City Arts curates art exhibits inside the Burlington International Airport in three areas: the Skyway, the area above the escalator, and the walls facing security for Gates 1-8. Whether you've arrived early for a flight or are waiting to pick up passengers, do take the time to have a look around!
In June at Gates 1-8, you'll see oil paintings by Gaal Shepherd, replaced in July and August by mixed-media prints on paper by Holly Hauser. Along the Skyway in June are Jessa Gilbert's acrylic paintings; the rest of the summer you'll see Elizabeth Nelson's acrylic abstracted landscapes. June through August, Jessa Gilbert's acrylic paintings "Ascend" and "Entwine" will be installed above the escalator.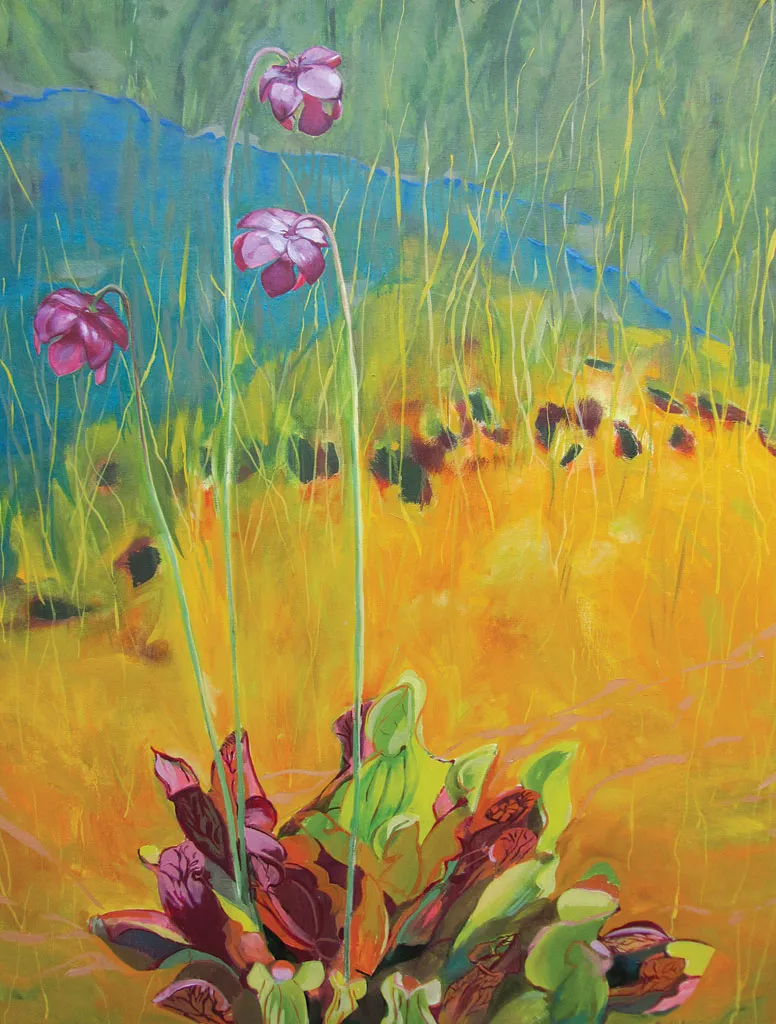 "Flowers" by Gaal Shepherd
Gaal Shepherd left Washington, D.C., in 1988, for rural Vermont, where she has been painting the natural environment and fashioning sculptures ever since — except while on her sojourns in Ireland. Jessa Gilbert, originally from New York, investigates movement and line in her abstract paintings from her studio in Burlington. Also from New York, Holly Hauser is a social worker and abstract painter living in Burlington. Vermont artist Elizabeth Nelson works in a variety of media and artistic styles, primarily exploring landscape. Please enjoy examples of their works here and on their individual websites.
Burlington City Arts organise des expositions à trois endroits dans l'aéroport : le Skyway, l'espace qui se trouve au-dessus de l'escalier mécanique et les murs faisant face au poste de sécurité des portes 1 à 8. Que vous soyez arrivé à l'avance pour prendre votre vol ou que vous attendiez des passagers, prenez le temps de regarder autour de vous!
En juin, aux portes 1 à 8, vous pourrez voir les huiles de Gaal Shepherd, qui céderont leur place en juillet et en août aux gravures sur papier de la spécialiste des techniques mixtes Holly Hauser. Dans le Skyway, vous pourrez admirer en juin les acryliques de Jessa Gilbert, et les paysages abstraits, également à l'acrylique, d'Elizabeth Nelson le reste de l'été. De juin à août, les œuvres « Ascend » et « Entwine » de Jessa Gilbert seront installées au-dessus de l'escalier mécanique.
Gaal Shepherd a quitté Washington, D.C., pour s'établir en 1988 dans la campagne du Vermont, où elle peint l'environnement naturel et fait de la sculpture depuis – entre ses divers séjours en Irlande. Jessa Gilbert, née à New York, explore le mouvement et les lignes dans ses peintures abstraites; son studio est à Burlington. Également originaire de New York et installée à Burlington, Holly Hauser est travailleuse sociale et peintre abstraite. L'artiste vermontoise Elizabeth Nelson utilise divers médias et styles artistiques dans son travail, qui consiste principalement à approfondir le thème des paysages. Vous trouverez des exemples de leurs œuvres dans nos pages et sur leurs sites Web.