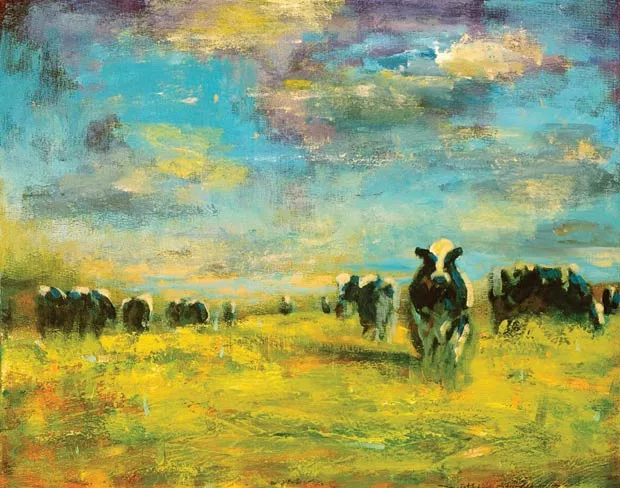 Burlington City Arts (BCA) curates art exhibits at the airport in three areas: the Skyway, the area above the escalator and the walls facing security for Gates 1-8. Whether you've arrived early for a flight or are waiting to pick up passengers, do take the time to have a look around!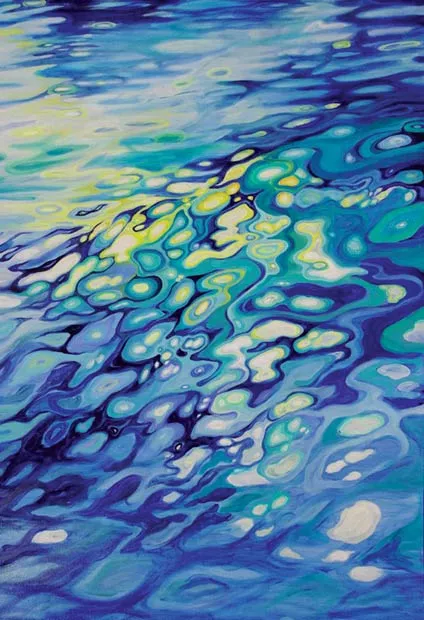 Through June, you'll see compelling Vermont landscape photography by Jim Westphalen in the Skyway and abstract oil paintings by Perry T. Bartles at Gates 1-8.
In July and August, abstract paintings by Leah Van Rees move into the Skyway, while Gabriel Boray's acrylic paintings of cows moo at passengers headed to security at Gates 1-8.
Elizabeth Nelson's acrylic-on-canvas diptych, titled "Interstate Rocks February and March," greets visitors descending the escalator.
All of these artists are Vermonters except Bartles, who lives in New Hampshire. See examples of their work at right.
L'art de l'Aéroport (l'été 2012)
Le centre Burlington City Arts (BCA) organise des expositions d'art à trois différents endroits à l'intérieur de l'aéroport: le Skyway, l'endroit au-dessus de l'escalier roulant, et les murs en face de la sécurité pour les portes d'embarquement 1 à 8. Si vous arrivez tôt pour un vol ou si vous attendez à ramasser des passagers, prenez le temps d'y jeter un coup d'œil!
Jusqu'en juin, vous allez voir la photographie magnifique des paysages du Vermont de Jim Westphalen dans le Skyway et les peintures à l'huile abstraites de Perry T. Bartles aux portes d'embarquement 1 à 8.
En juillet et en août 2012, les peintures abstraites de Leah Van Rees aménagent le Skyway, alors que les peintures acryliques de vaches de Gabriel Boray meuglent aux passagers qui se dirigent vers la sécurité des portes d'embarquement de 1 à 8.
Le diptyque acrylique-sur-toile d'Elizabeth Nelson, nommée « Interstate Rocks February and March, » accueille les visiteurs qui descendent l'escalier roulant. Tous ces artistes viennent du Vermont, sauf pour Bartles qui habite au New Hampshire. Voyez des exemples de leurs œuvres sur cette page.