Jeffrey Herwood, "Flower Sunset"
Burlington City Arts curates art exhibits in three areas of the airport: the Skyway, the area above the escalator and the walls facing security for Gates 1-8. Whether you've arrived early for a flight or are waiting to pick up passengers, do take the time to look around!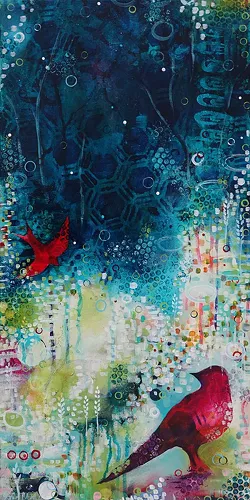 Emily Mitchell, "Coming Home"
In March and April, the Skyway features Jeffrey Herwood's photography of Vermont's "seldom-seen scenes" — from a beam of light after a rainstorm to an early-morning sunrise. Emily Mitchell's colorful paintings, depicting nature's bubbles, trees and birds, are on view in the Gates.
Starting in May, painter Judy Hawkins' landscapes of Vermont marshes, fields and skies appear in the Skyway. Nancy Calicchio's en plein air works play with light and shadow, and hang in the Gates.
All season long, Cameron Davis' "Endless Spring" series, capturing a spirit of renewal and awakening, can be seen above the escalator. If you're going up, be sure to turn around and look at the wall behind you. But watch your step!
All of these artists live in Vermont. Please enjoy examples of their work at the airport and on their individual websites.
---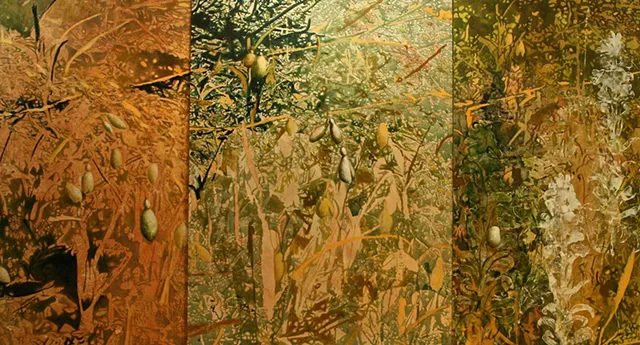 Cameron Davis, "Endless Spring"
Burlington City Arts organise des expositions d'œuvres d'art à trois endroits dans l'aéroport : dans le Skyway, au-dessus de l'escalier mécanique et sur les murs qui font face à la sécurité pour les portes 1-8. Que vous soyez arrivé à l'avance pour votre vol ou que vous attendiez des passagers, prenez le temps de regarder autour de vous!
En mars et en avril, dans le Skyway, vous pourrez voir les photos de Jeffrey Herwood, qui représentent des « moments furtifs » du Vermont — comme un rayon de lumière après une averse ou un lever de soleil à l'aube. Les toiles colorées d'Emily Mitchell, qui dépeignent les petites choses de la nature, des arbres et des oiseaux, sont exposées dans le secteur des portes.
Nancy Calicchio, "Hay Bales"
Dès le mois de mai, venez admirer les paysages du Vermont – marais, champs et ciels – de la peintre Judy Hawkins, dans le Skyway. Les œuvres réalisées en plein air de Nancy Calicchio, aux magnifiques jeux d'ombre et de lumière, seront suspendues dans le secteur des portes.
Durant toute la saison, au-dessus de l'escalier mécanique, ne manquez pas d'admirer la série « Endless Spring » de Cameron Davis, qui capte l'esprit de renouveau et d'éveil propre au printemps. Si vous montez, ne manquez pas de vous retourner pour regarder le mur derrière vous. Mais faites attention à la marche!
Tous ces artistes vivent au Vermont. Vous pourrez voir certaines de leurs œuvres à l'aéroport et d'autres sur leurs sites Web.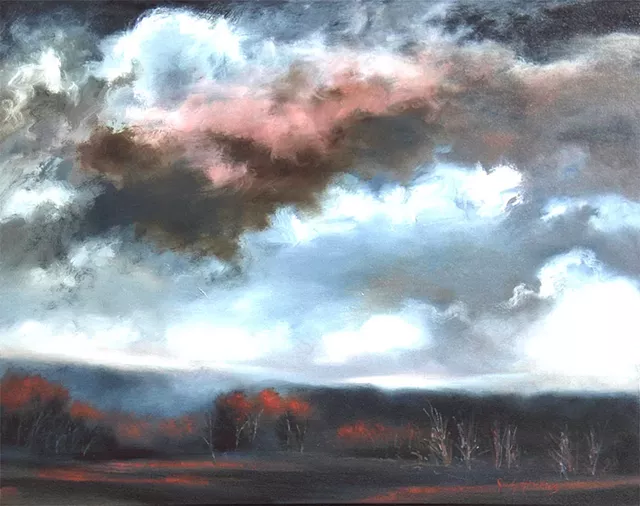 Judy Hawkins, "Close of Day"