Michael Sipe, "Essex Moon Reflection"
Burlington City Arts curates art exhibits in three areas of the airport: the Skyway, the area above the escalator and the walls facing security for Gates 1-8. Whether you've arrived early for a flight or are waiting to pick up passengers, do take the time to look around!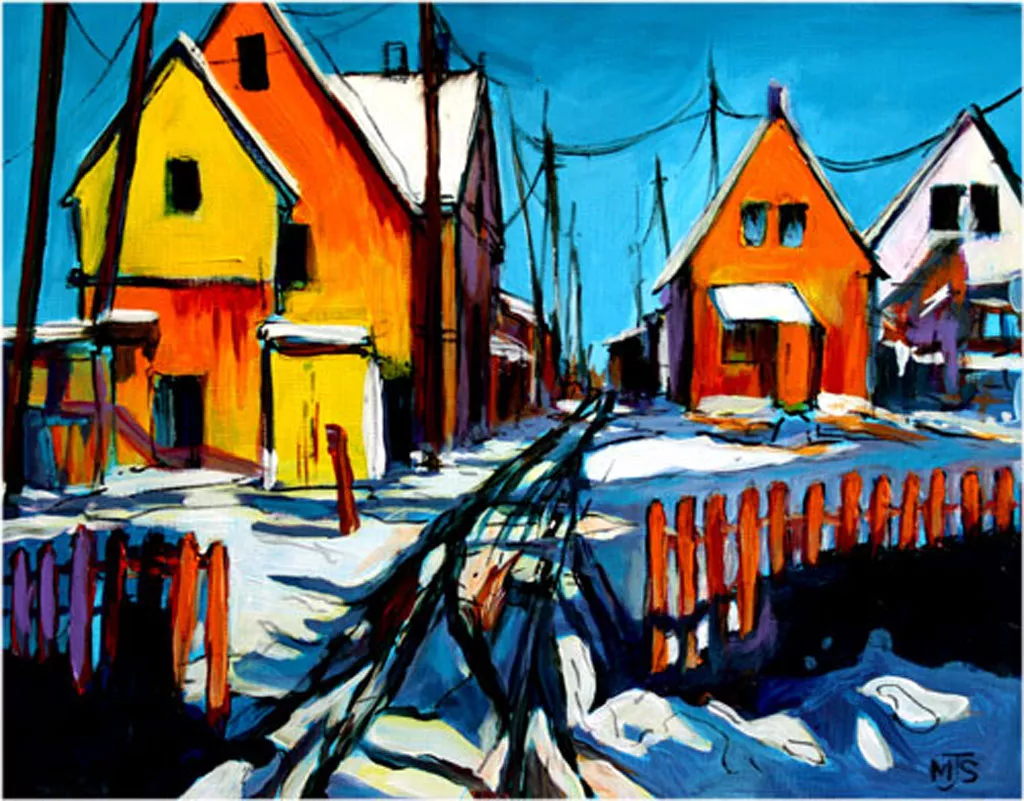 Michael Strauss, "Sunny Morning"
In March and April, the Gates area features bright, bold landscape paintings by Michael Strauss that explore light and shadow through impressionistic color. In the Skyway, Terry Ekasala presents large-format, abstract paintings influenced by her experience as a graffiti artist.
Starting in May, Roger Coleman's abstracted, nature-inspired paintings appear at the Gates. Michael Sipe shares photographs of the Lake Champlain region in the Skyway, paired with folklore and stories that illustrate the essence of its land and people.
For all three months, Johanne Durocher Yordan's abstract paintings — enhanced by maps, sheet music and text — can be seen over the escalator. If you're going up, be sure to turn around and look at the wall behind you. But watch your step!
All of these artists live in Vermont. Please enjoy examples of their work at the airport and on their individual websites.
Find more information about Burlington City Arts and its downtown gallery and programs at burlingtoncityarts.com.
Burlington City Arts organise des expositions d'œuvres d'art à trois endroits dans l'aéroport : dans le Skyway, au-dessus de l'escalier mécanique et sur les murs qui font face à la sécurité pour les portes 1-8. Que vous soyez arrivé à l'avance pour votre vol ou que vous attendiez des passagers, prenez le temps de regarder autour de vous!
En mars et en avril, dans le secteur des portes, vous pourrez admirer les paysages audacieux de Michael Strauss, caractérisés par des jeux d'ombre et de lumière aux couleurs impressionnistes. Dans le Skyway, place aux grands tableaux abstraits de Terry Ekasala, une artiste influencée par son expérience de graffiteuse.
À compter du mois de mai, les œuvres abstraites inspirées par la nature de Roger Coleman seront exposées près des portes d'embarquement, tandis que dans le Skyway, les photos de Michael Sipe, prises dans la région du lac Champlain et accompagnées de récits folkloriques et d'histoires évoquant l'esprit du terroir et de ses habitants, seront à l'honneur.
Durant les trois mois, les peintures abstraites de Johanne Durocher Yordan, assorties de cartes, de partitions de musique et de textes, pourront être aperçues au-dessus de l'escalier mécanique. Si vous montez, ne manquez pas de vous retourner pour regarder le mur derrière vous. Mais faites attention à la marche!
Tous ces artistes vivent au Vermont. Vous pourrez voir certaines de leurs œuvres à l'aéroport et d'autres sur leurs sites Web.
Pour plus d'information sur l'organisation Burlington City Arts, sa galerie au centre-ville et ses programmes divers, visitez burlingtoncityarts.com.