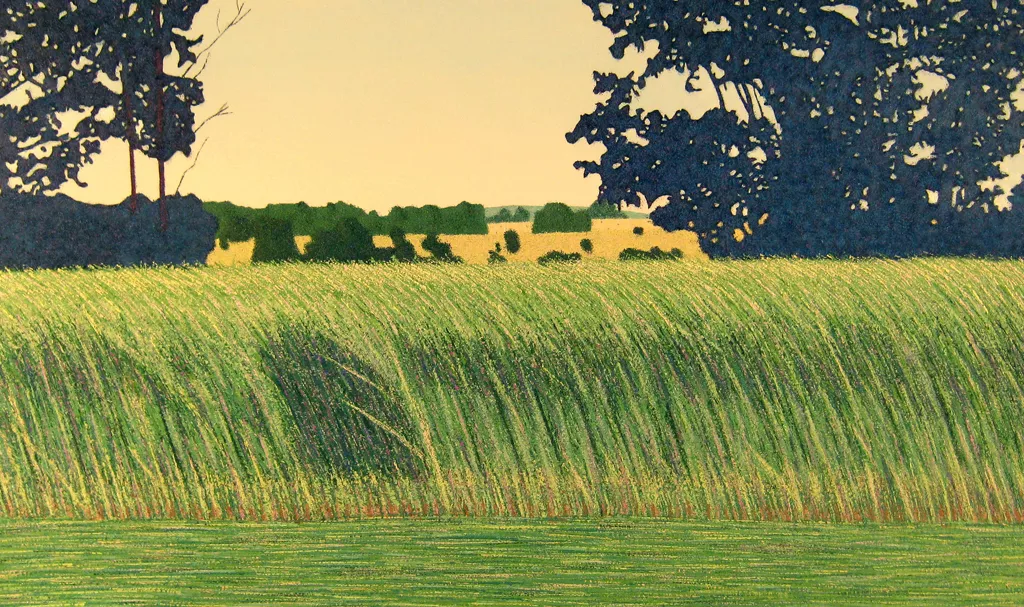 Bruce Conklin, "Late Cut"
Burlington City Arts curates art exhibits in three areas of the airport: the Skyway, the area above the escalator and the walls facing security for Gates 1-8. Whether you've arrived early for a flight or are waiting to pick up passengers, do take the time to look around!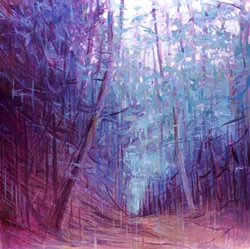 Cameron Schmitz, "Soft Chatters of the Cedar Connector"
In September and October, the Gates area features Ken Russack's plein-air paintings of both urban and pastoral scenes. In the Skyway, self-taught painter Bruce Conklin presents rural views of Vermont influenced by the impressionist movement.
Starting in November, Cameron Schmitz's representational works, painted directly from local landscapes, are on view in the Gates. Phil Laughlin's oil paintings of the Champlain Valley and other New England locales hang in the Skyway.
For all three months, Lee Garrison's abstract paintings of flowers, grasses and waters can be seen above the escalator. If you're going up, be sure to turn around and look at the wall behind you. But watch your step!
All of these artists live in or have spent time in Vermont. Please enjoy examples of their work at the airport and on their individual websites.
Find more information about Burlington City Arts and its downtown gallery and programs at burlingtoncityarts.com.
---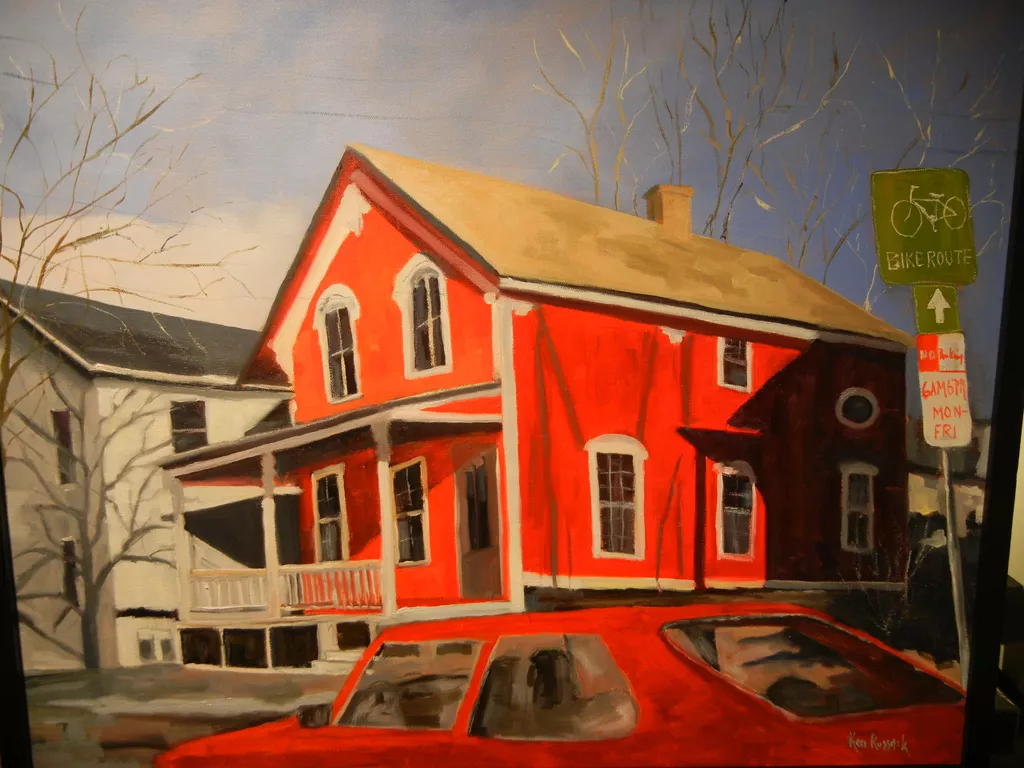 Ken Russack, "Red House on Pine Street"
Burlington City Arts organise des expositions d'œuvres d'art à trois endroits dans l'aéroport : dans le Skyway, au-dessus de l'escalier mécanique et sur les murs qui font face à la sécurité pour les portes 1-8. Que vous soyez arrivé à l'avance pour votre vol ou que vous attendiez des passagers, prenez le temps de regarder autour de vous!
Lee Garrison, "Giant Red Hibiscus"
En septembre et en octobre, dans le secteur des portes, vous pourrez admirer les toiles de Ken Russack peintes en plein air, qui représentent des paysages tantôt urbains, tantôt champêtres. Dans le Skyway, place aux tableaux d'inspiration impressionniste du peintre autodidacte Bruce Conklin, qui évoquent des scènes rurales du Vermont.
Dès novembre, les œuvres figuratives aussi peintes en plein air de Cameron Schmitz, qui mettent à l'honneur les paysages locaux, seront exposées dans le secteur des portes. Les huiles de Phil Laughlin, montrant la vallée du Champlain et d'autres lieux typiques de la Nouvelle-Angleterre, seront quant à elles suspendues dans le Skyway.
Durant ces trois mois, au-dessus de l'escalier mécanique, vous pourrez contempler les peintures abstraites de Lee Garrison, représentant des fleurs, des pâturages et des plans d'eau. Si vous montez, ne manquez pas de vous retourner pour regarder le mur derrière vous. Mais faites attention à la marche!
Tous ces artistes vivent ou ont passé du temps au Vermont. Vous pourrez voir certaines de leurs œuvres à l'aéroport et d'autres sur leurs sites Web.
Pour en apprendre davantage sur Burlington City Arts, ainsi que sur sa galerie du centre-ville et ses programmes, rendez-vous sur le site burlingtoncityarts.com.