"ADog for Life – an Homage" by Jay Giroux and Scott Campbell
Burlington City Arts curates art exhibits at the airport in three areas: the Skyway, the area above the escalator and the walls facing security for Gates 1-8. Whether you've arrived early for a flight or are waiting to pick up passengers, do take the time to have a look around!
During September and October in the Skyway, artists Jay Giroux and Scott Campbell present their mixed-media collaboration "ADog for Life — an Homage." The graffiti-style work is dedicated to beloved Burlington DJ Andy Williams, aka A-Dog, who died of cancer this past year. Michael Farnsworth's color photographs hang on the opposite wall in an exhibit titled "Visual Quilting."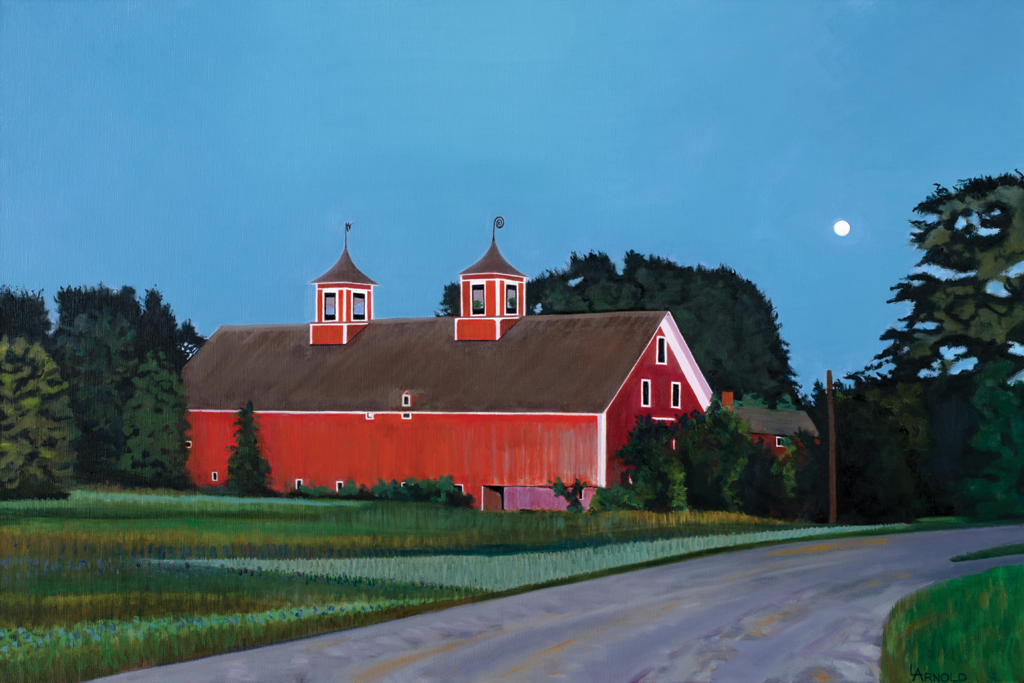 "Barn At Dusk" by Louise Arnold
In the Gates 1-8 area, Louise Arnold shows oil landscape paintings.
In October and November, the Skyway and Gates area will feature black-and-white landscape photography by Gary Hall and watercolors by Maurie Harrington, respectively.
For all three months, Elizabeth Nelson's acrylic abstract paintings can be seen over the escalator. If you're going up, be sure to turn around and look at the wall behind you. But watch your step!
Most of these artists live in Vermont. Please enjoy examples of their work at the airport and on their individual websites.
Burlington City Arts organise des expositions d'œuvres d'art à trois endroits dans l'aéroport : dans le Skyway, au-dessus de l'escalier mécanique et sur les murs qui font face à la sécurité pour les portes 1-8. Que vous soyez arrivé à l'avance pour prendre votre vol ou que vous attendiez des passagers, prenez le temps de regarder autour de vous!
En septembre et en octobre, dans le Skyway, les artistes Jay Giroux et Scott Campbell présentent leur projet multimédia conjoint, « ADog for Life — an Homage ». Ce travail qui s'apparente aux graffitis est dédié au regretté D.J. de Burlington Andy Williams, alias A-Dog, mort d'un cancer dans la dernière année. Les photos couleur de Michael Farnsworth sont exposées sur le mur d'en face; la série s'intitule « Visual Quilting ».
Dans la section des portes 1-8, Louise Arnold présente des paysages à l'huile.
En octobre et novembre, les photos de paysages en noir et blanc de Gary Hall et les aquarelles de Maurie Harrington orneront respectivement le Skyway et le secteur des portes.
Pendant les trois mois, les peintures abstraites à l'acrylique d'Elizabeth Nelson seront exposées au-dessus de l'escalier mécanique. Si vous montez, ne manquez pas de vous retourner pour regarder le mur derrière vous. Mais faites attention à la marche!
La plupart de ces artistes vivent au Vermont. Vous pourrez voir certaines de leurs œuvres à l'aéroport et d'autres sur leurs sites Web. 1) "ADog for Life — an Homage" by Jay Giroux and Scott Campbell; 2) "Fall Path" by Elizabeth Nelson; 3) "Birch Wild" by Maurie Harrington; 4) "Cairn, Lake Champlain" by Gary Hall; 5) "Metals 1" by Michael Farnsworth; 6) "Barn At Dusk" by Louise Arnold.