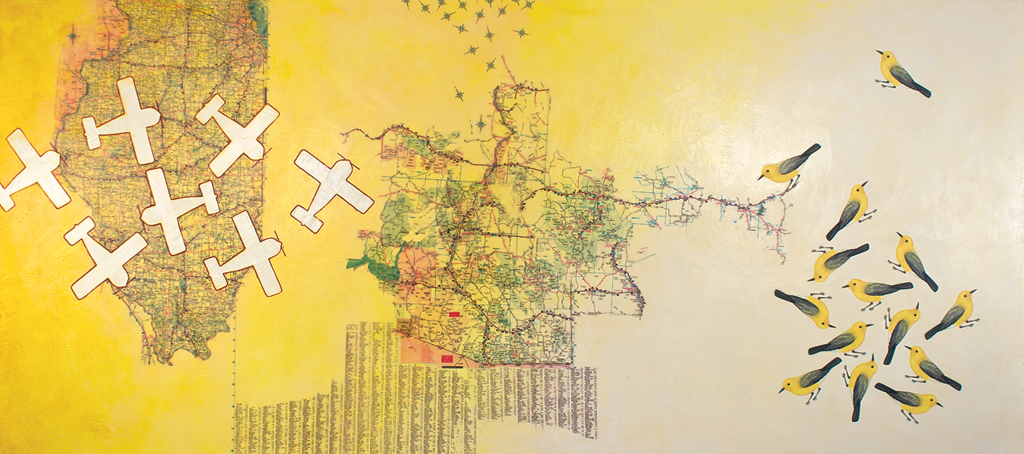 "Tierra Amarilla Encaustic" by Paig Berg Rizvi
Burlington City Arts curates art exhibits at the airport in three areas: the Skyway, the area above the escalator and the walls facing security for Gates 1-8. Whether you've arrived early for a flight or are waiting to pick up passengers, do take the time to have a look around!
"Point Playa Guionoes" by Leah Van Rees
In September and October, at Gates 1-8 and along the Skyway, you'll see large-scale oil and encaustic paintings by Paige Berg Rizvi. Using maps and iconic figures, she overlays realism and symbolism. September through January, Leah Van Rees' vibrant and warmly inviting oil paintings from her Costa Rica series will be installed above the escalator.
Rizvi lives in Burlington. Van Rees is from Maryland. Please enjoy examples of their work here and on their individual websites, paigebergrizvi.com and leahvanreespainting.com.
Burlington City Arts organise des expositions à trois endroits dans l'aéroport : le Skyway, l'espace qui se trouve au-dessus de l'escalier mécanique et les murs faisant face au poste de sécurité des portes 1 à 8. Que vous soyez arrivé à l'avance pour prendre votre vol ou que vous attendiez des passagers, prenez le temps de regarder autour de vous!
En septembre et en octobre, aux portes 1 à 8 et le long du Skyway, vous pourrez admirer les grandes huiles sur toile et peintures encaustiques de Paige Berg Rizvi. L'artiste utilise des cartes et des figures emblématiques, auxquelles elle superpose des éléments réalistes et symboliques. De septembre à janvier, les huiles sur toile éclatantes et chaleureuses de la série costaricienne de Leah Van Rees seront exposées au-dessus de l'escalier mécanique.
Paige Berg Rizvi habite à Burlington et Leah Van Rees, dans le Maryland. Vous trouverez des exemples de leurs œuvres dans nos pages et sur leurs sites Web.