"Freestone" by Joan Hoffman
Burlington City Arts curates art exhibits at the airport in three areas: the Skyway, the area above the escalator, and the walls facing security for Gates 1-8. Whether you've arrived early for a flight or are waiting to pick up passengers, do take the time to have a look around!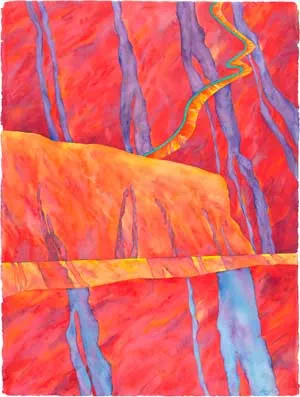 "In the Heat of the Day" by Lynda Reeves McIntyre
In September and October, you'll see mixed-media works by Lynda Reeves McIntyre, a professor of art at the University of Vermont, in the Skyway; impressionistic oil landscapes by plein-air painter Joan Hoffman adorn the gallery space near Gates 1-8.
Elizabeth Nelson's acrylic-on-canvas diptych, titled "Interstate Rocks February and March," greets visitors descending the escalator, through September. (Schedule for the remainder of the fall was not available at press time.)
All of these artists are Vermonters. Please enjoy examples of their works on this page and in the airport
L'Art de l'Aéroport (l'automne 2012)
Burlington City Arts organise des expositions d'œuvres d'art à trois endroits dans l'aéroport : dans le Skyway, au-dessus de l'escalier mécanique, et sur les murs qui font face à la sécurité pour les portes 1-8. Que vous soyez arrivés en avance pour votre vol ou que vous attendiez des passagers, prenez le temps de regarder autour de vous!
En septembre et en octobre, vous verrez des œuvres multimédias de Lynda Reeves McIntyre, professeure d'art à l'Université du Vermont, dans le Skyway, et des paysages impressionnistes à l'huile de Joan Hoffman, qui peint en plein air, dans l'espace galerie près des portes 1-8.
Le diptyque d'acryliques sur toile d'Elizabeth Nelson, intitulé Interstate Rocks February and March, accueille les visiteurs qui descendent par l'escalier mécanique et sera exposé jusqu'au mois de septembre. (Le programme pour le reste de l'automne n'était pas prêt au moment de mettre sous presse.)
Tous ces artistes sont des Vermontois. Voyez quelques exemples de leur travail sur cette page et à l'aéroport.