Burlington City Arts curates exhibits in three areas of the airport: the Skyway, the area above the escalator and the walls facing security for Gates 1 through 8. Whether you've arrived early for a flight or are waiting to pick up passengers, do take the time to look around!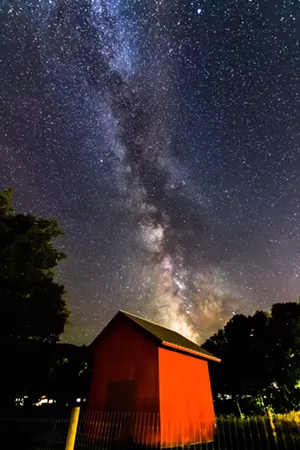 From July through October, the Gates feature landscape photography by Conor Lahiff. A meteorologist for the National Weather Service in Burlington, Lahiff brings his interest in weather to slightly surreal photos of Vermont's natural and man-made landscapes, which might feature a red barn under the dramatic Milky Way or wispy cirrus clouds above rural dirt roads.
Lahiff lives in nearby Jericho but grew up in the Garden State. His love of snow and mountains — "two things New Jersey doesn't offer much of," he tells BTV — brought him to Vermont for college, where he attended the University of Vermont and what was then called Lyndon State College for his meteorology degree.
"I've always had a love for photography and art," he says, noting that his mother was an art teacher and artist, while his great-uncle was a published New York City photographer specializing in flowers. In Vermont, Lahiff's hobbies of hiking and snowboarding sparked his passion for landscape photography. And, he adds, "It's good to have some inside info on the expected weather conditions, as I can plan my photo trips accordingly."
Lahiff uses high dynamic range to achieve a distinctive look in his photos, taking three exposures of one scene and combining them. "Using this method," he explains, "I'm able to bring out light where there are shadows and reduce light where it's brightest to better mimic what our eye sees. Through this process, I'm really able to manipulate the photo if I wish, and sometimes I do just that, giving it a more surreal or 'painterly' feel."
Learn more about Lahiff at conortlahiffphotography.com, and find more information about Burlington City Arts and its downtown gallery and programs at burlingtoncityarts.org.
---
Burlington City Arts organise des expositions à trois endroits dans l'aéroport : dans le Skyway, au-dessus de l'escalier mécanique et sur les murs qui font face à la sécurité pour les portes 1 à 8. Que vous soyez arrivé à l'avance pour votre vol ou que vous attendiez des passagers, prenez le temps de regarder autour de vous!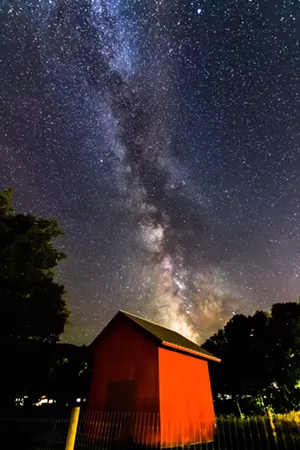 De juillet à octobre, dans le secteur des portes, vous pourrez admirer les photos de paysages de Conor Lahiff. Météorologue pour le National Weather Service à Burlington, Lahiff transpose son intérêt pour la météo dans des photos quasi surréelles montrant des paysages du Vermont naturels et façonnés par l'homme, comme cette grange rouge sous une spectaculaire Voie lactée, ou encore ces cirrus qui s'effritent au-dessus de routes de terre rurales.
L'artiste est originaire de la ville voisine de Jericho, mais il a grandi dans le New Jersey. Son amour de la neige et des montagnes — « deux choses plutôt rares dans le Garden State », dit-il à BTV — l'a amené à faire ses études à l'Université du Vermont, puis au Lyndon State College, où il a obtenu son diplômé en météorologie.
« J'ai toujours été féru d'art et de photographie », confie-t-il, soulignant que sa mère était artiste et professeur d'art, et que son grand-oncle était un photographe new-yorkais publié qui se spécialisait dans les fleurs. Au Vermont, Lahiff pratique la randonnée et la planche à neige, ce qui a éveillé sa passion pour les photos de paysages. « C'est pratique d'avoir des informations privilégiées sur les conditions météo à venir, ajoute-t-il, car cela me permet de planifier mes sorties-photo en conséquence. »
Lahiff utilise une plage dynamique étendue qui confère un aspect unique à ses photos, en prenant trois expositions différentes qu'il combine ensuite. « Cette méthode, explique-t-il, me permet de faire ressortir la lumière dans les zones d'ombre et de réduire la lumière dans les zones surexposées afin de mieux représenter ce que nos yeux voient. Grâce à ce procédé, je peux vraiment jouer avec la photo si je veux, et c'est ce que je fais parfois, afin de lui donner un aspect plus surréaliste ou pictural. »
Apprenez-en davantage sur cet artiste à conortlahiffphotography.com, et obtenez de plus amples renseignements sur Burlington City Arts ainsi que ses programmes et sa galerie du centre-ville à burlingtoncityarts.org.