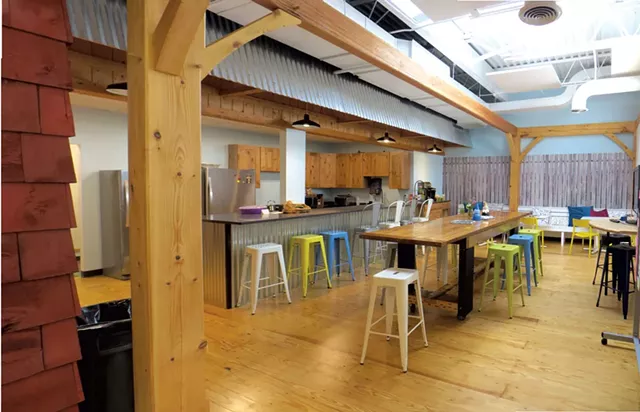 courtesy of Arocordis Design
Company kitchen at American Meadows
Three days before Thanksgiving, the staff of American Meadows gathered in the company kitchen for a potluck lunch of dishes that stretched the length of the counter. Desserts sat on a side table.
Then, instead of returning to their desks to eat, the 30 or so employees pulled up stools to a tall, 12-foot-long farmhouse table — refinished from heavy barn wallboards by a guy in Stowe — to chat while enjoying their turkey, stuffing and kale salads. Overhead, a large skylight illuminated the room. Along the far wall, a built-in white bench held floral and striped pillows in front of a trompe l'oeil mural of a picket fence and a field of purple lupine.
Ethan Platt, co-owner and president of the online wildflower seed and plant business, envisioned such a gathering when he designed the kitchen area as part of American Meadows' new home office in Shelburne. The company moved from Williston into the carefully crafted quarters last July.
The journey began when Platt brought in architect Stephen Frey, who specializes in "values-driven" projects for commercial and industrial clients. President and principal architect of Arocordis Design in Montpelier, Frey primarily develops renovation plans — few companies in Vermont build new these days — that reflect and enhance a company's mission.
Jeb Wallace-brodeur
Stephen Frey
That might mean designing a small, out-of-the-way elevator space and a more prominent stairway for a client who aims to encourage healthy behaviors and movement among the staff. A family-oriented business might focus on lactation lounges and flexible workstations that allow employees to adapt their schedules, share shifts or telecommute more easily.
Frey's overall goal is simple: "to help clients or organizations become better places to work."
For American Meadows, Platt wanted the milieu to complement the company's — and its customers' — devotion to the bountiful outdoors. The goal was to give workers a home away from home, a destination they'd look forward to every day. The 40 year-round employees, plus another 10 or so in season, sell more than 200 species and 50 mixtures of wildflower seeds directly to consumers.
"We just want them to have the same passion that our customers have in the activity that they're involved in," Platt said. "We want them to bring that passion to their job, and we want to create a culture that encourages that."
The whole setup encourages collaboration, interaction and inspiration with a variety of gathering spaces, from cozy couches to conference rooms with computer screens. A large classroom can convert to two smaller spaces for training or yoga classes. Unique touches reflect American Meadows' connection with its workers and history: A ceramic donkey stands outside of a conference room holding baskets filled with silk flowers that one employee crafts as a side business; the conference room called the Pink Tent serves as an inside joke, referencing the large wedding tent that the company erected in its former Williston warehouse as a makeshift conference room.
What drives Frey is the cultural aspect of designing a workplace. To him, the structure that houses a company is merely an offshoot of its personality, or "brand DNA," as he called it.
courtesy of Arocordis Design
Photo-like wallpaper evoking the outdoors at American Meadows
He's as much a psychologist or management consultant as an architect. For each job, Frey delves into the client's sense of corporate identity, their values and purpose, and the image and attitude they want to convey to their employees and customers. He asks them questions such as, "Are you walking your talk?"
Eight years ago, Platt bought American Meadows with partner Michael Lizotte. While headquartered in Williston for almost 15 years, the company outgrew and renovated the space several times.
Platt had strong ideas about what he wanted — and a handyman's ability to accomplish many of them. In July 2015, he hired Frey to hone and execute his vision, stick to the budget, and guide him in unforeseen directions.
Frey and Platt scouted potential new sites. They knew the Shelburne location was ideal, even with its dropped ceilings, green institutional carpeting and blank walls. It had previously housed the Ann Roche Casual Furniture store and Climb High, a recreational gear store, before that. The two-story climbing wall remains, and Platt plans to keep it for employee use, in addition to a small fitness center off the warehouse in the back of the building.
At every step, the owners incorporated the feedback of American Meadows' employees, taking into account their commute to the new site, wish lists for storage and equipment, and their comments on a Google doc. American Meadows' two leadership teams — one called the "fun team" — took field trips to about a dozen of the top workplaces in Chittenden County.
The inclusive approach stemmed not only from philanthropy but practicality. With just 3 percent unemployment in Chittenden County, where companies compete for workers with the likes of Dealer.com and Burton, the owners hope the appeal of American Meadows' working environment can give it an edge in recruitment and retention.
Erin Morrissette, the e-commerce manager for American Meadows, has worked for the company for 11 years and through five renovations in Williston. She said that location never accomplished the vibe the office has now. "I used to sit in the warehouse," she noted while enjoying a plate of the pre-Thanksgiving potluck. "You get here, and it's bright and it's cheery and it makes you want to come to work."
Frey, 51, a University of Vermont graduate who majored in studio art, earned his master's degree in architecture from the University of Colorado in Denver. He worked at big firms there for 12 years, then returned to Vermont to join Maclay Architects in Waitsfield. That got him "charged up by the focus on sustainability and bringing green thinking back in the mainstream," he said. Frey's prominent projects included the Renewable NRG Systems headquarters in Hinesburg and Seventh Generation's downtown Burlington home.
courtesy of Arocordis Design
Desk space adjacent to a conference room at American Meadows
Laid off during the recession and construction downturn, Frey decided to start his own company with those values front and center. Arocordis combines two Latin words: aro, meaning to till or cultivate; and cordis, which means heart. That's how Frey sees his role: cultivating and promoting the heart and soul of each client.
His clients range from organizations with fewer than 20 workers to giant companies such as insurance carrier National Life Group, which has a four-story, football-field-size office space in Montpelier.
American Meadows presented the chance to apply one of Frey's favorite themes, to "bring nature near," a concept championed by Bauhaus artists in the early 20th century. Even the National Life job emphasized interior plantings, water, natural materials and daylight.
So, for a gardening company, it was a no-brainer. "It's about connecting with the Earth," Frey said. "It's about connecting with plants and growing things."
As an alternative to gray cubicles, Platt built beadboard half-walls around the front-office desks. The wood floors came from the discarded Douglas fir bleachers of South Burlington High School. Thick wooden beams were "orphan timbers" left over at Vermont Frames.
Each conference room at American Meadows looks like a garden shed, with red cedar shingles and reclaimed four-over-four paned windows. Even the vivid, multicolored carpeting in the front office was made from yarn remnants by a flooring manufacturer that uses environmentally sound materials and recycles the product when it needs replacing.
Downstairs in American Meadows, a small meeting area evokes a backyard, with four Adirondack chairs around a fake fire pit atop a grass-green shag rug. Photo-like wallpaper contributes to the outdoor feel, wrapping the setting in tall trees and lush lavender intersected by hiking trails.
This kind of design, Frey said, can make a workplace as sacred as any spiritual site. Human interaction with a space elevates it to a higher status, he noted: "It doesn't mean anything unless people are using it in the best possible way."