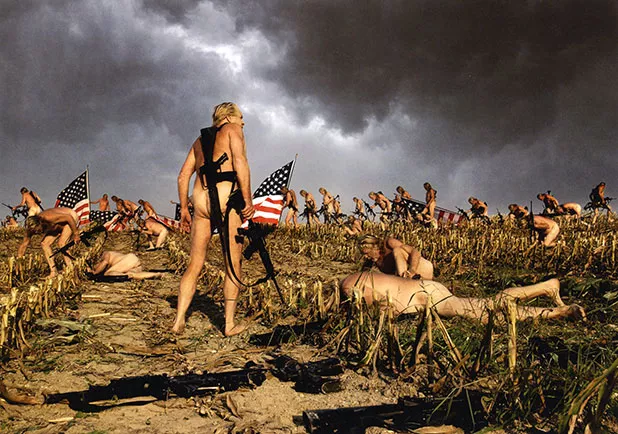 It's hard to escape the bare butts in John Douglas' current exhibit at Burlington College. Like the steelworkers in The Full Monty, produced by Lyric Theatre last weekend, he lets it all hang out in some of his images.
But the photographer/filmmaker/animator disrobes more boldly than do the hapless unemployed chaps in the musical, and he has an entirely different reason for doing so. In a series of sardonic self-portraits collectively titled "Homeland Security," what's even more prominent than Douglas' naked backside are the guns. M16s, in fact. And there are a lot of them, because there are a lot of him. In most of these images, Douglas, 70, whose gray ponytail hangs loosely down his back, appears in multiples — any number of shots composited, courtesy of PhotoShop, into the same scene.
For example, in "Harvest Security," the setting is a desiccated cornfield filled with post-harvest stubble and a couple of dozen figures — all Douglas, all naked — standing, lying face down as if dead or wounded, bending over to help a fallen "comrade," and walking single file along the rise of the hill. Behind this de facto battlefield, gray clouds roil in dramatic contrast to the sunlit foreground.
In "No Killing Security," a quartet of Douglases in the woods face away from the camera and toward a notice posted on a central tree. The sign reads, in bold capital letters: "No killing or any other violence against any living being or bird or animal or Palestinian or Harvard graduate or black person on these premises or in fact anywhere even near this very area…" And so on.
To create what may be the most disturbing of several composite, rendered-from-video images in the exhibit, Douglas has played dead in several positions, then jumbled the bodies so they dissolve into one another. The result appears to be a pile of carnage, minus the blood — sort of a photographic "Guernica." The image is creepy, but the visual tricks are cunning.
What's behind all this? For starters, George W. Bush. Douglas says he told himself he was going to buy an M16 — the chosen rifle of the U.S. military — if "W" was elected. He was, of course — twice. When Douglas went to a gun show, though, he was stunned. "It was really an eye-opener; there were weapons from all over the world," he recalls. "I hadn't been around guns for 15 years."
Not that he was a stranger to them. When he was growing up in Illinois, Douglas says, "Everyone had a gun"; his father was an avid hunter. Douglas was drafted into the U.S. Army in 1961 and served a two-year stint in advanced infantry, but he never saw combat. In fact, he spent some of his enlisted time in a hospital as a result of a truck wreck. When he was stationed back in Boston, "We were on standby to go into the streets to quell riots in the South End," Douglas recalls, but the unrest gave him no occasion to wield an automatic.
Post-army, Douglas ended up moving to Vermont, first to an old farm-cum-commune in Putney, later to Charlotte, and recently to Burlington.
Not long after Bush entered the White House, Douglas began setting up scenes for shots for his "Homeland Security" series. Initially, he wore clothes. "I really don't know how the nudity happened," he says, noting that "the outfits didn't work." Though it wasn't part of the plan, Douglas acknowledges that the juxtaposition of nakedness and powerful guns in the photographs serves as a metaphor for human vulnerability. A viewer can't help thinking, too, that the emperor has no clothes even if he is armed.
Yet Douglas also cuts a striking figure fully clad in a suit, ammo slung over his shoulder and an M16 in each hand. Glaring straight at the camera, his lined forehead knit in concentration, he seems as alert as an animal sensing danger. The look is confrontational, and the professional attire is oddly disconcerting. Business as usual?
It's clear that Douglas holds a jaundiced view of the culture of guns and violence, and it's not a leap to deduce his stance on American militarization. But to his credit, even the images that are a little over the top offer more black humor than preaching — particularly one that depicts a posse of John Douglases guarding, or perhaps taking, the Vermont Statehouse.
With subject matter this sensational, a viewer may not notice Douglas' mastery of composition. It's no surprise, though, given his background in teaching design and making live-action and animated films over 20 years. He was involved in the '60s/'70s film collective Newsreel and cut his cinematic teeth on documentaries with telling titles: Summer '68, about the prelude to the historic Democratic convention in Chicago; A People's War, shot in Vietnam; Strike City, about black workers revolting against the plantation system; among others. Also to his credit is an hour-long film about the revolution in Grenada. "Fidel [Castro] saw that one," Douglas notes. "A lot of people I worked with down there were killed in the U.S. invasion in 1983."
In more recent years, he has focused on computer animation — an image from an award-winning short called "The Heart of It" appears in the current exhibit. "I was beta testing a lot of this technology for AT&T," says Douglas. He has put some of his own still images on a timeline to animate them — including some from the "Homeland Security" series.
Those photos speak to Douglas' politically charged legacy. But other images in his show at Burlington College are more observant of nature sans humans. In one such print, the complicated branches of a snow-covered tree fill the frame, a nearly abstract pattern of black on white. In another, full-color print, a willow tree with spring-green foliage whips in the wind, standing out against a just-before-the-storm blue-gray sky. Sky is the sole subject matter of another large-scale picture, which captures a mystical-looking light so serene it might be a glimpse of the afterlife.
Digital manipulation meets traditional photography in a recent series of works Douglas calls simply "Cairns." In them, stones roughly the size of an adult's head seem suspended in space, some stacked into a sort of totem, some appearing to float off on their own. These surreal works recall Magritte's in their playful defiance of gravity and logic. The background is a computer-enhanced lake. Douglas creates these visions with modeling software called Vue in his spacious basement workshop. The exquisite, out-sized prints, he says, are produced in Essex at Subatomic Digital.
One photograph in the gallery at Burlington College may linger the longest in viewers' minds, partly because it depicts real death — that of a bobcat, found on Douglas' property in Charlotte — and partly because it is a thing of stark beauty. Though only one exacting shot is included in the show, Douglas explains that after finding the animal, he took time-lapse pictures of it all day as the light changed.
Chances are, the cat will end up animated. And maybe Douglas will find a way to let the images tell the story of how it hung around his house for days, as if wanting to befriend him. That was just before it died — "of old age," Douglas surmises — and just before he packed up and moved to Burlington.
For the artist, the image "depicts the end of me out in the woods," Douglas says. And it is, perhaps, a metaphor for what lies beyond.