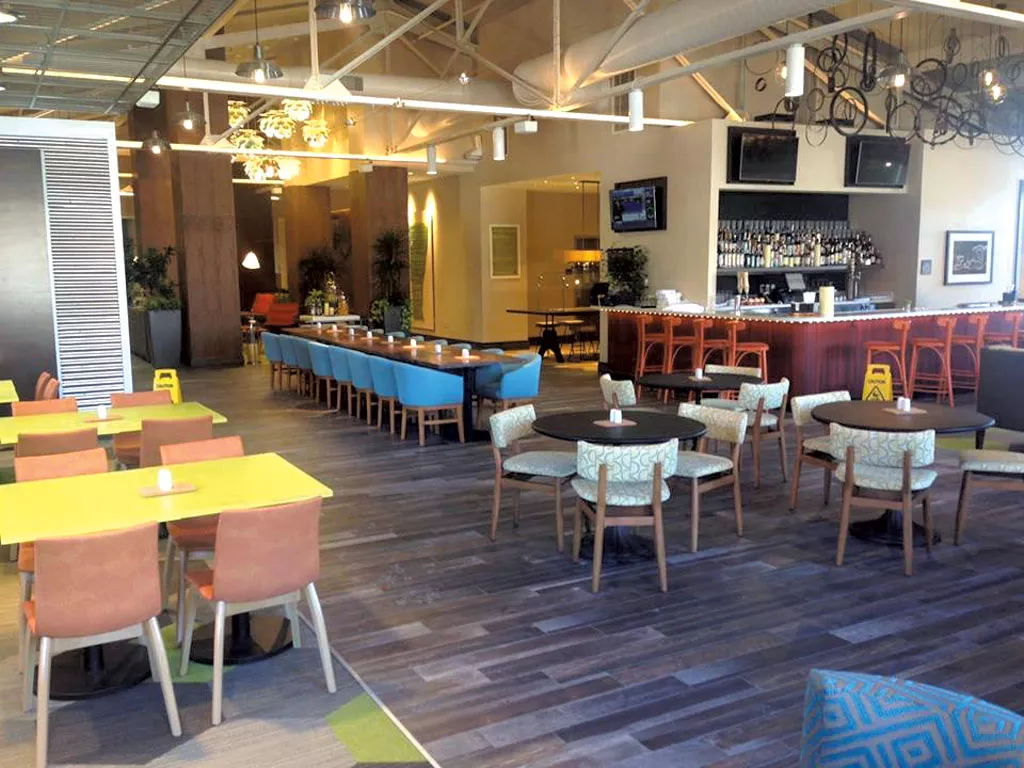 Courtesy Of Armory Grille And Bar
For years, the Burlington Armory at 101 Main Street was home to R.W. Hunt Mill & Mining Company — better known as Hunt's, the legendary venue that booked hundreds of national touring acts in the 1970s and 1980s, and hosted many popular local bands. After that club closed, the space was occupied by '50s-themed Sh-Na-Na's, which in turn closed after a fire in 2003. Office spaces occupied the building's upper level.
Now, after a long vacancy, the Armory has gone corporate. In the hands of the Hilton Hotel chain, the second floor of the space has been reincarnated as the lobby of the shiny new Hilton Garden Inn Burlington Downtown — now complete with the Armory Grille and Bar, which opened on January 31. (The street-facing front of the building will become the Vermont Comedy Club by summer.)
According to food and beverage director Devin Quinn, the restaurant, which has 78 seats and 20 stools at the bar, is still ironing out its concept. "It's still kind of up in the air," he reports, "but it's contemporary American and very traveler-friendly."
Quinn says he wrote the menu, which features "as many local ingredients as possible," to appeal to both the conference crowd and local walk-ins. Breakfast is served buffet-style from 6 to 10 a.m. daily, with cooks flipping eggs and omelettes to order.
In its current form, dinner brings simple, straightforward bites such as crispy calamari tossed in sweet chile sauce; spinach and Caesar salads; flatbreads topped with sesame-glazed Vermont Country Farms chicken; and a handful of sandwiches, wraps and burgers.
Entrées touch the expected bases: roasted half-chicken with root vegetables, New York strip, market fish, tricolor cheese tortellini.
Things get markedly more interesting when it comes to beverages. Two tap lines feature local beers — currently Zero Gravity Craft Brewery's Green State Lager and Fiddlehead Brewing's flagship IPA — while options from Rookie's Root beer are on draft for teetotalers. Its ginger beer appears in a Burlington Mule, a locavore twist on the Moscow Mule spiked with vodka from Smugglers' Notch Distillery. Other cocktails pay homage to Hunt's (a rum concoction with muddled berries and lime) and Sh-Na-Na's (Silo vodka mixed with honey-ginger syrup and lemon). And, for oenophiles, the Armory's entire 30-bottle wine list is available by the glass.
During warmer weather, seating will expand to a patio adjacent to Main Street, and Quinn says he's planning a big party for the Magic Hat Mardi Gras parade on Saturday, February 28. "Our windows actually open to the street," he says, "so you can throw beads out the windows."