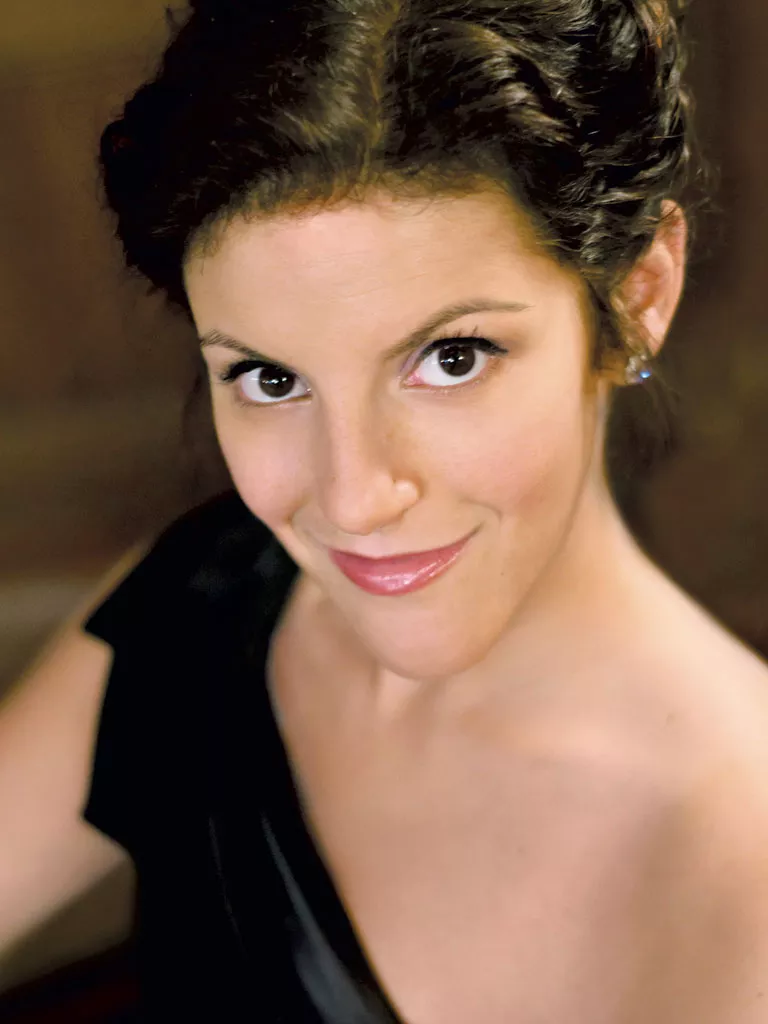 Courtesy of Alpha Artists Management LLC
Sharin Apostolou
Cocktails in the milking parlor, opera singers upstairs: The Inn at Round Barn Farm in Waitsfield will once again host the Green Mountain Opera Festival's annual gala.
Besides raising funds for one of Vermont's two resident opera companies — the one with an extensive emerging-artists program — the gala is a festive evening centered on beautiful voices and ridiculously good food. (The latter will be prepared by Round Barn executive chef Charlie Menard.) This year's event is called La Festa delle Montagne, Italian for "the festival in the mountains."
"We just wanted to dress it up a little," explains the festival's artistic director, Bruce Stasyna, by phone from his New York City home.
Not that attendees are expected to dress up — this is Vermont, after all. Stasyna just wants everyone to have fun in a casual setting, he says. Last year, he and organizer Dana Donaldson of Waitsfield jettisoned the previous years' formal seating arrangements and set up food stations around the barn's second floor, allowing diners to mix. The singers, accompanied by Stasyna on piano, "punctuated" the evening with arias and Broadway tunes. This year's gala will reprise that format.
The gala comes two months ahead of GMOF's ninth season, which will begin on May 27 with open master classes, small-scale performances and open rehearsals at venues around the Mad River Valley. This year's 17 emerging artists, including two pianists and one stage director, were chosen from a pool of 425 applicants. The season culminates in performances on June 19 through 22 of Benjamin Britten's The Rape of Lucretia by the emerging artists and of Rossini's La Cenerentola (Cinderella) by a professional cast.
When Stasyna chose those operas, he was unaware that the Opera Company of Middlebury, the state's other company, had settled on Rossini's L'Italiana in Algeri (The Italian Girl in Algiers) for its fully staged opera this year. Stasyna jokes that audiences hitting both houses this summer will have a "Rossini sandwich": Britten's chilling retelling of the sixth-century-BC story bookended by the two Italian comedies.
The music at this month's gala, however, won't come from either GMOF opera. Instead, selections will include reliable hits from Rigoletto, West Side Story and the like. That program is partly tailored to the voices of the evening's singers — two former emerging artists who have gone on to become young stars.
Lyric soprano Sharin Apostolou has the kind of voice that can sustain long, beautiful lines with agility. Cameron Schutza is a spinto (or "pushed") tenor, meaning his voice can hold its own over a large orchestra. When it came to the season's operas, by contrast, Stasyna chose both to highlight the mezzo-soprano voice in lead roles, and tenors who sing Rossini are generally leggero, or "light."
The gala is an occasion to show off some of the successes of the emerging-artists program, which Stasyna established seven years ago and ran until he took over as artistic director last year. Since participating in the program, Apostolou has been a regional prize winner, and Schutza a regional finalist, in the Metropolitan Opera National Council Auditions. Other former GMOF participants have gone on to sing at the Met, the San Francisco Opera and L'Opéra de Montréal, among other houses. As New Yorker Apostolou puts it during a phone call, "Green Mountain [Opera Festival] takes care of its own."
The 32-year-old soprano performed Adina in Donizetti's L'Elisir d'amore with the GMOF in 2009, a gig she was so excited to get at the time, she recalls, that she "was shouting into the phone. I don't know what Bruce thought of me," she adds with a laugh. Apostolou has gone on to become a young artist at the Glimmerglass Festival in Cooperstown, N.Y., one of the country's premier programs for rising singers and a pioneer in presenting established Broadway musicals along with operas. Last year, she performed in Glimmerglass' Camelot, and she'll sing a lead part in its production of Carousel this year.
After Apostolou's appearance with GMOF, Stasyna became her coach, helping her to prepare for competitions, a European tour and a gig in China, among other career highlights. The soprano reprised the part of Adina twice last year, at the Baltimore Concert Opera and Opera Delaware.
Her training at GMOF played a key part in landing those L'Elisir roles. "I wouldn't even have been considered if I hadn't done it already," Apostolou notes. "Bruce helped me understand the comedy of it, and the musical language of the composer and the period." She adds, "It was so much fun to open my score [from Vermont] and see all the notes I made back then."
In addition to coaching, Stasyna is chorus master and assistant conductor of the Washington Concert Opera and concert pianist for the New York City-based Marcello Giordani Foundation, a nonprofit that helps young singers gain a career foothold. (Its artists' board reads like an opera who's who list: Peter Gelb, Renée Fleming, Susan Graham, James Levine.) Stasyna also debuted as chorus master with New York City Opera for Anna Nicole, the 70-year-old company's final production before it folded last September.
Directing the GMOF, meanwhile, is "a part-time position that requires full-time work," Stasyna says wryly. "There really is no day that goes by where I'm not doing something to do with Green Mountain Opera Festival," he adds.
The gala will mark the start of yet more work with an evening of celebration.
La Festa delle Montagne with Green Mountain Opera Festival. Saturday, March 22, 6 p.m., at the Inn at Round Barn Farm in Waitsfield. $100. Tickets: brownpapertickets.com/event/520662. greenmountainoperafestival.com
The gala is an occasion to show off some of the successes of the emerging-artists program.