Burlington has quite the spread of late-night delivery options that extends way past Domino's pizza. This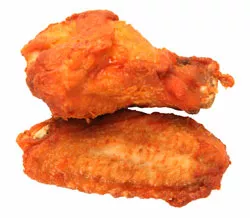 week's Seven Days has the most extensive review of local chicken wings delivery ever compiled. Winging It takes the study of the hot wing to a brand new level of criticism, looking very closely at four local establishments in very specific areas of importance ( such as Dressing Quality, Finger Burns and Heat Range). Use it wisely — I'm sure you'll need it this weekend.
Personally, I'm all about Wings Over Burlington's Jet Fuel boneless wings. They'll bring some tears to your eyes.