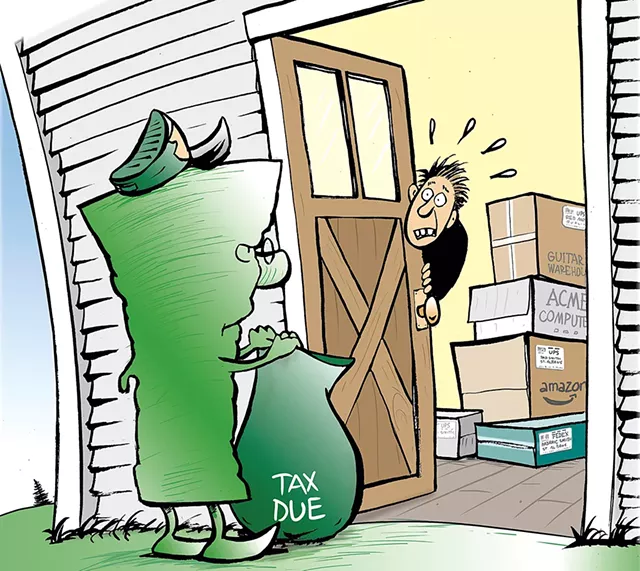 Ben Franklin famously quipped, "In this world nothing can be said to be certain, except death and taxes." But that was 229 years ago. Nowadays, Vermonters might not be so sure when it comes to one particular tariff.
The one in question is the use tax, which only 10 percent of state residents paid last year. Mention it in conversation, and chances are good that you'll get a blank stare in response.
"People don't want to be bothered with it," acknowledged Vermont Tax Commissioner Kaj Samsom.
What is the use tax, exactly? It's a sales tax on items purchased outside of the state but then brought into Vermont. Think booze in New Hampshire, sheets from a catalog or your latest eBay splurge. Clothing, food (but not soda or alcohol) and over-the-counter drugs are exempt.
For each of those purchases, Vermont consumers are legally responsible for reporting on their income tax returns the 6 percent use tax they didn't pay at checkout.
Shoppers can either keep receipts for every eligible purchase or, for the less organizationally inclined, pay a "safe harbor" option of 0.1 percent of total income. For someone making $50,000 a year, that's $50. Last year, the state cut the safe harbor option in half, from a previous level of 0.2 percent.
The use tax attempts to level the playing field for "brick-and-mortar businesses that are having trouble competing," according to Samsom.
If consumers know they have to pay it, they may be less enticed by the lack of sales tax online or in New Hampshire, said University of Vermont associate professor of economics Art Woolf.
The problem? Almost no one pays. Last year, about 36,000 of 368,000 total Vermont personal income tax filers did so — "a laughably small number," Woolf said.
"People in general don't like paying taxes, and this is a general indication of it," he continued. "If it's pretty easy not to pay the taxes without penalties, they will avoid taxes."
Elizia Meskill, a tax preparer and president of Green Tax Services in South Burlington, said that she includes questions about the use tax on the form that clients submit. But she estimated that more than 90 percent of her 500-some non-business clients leave it blank.
"Most of our clients, they'll say, 'No, no, I didn't do any,'" referring to online purchases, she said, adding that the majority — she guessed 80 percent — are probably lying.
The use tax is nothing new. Every state that has a sales tax — 45 of them — also has a use tax. Vermont created both in 1969. But back then, said Samsom, the sales and use tax were each about 3 percent, and few people made the trip to New Hampshire to shop.
"There may have been some sales from Sears Roebuck," he said. Later on, "Mail order picked up, then what changed the game was e-commerce," Samsom added. "Every tax commissioner in the modern era has struggled with this."
He noted that previous tax commissioner Mary Peterson used social media campaigns to encourage people to pay.
The use tax is still not a major cash cow, but it's becoming increasingly more important to the state because of the internet, Woolf said. The state earned $3.8 million in use tax revenues from individuals in tax year 2016. Businesses also pay the tax on what they purchase from out of state; that earned Vermont about $17 million in 2016.
Samsom, meanwhile, has made it his mission to collect. Last year, the legislature approved nearly $5 million for "compliance exercises" meant to gently encourage Vermonters to cough up what they owe for a variety of taxes. Part of the legislation, Act 73, requires businesses to notify the state if they sell $100,000 worth of goods to Vermonters and don't collect tax. Businesses must also remind residents who have spent at least $500 on untaxed goods in the previous year to pay the tariff.
In August, Samsom's department sent 18,000 letters to Vermonters who hadn't paid use tax for the last three years. The department targeted higher-income residents who were more likely to owe the state money, according to Samsom.
The recipients had until October 31 to fork over what they should have paid without risk of penalty. The tough language was a bit of a bluff: Samsom told Seven Days that he's never heard of the state penalizing or auditing an individual for not paying the use tax. The dollar amounts paid per person are so low, he said, "It's hardly worth the paper we'd spend the audit letter on, to be honest."
Still, the "educational" letters weren't all well received. Samsom got some "very strident" phone calls and emails in response. Some called the letter a "shakedown" or "coercive," he recalled.
Among the recipients? Woolf himself. He declined to say whether he did, in fact, owe the tax.
But the pitch worked. More than 6,500 letter recipients made "voluntary payments," Samsom said, for a total of $910,000. That's an average of $140 a person.
Meskill, the tax preparer, said she appreciated the letters because it kept her from prodding her clients to fill out the form.
"We just don't have the time to do the individual one-on-one meeting with the client to educate them, so I welcome the help of the state," she said. Because of those letters, she added, "I see the number growing."
Samsom agreed. So far this year, 13.7 percent of filers have paid some kind of use tax, compared to 7.4 percent at the same time last year — nearly double the total. The state is on track to be No. 1 in the country for its percentage of use tax filers, he noted.
He attributes the increase to the letters, as well as the media attention given to last year's Act 73 legislation, which contained a variety of tax changes.
Andrew Stein, a research economist for the tax department, credited Samsom with the success. "Kaj really drove this for us," he said. Getting everyone to pay is important, even though "from an analyst perspective, it's really not a huge part" of the state's revenue, Stein acknowledged.
All told, the state's nonpartisan Joint Fiscal Office estimated last year that the changes to the use tax would generate an additional $1.8 million in revenues.
Samsom said he wouldn't send out such letters again — but if he did, he'd strike a more conciliatory tone. "Definitely a lesson learned in what we think the message we're sending and what people think the message is," he said. "I want to be more sensitive to that in the future."
The commissioner's efforts may be short-lived, because more online vendors are beginning to collect sales tax automatically. In February 2017, Amazon started collecting sales tax for its products sold to Vermonters. (It still doesn't collect from third-party vendors who sell products through the website.)
The company is Vermont's biggest online vendor, said Samsom. It's expected to bring in $8 million in sales and use tax revenue, the Joint Fiscal Office estimated.
In April, the U.S. Supreme Court will also weigh in on a long-standing use tax precedent that banned states from enforcing sales tax for companies that aren't physically within the state. If the court overturns the previous ruling, Vermont could collect between $5 million and $15 million annually from online vendors based out of state, Samsom said.
Such regulation would ease things up for Samsom, who's had to play the role of enforcer.
"That's every tax commissioner's goal," he said. "It's really a third rail to have to go after purchasers for it. It's not fun for any of us."