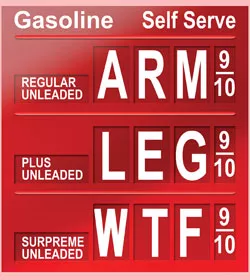 This week's question comes to us from an eagle-eyed consumer who wrote in wondering why gas prices around Burlington — ranging from $3.61 to $3.72 a gallon (for regular) in the last week of June — seem so much higher than those elsewhere in the state.
Sure enough, trek down Route 7 and you'll see the prices plummet: to about $3.59 in Vergennes, then to $3.53 in New Haven and finally to $3.40 a gallon in Middlebury. Last week, Vermont's average gas price hovered around $3.55 a gallon — but ranged from a high of about $3.72 in Burlington to a low of $3.31 in Jay.
Seriously, WTF?
We're not the only ones asking: On Monday, Sen. Bernie Sanders wrote to Federal Trade Commission chairman Jon Leibowitz and U.S. Attorney General Eric Holder requesting an investigation into Burlington's high gas prices (PDF). Sanders points out that in addition to the problems of oil speculation on Wall Street and record profits at major oil companies, just four companies own 58 percent of the gas stations in Chittenden County.
"Does that have an impact? Well, it might," Sanders said in an interview.
Bill Heffernan is one of the owners of Champlain Valley Plumbing and Heating in Middlebury and a purveyor of that elusive $3.40-per-gallon gasoline.
"Basically, we set the tone in Middlebury," Heffernan says. "Whatever we go to, people follow."
What Heffernan means is that gas station owners and managers are paying close attention to where their competitors set their prices. In competitive markets, every cent counts.
Is competitive spirit what's missing from the greater Burlington gas market? If so, perhaps not for long: In May, Costco filed an Act 250 application (PDF) to build a self-serve gas station at its Colchester warehouse. R.L. Vallee, Inc., which owns the Maplefields convenience store and gas station chain, requested party status in the Act 250 hearing, couching opposition to the project in terms of environmental concerns about nearby wetlands. But Vallee also operates a Mobil station about a half mile from Costco — which, if granted permission to build its gas station, would probably undercut nearby competitors.
While that Colchester Maplefields Mobil sold gas for $3.63 early this week, prices at other Vallee stations showed the influence of nearby competition. For instance, at the Middlebury Maplefields Mobil, three-tenths of a mile from Heffernan's business, prices last week started at $3.45 per gallon, just 5 cents above Heffernan's price. (The Mobil's convenient Route 7 location and brand-name fuel could be factors.)
Heffernan points out that another Vallee station in Addison County — this one in New Haven — sold gas for $3.53 per gallon last week, while gas at the Mobil station in Morrisville priced out 10 cents higher. R.L. Vallee's president didn't return messages requesting information about how the St. Albans company sets prices at the pump.
Gas station owners, then, appear to exercise discretion in setting prices. Joe Choquette, a spokesman for the Vermont Petroleum Association, says that Vermont traditionally has a few pockets of "intense competition" — Rutland jumps to mind for him — where prices vary less from station to nearby station. Prices also tend to be lower in these areas; perhaps customers are traditionally more cost conscious, and gas station owners price accordingly.
Some regions, like Burlington, are decidedly uncompetitive. Prices can vary by as much as 16 cents per gallon throughout the city. Choquette says that, if customers shopped purely based on price, they'd probably drive down prices across the board and reduce variation. But they don't. Brand loyalty, location and convenience all play just as large a role in determining where customers shop as prices do. (If you are a bargain shopper, take note that on Monday morning, the Burlington area's cheapest gas was sold at the Gulf station on Williston Road for $3.55 a gallon.)
Still, competition — or lack thereof — in Burlington doesn't wholly explain why the city's prices are so much higher than those around the state.
"There does seem to be a phenomenon that the Burlington area does go down [in prices] more reluctantly than other parts of the state," Choquette says.
Yet another factor is the source of gasoline. Gas prices at various wholesale locations — typically Albany, N.Y.; Springfield, Mass.; and Montréal—can vary from day to day. Heffernan tries to buy from the south, he says, because he often finds gas cheaper there, but he notes that suppliers switch sources frequently.
Even local industry experts have a hard time predicting what will happen to the price of gasoline over the course of the summer. Choquette declines to venture any guesses. Heffernan points out that the price of crude oil is pretty low right now (about $82 per barrel) and says he doesn't see it going any lower.
Wholesale prices can fluctuate based on a number of factors. Sometimes political turmoil in faraway countries has an impact. Other times, Mother Nature intervenes. Occasionally an actual shortage occurs, and sometimes refineries shut down for maintenance and put additional pressure on the market.
As for Burlington's higher prices, Heffernan speculates about what's behind them: "Personal greed." While he can't say for sure what other stations are paying for wholesale gasoline, he knows what he's paying: about $3.07 per gallon last week, which left him with a 33-cent margin. "There's too many chains in the state of Vermont right now," he opines. "They're all making a lot of money."
Outraged, or merely curious, about something? Send your burning question to wtf@sevendaysvt.com.