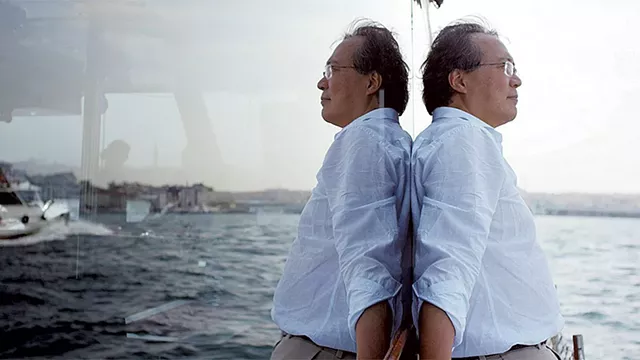 Courtesy Of Architecture + Design Film Series
Yo-Yo Ma in The Music of Strangers
The free Architecture + Design Film Series in Burlington, now in its eighth year, might seem to have less to lose from social distancing than most arts events: All the films can be viewed online instead of at Burlington City Hall Auditorium.
Yet the series' pre-pandemic strength lay as much in bringing people together for good conversation and free pizza as in its carefully curated films. Founders Lynda McIntyre, Andrew Chardain and Karen Frost often arranged special appearances by the locally based children, colleagues, students or clients of the famous architects or landscape designers featured in the films. All that disappeared when the series had to go online for last season's final two films.
For the opening film of fall 2020, however, the trio of organizers has managed to restore community togetherness. Viewers will congregate — safely, of course — at Water Works Park in Burlington on September 23 for a live show by local hip-hop group A2VT followed by a screening of The Music of Strangers: Yo-Yo Ma and the Silk Road Ensemble.
McIntyre explained the choice of film by phone: "We wanted to start our series with joy, because this has been a difficult time for people."
The Music of Strangers documents how the famous cellist brought together top musicians from Italy, Turkey, Central Asia, China and Mongolia with expertise in their cultures' music to form a multicultural ensemble.
"The movie is about ... how musical language touches the spirit of all people around the world," McIntyre said. While "a lot of the musicians [in the film] are displaced people leading not easy lives," she added, a major message of the film is hope.
That put her in mind of A2VT, a group she recently saw perform in Montpelier whose name means "Africa to Vermont." Its members came to Burlington as refugees from Somalia, Tanzania, Burundi and other African countries. The catchy songs they write, in as many as eight languages, fuse their native musical roots with Western pop and hip-hop.
"They like to hype it up and get people on their feet," said A2VT's producer-manager, David Cooper. Of A2VT's 10 members, three or four usually perform at a time, dancing and vocalizing over an instrumental track.
Cooper has been with the group since its founding in 2008 by Said Bulle (stage name: Jilib) and George Mnyonge (Pogi), then in their late teens. A2VT now have two albums and several music videos on YouTube. Among them are "Qoor Ingkaat," filmed in the same spot where they'll perform before the A+D movie; and the fun early-pandemic song "Dirty Hands," filmed at Rhino Foods, where one of the singers works.
The outdoor setting of Water Works Park has plenty of room for socially distanced dancing and, well, limited conversation. Forty seating pods 15 feet apart (bring your own chairs or blankets) will be marked by orange flags, according to Burlington City Arts festival and event director Zach Williamson. With a maximum of six people to a pod, the showing can accommodate up to 150 people.
There's no rain date, Williamson noted, because the film will also be shown online. Viewers can check BCA's Instagram or Facebook page by 3 p.m. that day to learn whether the live show is on.
Like The Music of Strangers, the rest of the season's eight films — all showing online — were chosen and scheduled "based on what we think the community might emotionally need," McIntyre said.
One of her favorites on the roster is Aggie, showing in November, about art patron and collector Agnes Gund, who has quietly used her collection and sales of its works to fund art programs for New York City schoolchildren and a program aimed at reducing mass incarceration. Her family is also behind the Gund Institute for Environment at the University of Vermont.
"I like people who use whatever they have in service of humanity," McIntyre said — a sentiment she finds especially relevant during the pandemic. "A lot of people are suffering financially, emotionally."
Frost, who co-owns Vermont Eco-Floors in Charlotte, looks forward to Hollywood's Architect: The Paul R. Williams Story in January. The film examines the career of the first African American architect (1894-1980) to be admitted to the American Institute of Architects — a man who designed for the rich and famous yet was often denied entry to the very buildings he had created.
"This film is particularly relevant to this moment in time," Frost wrote in an email. "In speaking with the director, I learned this film was 10 years in the making, yet it could not have arrived on the scene at a more noteworthy time. Hollywood's Architect provides a transparent example of insidious institutional racism that we must all learn to recognize, understand and overcome."
The season will end with Neutra — Survival Through Design, about the Austrian American architect Richard Neutra, designer of the Kaufmann House in Palm Springs, Calif. The curators scheduled this film last because "We're all really modernists," McIntyre quipped.
But architect Chardain, who works at Birdseye, a design and building firm in Richmond, wrote in an email that he's most excited about the opening film.
"Yo-Yo Ma talks about the 'edge effect,'" he explained. "In ... ecology, this is the point at which two ecosystems meet and where most new life forms are created. His creation of the Silk Road Ensemble was a sort of parallel to this, but for music. This resonates with me," Chardain continued, because "exploring creative solutions to difficult problems requires the coming together of people with wide-ranging levels of knowledge, experience and backgrounds.
"Also," he added, "the energy in this film is great and will mark a wonderful beginning to this season at a time when we all could use some joy."