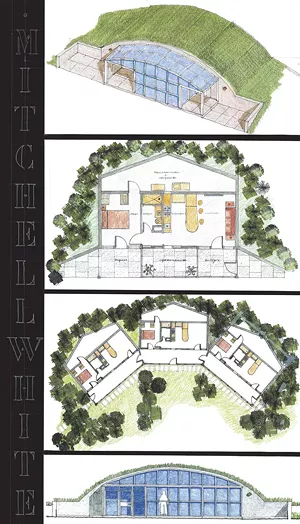 Courtesy Of Truexcullins
The Gopher Berm House by Mitchell White and Rolf Kielman
Last Thursday, Burlington-area architects mingled over wine and cheese with homeless Vermonters in the lobby of TruexCullins on Battery Street. On the walls hung the drawings and stories that brought them together: images of home conceived by those without one and designed, for the most part, by the architects. Rock Point School nurse Alison Cannon instigated the exhibit, called "Imagining Home."
"The idea [is] to give voice to people who have experienced homelessness directly," Cannon said, "and have them share what their current needs are and thoughts and ideas about how to meet those needs."
She paired seven people affected by homelessness — currently or in the past — with seven architects. The latter then conducted interviews with their collaborators and used the information to create designs. The homes range from underground bunkers in the woods to a 434-square-foot house with a porch and a colorfully patterned exterior.
The architectural drawings, along with some 3D models, will be on view at TruexCullins through late August. Afterward, they'll travel to the Latchis Hotel in Brattleboro, where they'll be displayed during Tiny House Fest Vermont, September 1 to 4, and through the end of that month. Later, the exhibit will make stops at the Fletcher Free Library in Burlington and the Vermont Statehouse in Montpelier.
That kind of exposure is exactly what Cannon was hoping for when she submitted a grant application to the Burlington City Arts Community Fund last year. Her proposal garnered $3,000. "My hope," she wrote in the proposal, "is that this project will lead to a larger community discussion about housing the homeless."
Cannon said the idea came to her when she read about a housing-first program in Medicine Hat, Alberta. With the help of provincial government funding, the city has managed to house nearly every member of its homeless population since 2015; the program has met with similar success in other Canadian and U.S. cities.
The concept behind the housing-first approach is that, if a person's basic needs for shelter are met, he or she will be better able to address other issues, such as addiction. The model has no prerequisites regarding sobriety, which is a qualification for acceptance into many other homeless shelters and housing programs.
"Imagining Home" borrows from that model but also takes into account the varied preferences of homeless individuals. Not everyone wants to live in an apartment downtown or isolated in the woods.
"Perhaps we are trying to force people into a way of living that does not work for them," Cannon observed in her proposal.
Variety is amply represented in the images produced by the "Imagining Home" teams. Some living quarters are mobile, such as the one envisioned for Israel Cave and designed by Middlebury architects John McLeod and Steve Kredell. The home features large windows, a small camp stove, a rainwater catchment for washing water, and "a place to sit in an easy chair by the fire, sip herbal tea with honey, and play the guitar," according to the rendering.
Others are stationary, sustainable structures, such the home designed by Mitchell White with the help of Rolf Kielman, a principal architect of TruexCullins. White, who took drafting classes in high school, was primarily responsible for the final rendering. "He has a strong interest in design and making things," Kielman said. "So I gave him a portable drafting board and pens and pencils, and he did the drawings."
White called his construction "three-sides-to-the-sun design," noting that it is intended to capture solar heat through three greenhouse-like structures at the front. He said he's been contemplating environmentally conscious design since high school and would like to share his ideas.
"I'm thinking more that I just want to leave something for humanity," White explained. "I'm 54; I know time flies, and I'd rather get the idea out there and not make any money than to not have the idea ever get out there."
White said he met Cannon while volunteering as a dishwasher at the Wellness Co-op in Burlington. "I was homeless last summer in the streets of Burlington," he said. "And then, all of a sudden, the girl who runs the kitchen tells me about Alison. Alison came and interviewed me, and then we met the architect, and me and Rolf hit it off immediately."
Kielman said working with White was beneficial for him and others in his firm, as well. "You learn something from going through a process like this," he said. "Mitch has been here every week for four months."
Some of his colleagues suggested it was "a terribly cruel process" asking people to dream up a home in which they'll likely never live, the architect acknowledged. But he doesn't see it that way.
"Mitch felt so comfortable coming in here; he got to know people, and it reinforced [the fact] that he's good at [drafting]," Kielman said. The experience also pointed out to him and his employees some of the obstacles to finding a stable living situation.
Cannon, who observed the interviews between clients and architects, also benefited from the process. "I think the biggest thing for me was [having] the opportunity to sit down and talk to people," she said. "[It] helped highlight the fact that people end up in these situations for a variety of reasons, and they're all individuals with their own stories."