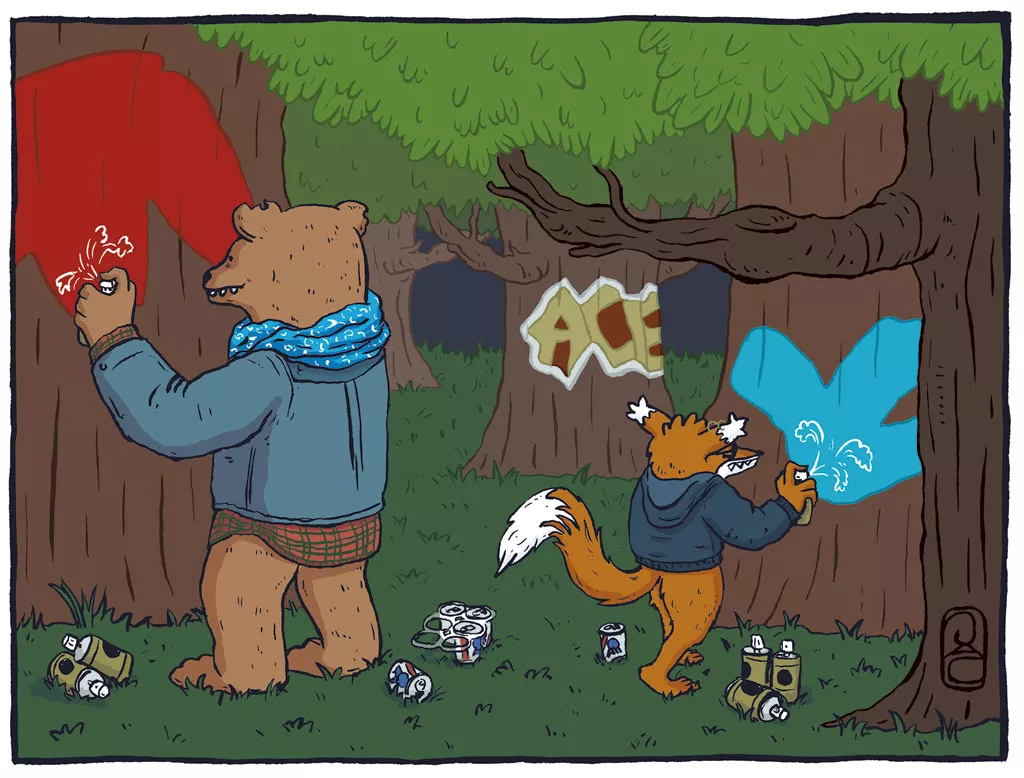 When Burlington arborist Warren Spinner came back from vacation last week, his inbox held upsetting news: Vandals had snapped the branches and trunks of four saplings.
The city's chief tree doctor made the rounds, inspecting the damage: On Loomis Street, someone had maimed a crabapple and lopped off a Japanese lilac at its base. On nearby North Street, he saw a partially uprooted ash.
The final casualty, on Mansfield Avenue, was a tulip tree whose central trunk had been snapped. Andy Raubvogel and Nancy Kaplan had planted it two years ago in front of their house on the greenbelt — the city-owned stretch of grass between the sidewalk and street.
Spinner is no stranger to this kind of crime, which occurs up to 20 times a year in Burlington. He's been tending Queen City trees since 1980, and tree vandalism happened on occasion then, too. Still, he finds the impulse puzzling.
"We've been trying to figure out what possesses an individual to attack a tree," Spinner said.
He knew these particular victims well. So did Margaret Skinner, an entomologist at the University of Vermont who chairs the nonprofit Branch Out Burlington. Both had a hand in raising three of the vandalized trees.
On a sultry morning last week, Skinner stood next to a row of recently planted river birches on a secluded plot of land off Shelburne Street. Wearing overalls and red clogs and occasionally leaning down mid-sentence to pluck weeds, Skinner explained that planting trees in Burlington entails more than plopping them in the ground.
Currently, a small group of people cares for as many as 300 trees that get added to Burlington's urban forest each year. Since 2001, Skinner and her fellow Branch Out Burlington volunteers have run the nursery. Rather than buy the "balled and burlapped" trees, which come ready-to-plant but generally cost several hundred dollars, they purchase younger trees for as little as $15 and nurture them in the nursery until they are street-ready.
Spinner curates Branch Out Burlington's tree collection, picking species based on size, hardiness and aesthetics. He and his crew also handle the planting. They supplement the 80 to 100 trees that Branch Out Burlington supplies each year with trees purchased from other nurseries.
"He knows every tree on the street, when it was planted, when it was last pruned," Skinner said. As she pointed out Kentucky coffee trees and corkscrew willows, she explained that they don't grow many native species because most have a hard time adapting to urban life — sugar maples, for example, can't tolerate salt from the plow trucks.
Spinner is counting and cataloguing all the trees in Burlington's publicly owned urban forest, and he estimates it contains roughly 13,000. Four victims in a forest that size might not seem significant, and both Skinner and Spinner readily admit they face bigger problems: bracing for the arrival of the havoc-wreaking emerald ash bore and other new pests, for example. Storm damage is a perennial problem.
Still, to see years of watering and weeding get deliberately undone is demoralizing, Skinner said. She understands why residents might think, "Ah, four trees. We've got so many other trees. Who cares? but for us," she continued, "Every one of those trees are precious." Getting more people involved in tree care could reduce vandalism, Skinner suggested. "If I had my druthers, I would love every neighborhood to have a tree warden."
Step into Raubvogel's and Kaplan's backyard, and it's clear they share Skinner's arboreal zeal. An enormous sugar maple dominates; nearby they've planted an aspen grove. As Raubvogel described it, "When the wind blows, everything twinkles."
The tulip tree, he made a point of mentioning, was a variegated one, meaning its leaves come in multiple shades. It was one of just two in the city, as far as he knew.
"Planting another tree is not a big deal," said Raubvogel, who is a partner at the Burlington law firm Dunkiel Saunders Elliott Raubvogel & Hand. But he choked up describing the moment he discovered the mutilated tulip. He and his son, who had recently been diagnosed with cancer, were returning home one Saturday evening from the first chemo treatment when Raubvogel saw it.
Danielle Fitzko coordinates the state's Urban & Community Forestry Program. She described tree vandalism as an ongoing problem that's more pronounced in Burlington than elsewhere in the state because of the colleges, the bar scene and its "progressive planting program."
"Those smaller trees are really vulnerable to vandalism," she explained.
Outside of Vermont, people have committed high-profile acts of tree vandalism in the name of political activism — papaya plantations chopped down in Hawaii, presumably in protest against GMOs. Or in pursuit of profit — redwood tree burls are being sawed off and sold in California.
In Burlington, Spinner said, it often seems to coincide with the graduation season, but other than that, "there's no rhyme or reason, no pattern, as to when, why or how many are going to get vandalized."
With a few notable exceptions, people don't get caught, Spinner said. On one occasion he stumbled upon someone cutting a tree in Battery Park. "I actually ran the person down while on my cell phone with the police, and we corralled him."
Spinner hires college kids as "seasonals" during the summer, and when he got to the courtroom for the Battery Park case, he recognized the prosecutor as one of his former tree crew workers.
"Best job I ever had was working for Warren Spinner," said Chittenden County State's Attorney T.J. Donovan last Friday.
Tampering with trees, public or private, is a crime that falls in the category of unlawful mischief, according to Donovan. Unlike in New York City, where people can be prosecuted for arborcide, Vermont doesn't have a tree-specific charge.
If a culprit is found guilty, Spinner is generally called on to calculate the damages. It's a complicated assessment, he said — one that factors in the tree's species, trunk diameter, location and general condition.
Police reports weren't filed in the latest incidents so legal action is unlikely. Still, Donovan said, "Tell Warren if I get the case, I'll have zero tolerance."
Spinner did what he could to salvage the remains. The lilac was clearly a lost cause, but he replanted the ash and pruned the crabapple, hoping for the best. A friend of Raubvogel and Kaplan purchased another tulip tree for them.
The couple and Spinner are determined to keep planting. "I remember a battle I had on Buell Street," recalled the arborist, launching into a story about an especially persistent offender. "I replaced some of those trees three times before I won."
The original print version of this article was headlined "All About Arborcide: In Burlington, Vandals Target Trees"