GLENN RUSSELL
A hornworm on a tomato plant at Arbor Farmstead
Most farmers aren't happy when they find a fat green hornworm feasting on their tomato plants. But Alisha Utter is not like most farmers.
"We now have our first giant hornworm of the season," she said with a smile, holding out a cluster of ripening cherry tomatoes. The branch held not only an imposing caterpillar but abundant evidence of its destructive appetite.
On three acres of their seven-acre Arbor Farmstead in Grand Isle, Utter, 27, and her partner, Kyle Bowley, 33, raise berries and other fruits, herbs, flowers and vegetables. With few exceptions, they follow a "live and let live" credo. Rather than trying to eradicate pests, Utter prefers to look at the bigger picture in which every species has a role. It helps when, as in the case of the cherry tomatoes, the pest targets a crop being grown for the couple's personal consumption rather than their farm business.
"This hornworm has a right to exist," Utter said. "It is going to turn into a moth, and that is a pollinator."
The couple follows farming practices that are known as veganic, a term combining "vegan" with "organic." Veganic farming starts with organic cultivation methods, but it also involves eschewing all materials, such as fertilizers, that are derived from animals. Many veganic farmers avoid even organically approved broad-spectrum pesticides. The goal is to grow plants with the least possible impact on animals and other living creatures.
"We want our farm to be home to as many creatures as possible," Utter emphasized during a recent Tuesday morning tour, which included a menagerie of rescued animals. The couple cares for 20 chickens, a pair of pit bull mixes and two large white rabbits. One was found hopping through Queens, N.Y., possibly escaped from a live animal market.
Utter and Bowley vend at the Burlington and Champlain Islands farmers markets. They sell fruit snow cones, slushies and sodas made with Utter's Sweetbranch Syrups, as well as fresh fruit, bottled syrups, jams, jellies and other farmed products. They also sell Bowley's wood-crafted items.
What they won't sell are the eggs produced by the rescued laying chickens. Utter is vegan; Bowley eats some eggs, as do the dogs and even, occasionally, the chickens themselves. Any excess goes to friends and neighbors. "We have never profited off them," Bowley said.
It's no secret that making a living off a small farm is tough. By choosing to be veganic, the Arbor Farmstead couple has added to the challenge. Pausing before a row of ground cherries that had mostly succumbed to a beetle infestation, Utter noted that a later planting in another part of the farm was doing OK. "Our off-farm income allows this," she acknowledged.
Utter holds down three part-time jobs and also attends graduate school. Bowley has a full-time job with a flexible schedule as a Vermont Army National Guard medical evacuation helicopter pilot.
Squeezed in between everything else, the farm will gross about $15,000 this year from farmers markets and online sales. The couple projects that revenue will double as their plantings mature and Utter can devote herself to Arbor Farmstead full time.
The foundational veganic practice of eliminating animal-based materials might not seem like a big deal, but it is. While conventional farmers can use synthetic fertilizers, most organic plant farmers rely heavily on organic matter made from livestock by-products to fertilize their crops. Standard sources of key nutrients include bone, blood, fish and feather meals, as well as manure or manure-based compost.
Utter realized how integral animal products are to organic farming in 2014, while studying in the University of Vermont's Farmer Training Program. The Hudson Valley, N.Y., native had recently graduated from the University of California, San Diego, with a degree in environmental policy and marine science. She decided to pursue the six-month, hands-on UVM program because, she recalled, "I thought, If I'm going to do policy, I need dirt under my fingernails."
At that point, Utter had eaten no meat, fish, eggs, dairy or honey for eight years, a choice she initially made "for the animals," she said. Later, she came to believe it was the right choice for the environment, too. Many scientific bodies have pointed to agriculture's contributions to the climate crisis and the lesser impact of a mostly plant-based diet, including the United Nations Intergovernmental Panel on Climate Change in its report released last week.
Glenn Russell
Kyle Bowley looking at chickens in a coop
As part of her UVM curriculum, Utter was tasked with spreading blood meal, a strong source of readily available nitrogen for plants. "The contradiction became most evident at that moment. I felt it rise up in me," she recalled. As a committed vegan, how could she eat plants fed with animal blood?
She knew products such as blood meal tend to be made from waste generated by large industrialized farms known as factory farms. "It's efficient in a shallow way," Utter said of using such materials, "but only if you don't look at all the longer-term impacts."
Utter resolved to try farming a different way and to pursue a PhD in plant and soil science at UVM. She is currently completing a dissertation on veganic farming across the U.S., for which she and a research partner found about 50 self-identified veganic farms and interviewed farmers at 19 of them. While all these farms limit themselves to plant-based fertilizers, they diverge in other practices; one farm surprised Utter by using rodent traps and allowing hunting.
North America has no veganic certification program. Europe's Vegan Organic Network has established standards for veganic farming, called Stockfree Organic, that can theoretically be used anywhere, but they haven't taken off on this side of the Atlantic.
In the Champlain Islands, Utter has set high standards for herself to demonstrate veganic viability. That's why she doesn't use the potentially valuable manure that accumulates in the chickens' nighttime coop, though some veganic farms do apply manure from rescue animal residents as long as it doesn't contribute a significant percentage of fertility.
A self-described "scavenger" who hates to see resources wasted, Utter admitted it bothers her a little to let the organic matter go unused. "I could use it, but I don't because of the ambassador piece," she said. "We feel a responsibility to serve as an ambassador farm. There's so much skepticism about plant-based agriculture."
She's referring to the many organic plant farmers who believe animal-based inputs are crucial to success. Without those tools, Utter and Bowley focus on exploring the best plant-based fertility methods while using other cultivation practices that build the soil and, in turn, support healthy plants.
"We're really soil farmers; crops are almost a side product," Utter explained. "We see building soil as a strategy that's going to help with the really big picture." Healthy soil and plants sequester more carbon, she noted, "and keeping carbon in the soil helps with climate change."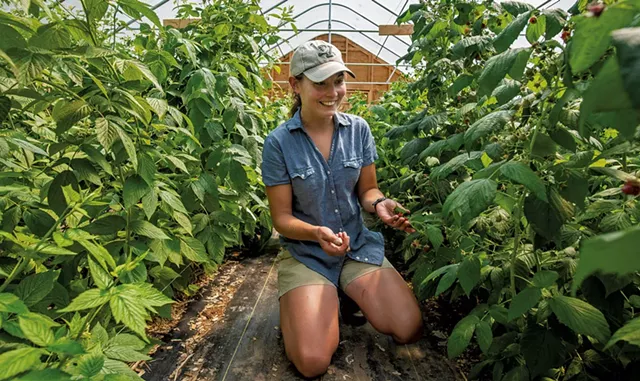 Glenn Russell
Alisha Utter examining the raspberries growing in one of the high tunnel greenhouses
At the base of her elderberry bushes, Utter pointed out the "lasagna approach" of layering plant-based compost with uncoated, recycled cardboard and wood chips. The couple plants cover crops; mulches with buckwheat hulls, straw, wood chips and leaves; and applies plant-based compost, as well as compost and comfrey teas and liquid kelp as needed. They are experimenting with aging alfalfa pellets into slurry to make a plant meal, and they're trying out a bagged fertilizer made from plants, minerals and seaweed.
Utter recognizes that few decisions are black and white, and Arbor Farmstead does not exist in a bubble. For instance, the couple uses petroleum-based landscape fabric around some plants, though much of the material is decades old, Utter said, inherited from mentors. The farm's straw comes from a local livestock farmer. Utter serves on the board of the local farmers market, which includes farms of all kinds. "We don't think we live on our own ethical island," she said.
Still, minimizing harm to creatures of all kinds looms large for Utter. "We operate on the principle of most good, least harm," she said. Though some describe veganic farming as "animal free," that would require a sealed building, Utter pointed out. "We are not in a closed system. It's inclusive of animals. It's an extension of nature," she said.
While deer have eaten the elderberries around the farm's wooded perimeter, Arbor Farmstead has been relatively free of raccoons and wild rabbits. Utter attributed that to the dogs, saying their contribution makes her both thankful and a little uncomfortable.
Utter's reluctance to hurt or exploit animals precipitated what she described as "one of the biggest ethical dilemmas of our farm." It led, last month, to a major compromise.
Arbor Farmstead has a pair of 30-by-72-foot hoop-house structures. One of them contains about 1,000 raspberry and strawberry plants, a significant investment for the small farm. The berries are under cover to avoid infestation by a notorious invasive fly, which would make short work of the entire crop. Fine netting on the sides of the hoop houses admits needed airflow while keeping insects out. Those excluded insects, however, include critical pollinators.
Last year, the couple lucked into a colony of native bumblebees that could come and go as they pleased through two tubes at the end of the hoop house. This season, they had hoped wind pollination might do the job, but it was weak and produced mostly deformed fruit. They tried every possible solution short of hand-pollinating each blossom, from using a tuning fork to mimic pollinator wing vibration to bringing in other kinds of native bees.
Ultimately, Utter and Bowley caved and ordered a colony of bumblebees from Michigan. Barely two weeks after the insects had been released in the hoop house, the bushes burst with plump, sweet red berries. Since the bees are from out of state, the couple can't offer the insect workers freedom without potentially compromising the health of native pollinators, so they will live out their lives in the hoop house. "We will give them every tool to survive the winter," Bowley said.
Why not give up on raspberries? "That's just passing off the dilemma to someone else," said Utter. For her, facing the difficulty is the point, which is also why Arbor Farmstead grows both annual and perennial crops. Focusing on perennials might be easier, because annuals have much higher short-term fertility needs. But to prove veganic farming is commercially viable, "These are challenges that need to be addressed," Utter explained.
While she firmly believes in veganic practices, Utter understands that building global agricultural and environmental resilience will require more than one kind of approach. "I feel like we need as many tools as possible to make sustainable agriculture work, and veganic is one of those," she said.
The young farmer-researcher hopes her work will help people reevaluate some of their assumptions and think about the impacts of their choices.
"Systems of oppression and exploitation are interconnected, whether it be speciesism or sexism. The same mind-set that allows us to feel dominant and squish a bug is related to what allows some people to feel superior over other people," Utter said. "The world could use more gentleness. In our day-to-day life, this is our expression of humility, compassion and gentleness."