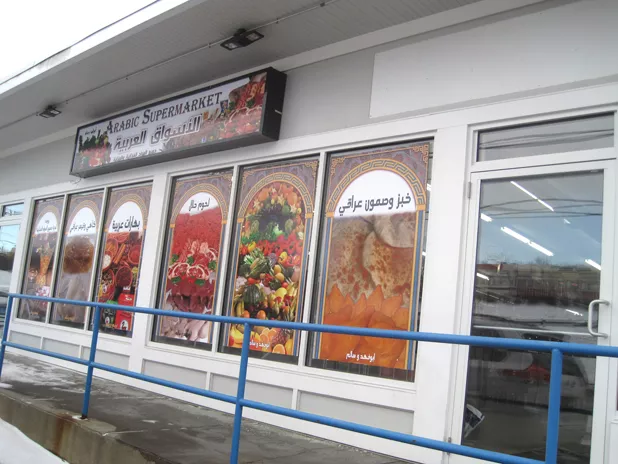 When Seven Days visited Wisam Altameemi at his newly opened Arabic Supermarket at 70 Roosevelt Highway in Colchester on Monday morning, he requested that a specific quote run in the paper. "He love Vermont too much," the young shop owner said, describing himself.
The Iraq native has reason to adore his adopted home. Just a week after opening his business, he says the store has been reliably busy.
Besides Muslim garments and Middle Eastern housewares, Arabic Supermarket stocks practically anything a cook from Asia Minor — or one simply trying to reproduce its cuisine — could wish for. Spice shelves hold tubs of hard-to-find flavorings. Combinations intended especially for beef shawarma, torshi baharat and dolmades bear the store's name and address along with a photo of the appropriate finished dish.
Many American shoppers still face a steep learning curve with Middle Eastern cuisine, but Altameemi says he enjoys introducing his neighbors to the culinary secrets of his culture. "I welcome anyone to come visit me and see what I have," he says.
"What he has" also includes an array of cheeses you're unlikely to see elsewhere in Vermont, along with candies, vinegars and halal meats. Later this week, Altameemi and chef Loay Alkhafaji will introduce prepared foods to their store while continuing to expand their range of groceries. Altameemi says to expect kebab, shawarma and homemade kajmak, a spread somewhere between mild cheese and clotted cream, in the grab-and-go area.
What of the restaurant just down the steps from the grocery? For now, Altameemi says, the extreme cold has made work on the space nearly impossible. But he expects to be serving shish taouk, hummus and salads by the end of February.