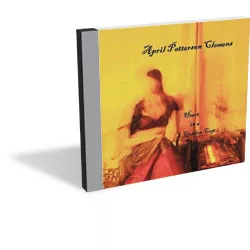 (Self-released, digital download)
Once upon a time, in a land not so far away, young lovers met blissfully and parted tragically. Or so the story goes on April Patterson Clemens' latest, Heart in a Golden Cup. In an album that's two-parts Patsy Cline, one-part Beach House, Clemens weaves a haunting neo-folk tapestry of love, loss and longing.
When she sings, Clemens channels medieval spirits with a rich, earthy tone that bends itself ethereally, the way water bends an image. Ghosts seem to wander through one song to the next on the controlled quiver of Clemens' voice. Heart in a Golden Cup sounds as if it were recorded in a holy space, an ancient forest or medieval cathedral. Subtle, echoing vocals cast melodic shadows throughout the album. The poetry of Clemens' lyrics and the beauty of her voice, accompanied by a simple, steady guitar, are at the heart of this album.
Heart is rich with literary allusion and romanticism. Clemens' ballads linger in the natural and emotional realms, recalling mythology and fable, as well as imagery you'd likely find in Milton, Brontë, Blake and Keats: a lonely nightingale, gods and demons, gardens, and forest clearings. Clemens' pastoral verses fit the traditional ballad form that dominates this album.
"If By Chance These Words Should Find You" is one of those ballads — and at a meandering six minutes and 56 seconds, it's a ballsy album opener. The song follows a protagonist as she reflects on missing her lover while traveling from small mountain towns to faraway kingdoms.
Slow and reflective, "Don't Take Away My Demons or My Angels Will Come, Too" nods to the Greek myth of Hades and Persephone and Milton's Paradise Lost. In a drawling country twang, Clemens delivers an allegory about balance.
Despite her musical meanderings to medieval kingdoms, Clemens brings it home with "Dusty Town Heroes," singing, "Everyone wants a flag / to wave away all their pain / a banner to march for / so to live not in vain / I have burned every flag / that has been held out to me / And I've pledged my allegiance / to the truth that has been."
The album's most haunting song comes last. "Cool Blue Morning" resonates with sadness and longing. As Clemens sings subdued and solemn phrases such as "oh, my love" and "never was…" some listeners might envision the ghost of Catherine lingering near a window she believes is Heathcliff's. The album concludes with restless uncertainty.
April Patterson Clemens plays the Radio Bean in Burlington this Sunday, June 17. Heart in a Golden Cup is available on iTunes.