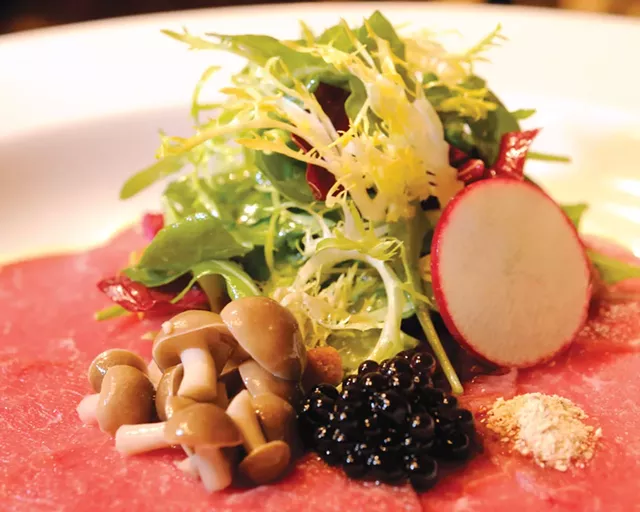 Jeb Wallace-brodeur
North East Family Farm Carpaccio at The Common Man
There's a rustic elegance about the 1850s barn that houses the Common Man Restaurant in Warren, less than a mile from the slopes of Sugarbush Resort. Crystal chandeliers adorn the dining room, casting flecks of light on the dark wood ceiling beams like stars in the winter sky.
Chef Adam Longworth's upscale après-ski cuisine likewise plays on visually arresting contrasts. Salad, served in a wooden bowl, is a thick strip of cracked wheat and local goat feta atop a festive mix of green beans, thin red radish slices and herbs.
A fairy-tale forest of pink-and-green vegetation is actually fluke crudo. In a citrus bath, the fresh catch from Vermont's Wood Mountain Fish comes with orange segments, dollops of puréed avocado and tart grapefruit pearls.
Everything tastes as good as it looks.
Jeb Wallace-brodeur
The Common Man
Credit for the stellar fare goes to the pair behind Common Man — and their pedigrees. When Longworth and his life and business partner, Lorien Wroten, purchased the Common Man at the end of 2011, both worked at renowned New York City restaurants. Celebrity chef Alfred Portale made Longworth his chef de cuisine at Gotham Bar and Grill when the Vermonter was just 24. Wroten developed her scrupulous attention to detail as general manager at Barbuto, under the direction of famed chef and owner Jonathan Waxman.
Longworth's cerebral cuisine is a far cry from the cassoulet-and-boeuf bourguignon fare that once weighed down the Common Man's menu. But the current chef is not afraid of hearty dishes, either. Take the rack of lamb, served over a central-Asian-style pilaf with yogurt sauce and golden-raisin chutney in a curried jus. It's as comforting as Longworth's housemade orecchiette with duck sausage and meatballs.
A long day on the mountain justifies dessert: Straight from the oven, chocolate cake is warm, moist and rich in the energy every skier needs to hit the slopes the next day.