Matthew Thorsen
Thompson's Flour Shop, Stowe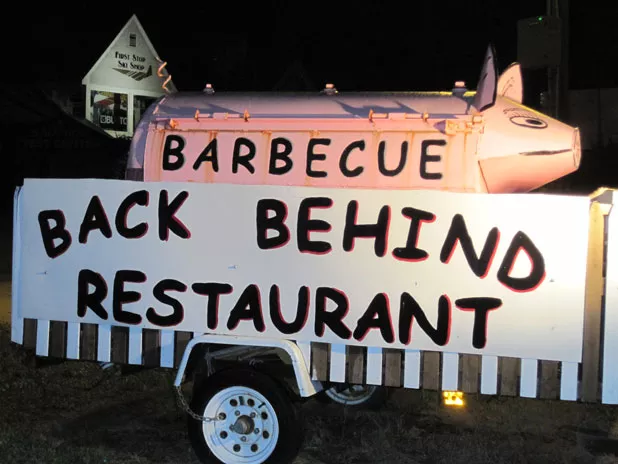 Alice Levitt
The Back Behind
At the end of a long day on the slopes, after stripping off soggy outerwear and packing the car with frigid fingers, it's easy to give in to the temptation of the closest cafeteria. Fragrant whiffs of pizza, French fries and steaming bowls of chowder are hard to resist, even if you already paid premium prices when you grabbed lunch.
But those willing to tighten their belts and spend a few minutes behind the wheel can reap serious gustatory rewards. Within 10 minutes of most mountains lie quirky sandwich shops, down-home BBQ joints and fine-dining destinations.
Since winter is looming, a trio of Seven Days staffers decided to seek out some of those spots. With different desires driving us — Lauren Ober's a vegetarian, Alice Levitt a connoisseur of cheap eats and Suzanne Podhaizer a seeker of culinary excellence — we struck out for the great unknown to find restaurants like-minded Vermonters will love, whether they're famished after a powder day or simply tooling around the state.

Lauren's List • Thompson's Flour Shop Bakery • The Warren Store • The Reservoir
Being a vegetarian snowboarder can be challenging at times. Not that my herbivorous diet prevents me from shredding sick gnar — my distinct lack of skill is really what holds me back. It's the eating sitch at the mountain that can give me agita.
Most ski resort cafeterias are stocked with meat eaters in mind — pepperoni pizza, chicken fingers and meatball subs are staples of the lodges in this area. I can get by on French fries and cheese pizza, but since I'd rather not break out like a 14-year-old, I try to keep my lodge dining to a minimum.
Luckily, though, it's not all boilerplate slope slop in the ski areas of Vermont. When I'm finished with a sweet jib sesh, there are plenty of places I can go to get a healthy, filling meal sans meat. Here are a few of my faves.
Thompson's Flour Shop Bakery 407 Mountain Rd., Stowe, 253-0800
Visitors to Stowe, the state's preeminent ski town, appear to have endless choices when it comes to eating out. Along the Mountain Road alone, one can find everything from fast food to find-dining. Some of these restaurants stand out more than others, especially those that cater to tourists. Thompson's Flour Shop Bakery is not one of them.
It's easy to drive right by the café without noticing it. The exterior is instantly forgettable, and the whole building gets lost amid the loud ski shops and novelty restaurants that surround it. Inside, the décor is a kitschy play on your grandmother's house. Everything is floral, from the valances to the tablecloths. Fake plants hang from the walls, which are sponge-painted in greens and tans.
Ahh, but the food. The food is nothing like I remember my grandmother making. Just about everything at the café, which Kathy Thompson started as a bakery from her home in 1990, is homemade, save the bottled sodas and bags of potato chips. That's what the owner prides her restaurant on — "scratch" food made in a "small-town, personalized way." And that's why real locals eat at Thompson's.
There is something moderately intoxicating about Thompson's bread, particularly the honey-oat bread on which many of the sandwiches come. The crust is slightly flaky, like a croissant or a brioche, and the bread is soft and substantive. It makes both the salad and hummus sandwiches all the better.
In the winter, I'm not much of a fan of cold food, so Thompson's Venice panini — a reasonable take on the traditional Caprese sandwich at $7.75 — is perfect for a post-ride snack. The pesto is homemade, as is the herbed focaccia, which is golden and crispy. Eating tomatoes out of season isn't something I like to make a habit of, but I'll make an exception for the Venice.
While the food is homey and consistent, my favorite part of Thompson's has to be the cookie that comes gratis with every sandwich. I'm quite partial to the chocolate chip. If your sweet tooth still isn't sated, Thompson's has two cases full of homemade desserts from cupcakes to cannolis.
If all that doesn't get you in the door, consider the sign that hangs above the entrance to the kitchen — "Sarcasm: Just one more service we offer here."
The Warren Store 284 Main St., Warren, 496-3864
Since the two-story building at 284 Main Street was constructed 170 years ago, it has served many purposes — stagecoach stop, livery stable, blacksmith shop, hardware store. It's mind-boggling to think how many people have walked through its heavy wooden doors for so many different things over the years.
Now, when people pass the threshold, they could be visiting for any number of reasons — they need a coffee fix, some laundry detergent, a crocheted hat. They'll find it all at the Warren Store, a most eclectic emporium in the center of one of the cutest towns in the Mad River Valley.
When I go to the Warren Store, which is owned by sometime Valley resident Maggie Smith, I head right to the deli at the rear of the store. But before getting there, you have to pass an old-time candy counter, a respectable wall of wine, and a handful of antique freezers and refrigerated cabinets that hold all kinds of homemade sweet treats, such as chocolate mousse and Bavarian cream horns.
Once at the deli, it's hard not to be overwhelmed. Visitors to the country-store-cum-café are spoiled for choice. There are four different soups, a handful of breakfast options, dozens of sandwiches and a deli case full of fresh salads. For a vegetarian, it's a dream.
On one recent weekday, the deli case contained a potato salad with vibrant red and purple potatoes; a mozzarella salad with orange-braised fennel and cherry tomatoes; a macaroni salad with artichokes, onions and Parmesan; Asian tempeh salad; and plenty of other items that were tempting, if not meat-free.
Despite all these options, I went with the Farmstand, a hefty vegetable sandwich with house-made hummus and dill havarti. I could barely fit my tiny mouth around this $8.50 behemoth, which was made with local produce. Sitting at the family-style dining table in the middle of the store, I tried to work the sandwich into my gob gracefully, but ended up with a dollop of hummus in my hair. Thankfully, my fellow diners were too distracted by all the Vermontiana to notice.
The Reservoir 1 South Main St., Waterbury, 244-7827
I am not a sports bar person. Nor, given my inconvenient vegetarianism, am I a wings person. So it is odd that I find myself liking The Reservoir so much.
Formally Waterbury Wings, the Rez, as locals affectionately call it, is an updated take on the sports bar model. It's not just beer, wings, fries and ball games; it's a restaurant with a respectable selection of vegetarian fare and a member of the Vermont Fresh Network. One that happens to have a lot of sports playing on its 10 televisions.
Mark Frier, a youthful-looking 28-year-old, bought the restaurant from its former owner in April and reopened the spot in May with a new name, a revamped menu and a retooled vision. For someone who never ran a restaurant before, the former Burton engineer is doing a pretty good job. The eatery buzzes, even on weeknights.
The Rez's menu is playful, if evolving. The Fanny Pack-Sized Burrito is literally as big as the eponymous hip bag. The Vermont maple sweet potato fries are sprinkled liberally with maple sugar and serve more as a maple delivery device than anything else. And that's not a bad thing.
The butternut bisque topped with a dash of nutmeg and a scattering of pumpkin seeds made this vegetarian happy, as did the nine other things on the menu that didn't contain meat.
One of those entrée items is the Sunday Driver, a clever take on a veggie burger made with chickpeas and red curry and topped with a Thai peanut dressing. Because I am a wimp when it comes to heat, the red curry was a bit fiery for me. But I appreciate the effort that went into trying something new. The $8.95 price tag wasn't bad, either.
The Rez continues to progress, but some things have already become tradition. Diners entering the restaurant are greeted by a leg lamp, à la A Christmas Story. The leg's fishnet stocking is stuffed with dollar bills. Apparently when the Rez opened, a few patrons filled the stocking as a joke, and soon everyone was doing it.
Now diners are encouraged to slide a greenback in the stocking band when they leave. The money collected from the stocking is stapled to the ceiling of the back bar. When the ceiling is papered in money, Frier plans to take it all down and give it to a local charity. Obviously, this isn't just another sports bar.

Alice's Answers • The Blue Donkey • Stella Notte • Back Behind Restaurant & Barbecue Smokehouse
You won't be seeing me on the slopes. If I ventured there, my name would quickly be added to the esteemed company that includes Sonny Bono and Natasha Richardson. Ambulating without comically large appendages on my feet is effort enough.
I am, however, willing to make a day trip for a worthy restaurant or two. With all the eating out I do, I try to focus on hearty meals that won't break the bank. If anyone knows how to order a massive meal for less than $10, I do.
But on the mountain, that's just not going to happen. You can roll into a random bar and get a burger — if you don't mind one straight from the microwave. If that's not your thing, here are my picks for some quality tastes on a reasonable budget.
The Blue Donkey 1669 Mountain Rd., Stowe, 253-3100
For a taste of the big city, Stowe skiers need go no farther than The Blue Donkey. The counter — which will expand to a full-sized restaurant this winter — takes its name and outlook from New York City's Blue Donkey Grill. Jim Goldsmith and Kim Kaufman, the New York location's owners, are part-time Stowe residents. Their co-owner, Jeff Grab, was building their vacation home when he suggested they open a Vermont outpost of their successful bar.
For now, the Mountain Road Blue Donkey's alcoholic offerings are only beer and wine. Long Trail and Otter Creek bottles sit alongside cans of Pabst and Labatt, all of which can be poured into eco-friendly corn cups. The relatively small drink menu doesn't keep the restaurant from having the vibe of a watering hole, and its running theme is clear from the words on its sign: "Burgers on Boards." A Burton board with a tribal-looking design is affixed above the bathroom door. The "Order Here" sign at the counter is another snowboard.
What to order? Obviously a burger, but they come in several novel shapes and sizes. The bacon cheese wrap ($7.25), for instance, rolls lettuce, tomato, a juicy beef patty and the aforementioned fixings into a bright yellow tortilla. Five sliders are $6, and they're not tiny. Each fluffy bun is grilled, then slathered with sauerkraut, hot sauce or onions for no extra cost. Banana peppers, horseradish or guac will add to your bill.
Don't forget to try the unique grilled wings ($5.95). Have napkins at the ready, though. The chicken is literally fall-off-the-bone tender. Accompany it all with Donkey Chips ($2.50) — smooth potato chips cut to order before your eyes.
Stella Notte 44 Desjardins Rd., Jeffersonville, 644-8884
Upstairs in the main dining room of Stella Notte, you'll find filet mignon, chicken-and-sausage risotto and blueberry-glazed duckling. Downstairs, there's Pac Man and a projection TV. It's not quite the fine-dining atmosphere that reigns above, but with the same chef, Jayme Bechtoldt, preparing your creative grub, you can be sure of its quality.
Start off with the crisp wings. They're available with classic Buffalo sauce in heats from 1 to 10, but why choose that when there's Maple-Cracked Peppercorn? Herbaceous Honey-Garlic-Rosemary and fruity and slightly spicy Orange Bay are a pairing worth splurging on at $6.50 each for six. Want to start with something sweet? The Bread Basket ($2.50) features house-baked focaccia and baguette slices, but also airy fritters worthy of legend. If God ordered a bread basket, he'd demand this one.
The lower floor offers plates of Parmigiana, Alfredo and Bolognese for drastically lower prices than those charged upstairs. There's a large selection of Tex-Mex dishes, including rabbit chimichangas. Burgers come from cows raised just down the street at Boyden Farm. The patties are ridiculously juicy, uncommonly well seasoned and served on a fresh challah roll. Pizzas are made with a wine-infused sauce; most 12-inch pies run in the $12 range.
If you want dessert, try Chef Bechtoldt's Frozen Hot Chocolate. Unlike the version famously purveyed by Manhattan's Serendipity, this one resembles a root beer float, with a scoop of vanilla ice cream buried in whipped cream and chocolate shavings slowly melting in a rich cup of hot chocolate. The contrasts in textures and temperatures make for a sensual blowout worthy of 9 1/2 Weeks.
Back Behind Restaurant & Barbecue Smokehouse Junction of Route 4 and 100 South, Killington, 422-9907
You can't miss the Back Behind. From yards away, your nostrils will detect the smokers, which are preparing brisket, ribs and, in season, corn. As you approach, you'll see a big pink pig sitting beside the driveway. Actually, that's a smoker, too. Just behind it is a real-deal train car now called the Smokin' Loose Caboose, which serves homemade ice cream, barbecue and more standard snack bar fare in summer.
The restaurant itself is no less idiosyncratic, with its kitsch and memento-covered walls. We sit beside a sketch of Beetle Bailey autographed by one of the strip's artists. Nearby is the bill of fare from the Back Behind's 1974 opening. The French-inflected fine-dining menu has expanded in the past 35 years, and prices have risen well above the original $6 for a rack of lamb.
However, deals can be had on the barbecue menu. Co-owner (with his wife, Gerry) and sometime chef Conrad Zendzian, a former educator, became infatuated with St. Louis-style smoking three years ago. Since then, the menu built on escargots, venison in hard cider sauce and raspberry-bourbon roast duckling has expanded to include an embarrassment of barbecued riches.
Combo plates are easily big enough for two. Try the Back Behind Sampler — a platter-sized plate covered with sweet and spicy, sauce-drenched ribs, pulled pork, moist chicken, and brisket, all for $20.95. Also included are a crock of tangy coleslaw that looks like a little black kettle; crusty, hot-out-of-the-oven baguettes dotted with sesame and poppy seeds; whipped honey butter; and a choice of crispy, herb-roasted potatoes, fries or rice. The vegetable of the night when we dined at the Back Behind was a roasted tomato topped with cheese — a perfect foil to the meats and the barbecued corn we got on the side.
Gerry Zendzian's quirky gelati are worth the trip on their own. The watermelon has a flavor that hovers somewhere between the fruit itself and a Jolly Rancher. Blueberry ice cream showcases wild specimens of the real thing and an exquisitely sweet-and-sour taste. Too cold for ice cream? Warm up with apple crisp.

Suzanne's Suggestions • Solstice at Stowe Mountain Lodge • The Green Cup Café & Bakery
I don't get to whip down the blue squares as often as I'd like, but I find myself motoring into ski towns on a regular basis, because many of Vermont's finest eateries can be found within a few minutes of a mountain.
No coincidence there. With our population centers few and far between, opening a restaurant in a touristy area is a savvy business move: A menu that draws locals and city folk alike is a recipe for success. And, since out-of-towners love to shell out for Vermont products, it would be loco not to go localvore.
Solstice at Stowe Mountain Lodge 7412 Mountain Rd., Stowe, 253-3560
Plenty of restaurants are pretty, but the earth-toned dining room at Solstice has a grandeur that is at once locally rooted — the room's furnishings and pottery were created by Vermont artisans — and totally foreign. There is nothing else like it in the state. (In 2009, it won three food-related Seven Daysies awards, including the one for Best Place to Have Dinner Outside Chittenden County.)
Happily, Executive Chef Sean Buchanan crafts elegantly simple and seasonal fare that perfectly complements the décor. Á la carte ordering is available, but the five-course chef's tasting menu ($75) is a special treat. One might receive striped bass laced with wilted pea tendrils atop a crisped cake of Butterworks Farm polenta surrounded by honey and basil butter; a juicy filet enhanced by chestnut hash, crisped pancetta, fried lemon and chanterelles; or both. Since he purchases food from nearly 40 area farmers and producers, Buchanan has oodles of delicious meats, produce and other products from which to choose.
The fruit tarts, satiny panna cotta and house-made ice creams are divine, but if you're a fromage-o-phile, the cheese plate is not to be missed. With a wide assortment of nutty, creamy or stinky wedges on hand at any given time, it has something for every palate. Wash 'em down with a glass of sweet and tangy, amber-colored Eden Ice Cider, one of Vermont's premier dessert wines.
Can't swing dining-room prices? Just steps away at the Hourglass bar, patrons can snuggle up near the fireplace and snack on a hummus plate and some mixed olives, or a Meatza flatbread and a pint of beer or snazzy cocktail. Another option? Get your fix pre-mountain instead of post: At breakfast, omelettes cost a reasonable $10, while the heartier Farmer's Breakfast is $11.
The Green Cup Café and Bakery 40 Bridge St., Waitsfield, 496-4963
Last December, in the Travel section of the New York Times, food celeb Mark Bittman raved about the coconut cake at The Green Cup, a breakfast, lunch and dinner place located near Waitsfield's picturesque covered bridge. Yet few people I've spoken with have ever eaten there. Last week I tried it for the first time, and now I can't stop thinking about Chef Jason Gulisano's superb offerings.
The meal began with an amuse-bouche, a tidbit the chef sends to whet the appetite. That day it was an espresso glass filled with layers of heirloom tomatoes cut in infinitesimal cubes and tomato gelée. The dark red mixture was topped with a rich, basil- and-garlic-scented whipped cream that was sea-foam green and nearly the consistency of butter.
Lobster risotto and tuna tartare appetizers — the former nearly big enough to serve as a main course — came beautifully presented. An entrée of mixed seafood in a savory jus with sautéed squash and perfect gnocchi was flavorful, and the day-boat cod, clams and shrimp were cooked to tender perfection.
From the kitchen, the chef could be heard calmly expediting, while also taking the time to instruct his staffers in culinary nuances. In the dining room, servers were subtle and poised as they whisked away used plates and flatware, offered additional warmed bread when we ran out, and let us know one of the desserts we'd requested "to go" wouldn't travel well. We managed to eat the cream puff — more like a trio of profiteroles filled with custard and whipped cream and drizzled with ganache — before leaving.
Happily, the pumpkin pie topped with spiced whipped cream and a massive wedge of coconut cake were up for the journey home, and, yes, that Bittman guy knew what he was talking about. Who'd have thought?