Caleb Kenna
Bill Suhr (left) and Zeke Goodband at Champlain Orchards
Anyone who's eaten a Hubbardston Nonesuch, Knobbed Russet or Sheep's Nose apple in Vermont in the past 20 years has likely tasted Zeke Goodband's work. The orchardist is legendary and a champion of old and odd varieties of heirloom apples. His fruit has brightened up apple bins in co-ops around the state, and his influence has changed Vermonters' perception of what an apple can be: golden and purple, as well as red and green; russeted or gnarled skin, as well as smooth.
It's been a winter of change for Goodband, 66. He's moving from the hills of southeastern Vermont, where he developed and tended Scott Farm Orchard in Dummerston for 19 years, to the open landscape of Shoreham for a new role as orchard manager at Champlain Orchards.
Goodband was fired from his job as the orchard manager at Scott Farm in January. He told Seven Days that he was let go for falling in love with and having a consensual relationship with a coworker. Susan McMahon, the executive director of Landmark Trust USA, the nonprofit that owns and operates Scott Farm, confirmed this.
While the abrupt end to his tenure at Scott Farm caught Goodband by surprise, he might have predicted that he would land at Champlain Orchards. He has gotten close to making the move in the past, getting as far as drawing up contracts with owners Bill Suhr and Andrea Scott several times over the last dozen years.
When Goodband reached out to the couple, he said, "They threw me the life preserver."
His time at Scott Farm has paralleled Suhr's at Champlain Orchards, though neither could remember exactly where or when they met.
"Bill and I have sort of asked each other to the dance a couple of times," Goodband said. "Until now, we've never actually made it out on the floor."
Sitting in the historic red building attached to Champlain Orchards' farm market on a gloomy March day, it's clear that the two are old friends, if not dance partners. They both admit to working too much and get excited when the conversation turns to apple genetics. They share the same values of fruit growing: making sure it's safe for the environment and for their families.
"Bill has a young family," Goodband said. "When I started out doing this, I had a young family, too. I wanted to grow the safest, best fruit for them.
"We're kindred spirits," he said of Suhr. "I want to make his life less of a grind so that his kids remember that their father loved doing this. In an orchard, you can always work — 24 hours a day, seven days a week — which is what I did for a long time. I'm hoping Bill's going to learn from some of my mistakes; I want him to spend more time with his family, to shut off the lights and go home."
For Suhr's part, hiring an experienced, dedicated orchard manager like Goodband is part of his vision for the future of Champlain Orchards.
"I'd like to see this farm succeed," he said. "Not just in this generation, but I want it possibly to be of interest to my children."
To him, success means creating a diversified business that can make payroll and adapt to a changing climate and consumer demands.
"Dreaming alone is lonely, and I find that Zeke is a great sounding board," Suhr said. "Together we will challenge ourselves and maybe set an example of a fruit business in Vermont that is durable in the long haul."
In the meantime, it's Goodband who is adapting — to the topography, terroir and trellising of the orchards of the Champlain Valley. Addison County's open space, and the climate buffer that the lake creates, are starkly different from the growing conditions in southern Vermont. Furthermore, while Goodband has grown high-density, trellised trees in the past, the majority of his experience has been working with the larger trees common in traditional orchards.
Caleb Kenna
Champlain Orchards
Champlain Orchards is about two years away from completing a renovation of its main farm from large trees to the more efficient high-density growing system, in which trees are grown on dwarf rootstock supported by trellises and planted closer together than they would be as standard, standalone trees.
While it might seem sad to lose old trees, the sentimentality is outweighed by increased safety for workers during harvest: With high-density trellised systems, they don't have to climb ladders to pick, which can be dangerous in large trees, particularly during wet and windy conditions. In addition, more exposure to sunlight leads to riper fruit, as well as an almost 50 percent reduction in inputs such as fertilizer, fungicides and insecticides without sacrificing yield.
The 300-acre orchard still has some larger trees, mostly located on properties leased from neighbors. Among them is a small parcel in Bridport, where fresh eating apples are planted alongside multipurpose varieties such as Ashmead's Kernel. Those trees need a little TLC, because the parcel is far from the main farm and planted on difficult soil, without irrigation. Suhr thinks Goodband will find comfort in its challenges.
"The landscape here is so different from the eastern side of the state," Goodband said. "When I first came here, it was a bit of a shock. I thought, How could they possibly grow trees in this soil? But then I look around and, gosh, look at all the orchards. Apparently, the trees like it here. Now I see the beauty in it."
Champlain Orchards currently grows more than 115 apple varieties. If Goodband has his way, that number will grow. He has scionwood from about two dozen varieties stored in a refrigerator and is planning to graft them onto rootstock to see how they do in this new environment. Goodband said he's curious to taste the difference — how the site's soils, exposure and microclimate affect the fruit.
"I want to put an apple people have never heard of in their hands and have them say, 'Oh, I never knew an apple could taste like this,'" he said. "I want to dazzle them with the fruit."
Suhr sees the value in expanding his orchard's genetic bank to prepare for the unknown, whether that be undiscovered cider varieties or newly invented products. Goodband agrees, and he's quick to remind consumers that someone, at some point in time, decided that each apple had value.
Apple trees don't grow true-to-seed, meaning that the trees must be grafted to reproduce a specific variety. "It's almost like passing it from hand to hand," Goodband said. "Each apple has its own story, and those stories are worth preserving, too."
Learning the stories of the newer, disease-resistant varieties growing at Champlain Orchards has been a fun lesson, Goodband said, and he sees their allure.
"[The apples] will go through his review process, and if they pass muster, he might offer them to some of his customers," Suhr said with a laugh. He admires Goodband's relationships with produce buyers around the state and wants to be sure the integrity of Champlain Orchards' fruit lives up to Goodband's reputation as a grower.
"He sees the fruit through the whole process," Suhr said, noting that Goodband doesn't confine his duties to the orchard. "The respect buyers have for him is a gift; it's an extra."
Goodband, a soft-spoken man who tends to brush away compliments, said he just wants to know that the apples are going to good homes. Produce buyers are his interpreters, conveying the stories of each apple to their customers. Ultimately, it's their job to convince Vermonters that there's more to the apple family than Honeycrisp, Fuji and Gala.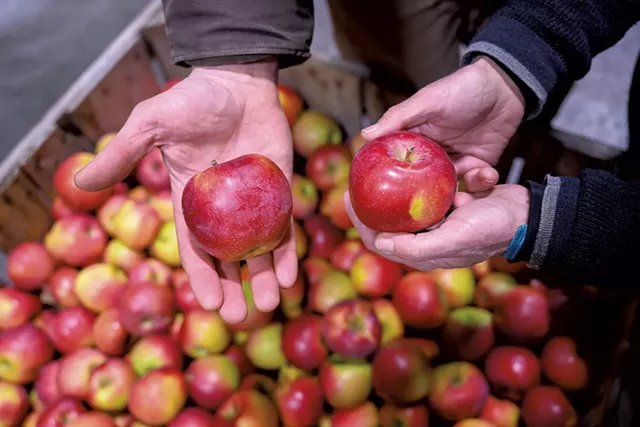 Caleb Kenna
Champlain Orchards apples
"When you plant a tree in your nursery, it takes two years there and then three in the orchard before you're harvesting fruit," Suhr said. "You're speculating on that variety, and it's really important to have folks on our team that are taking that level of pride and ownership."
That's the perspective Goodband brings to Champlain Orchards. At an age when some orchardists might be ready to retire, he's looking forward to this new chapter and to collaborating with his longtime friend.
"It's a bit like being a baseball manager: You give your best, but you know that you might start out on one team and end up on another team someday," Goodband continued. "If you're looking at what teams are ... looking for a manager, [then] finding people with good hearts should be the top priority. It is for me, at least."