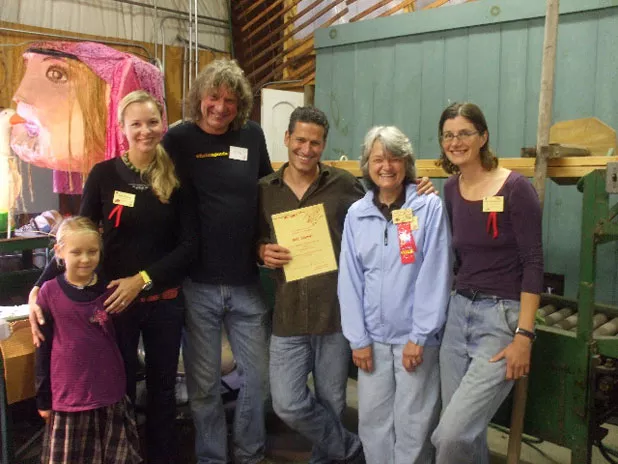 Last Sunday's seventh annual apple-pie-baking competition at Shelburne Orchards drew a slew of Vermont competitors, including one from Fairfax. Nothing unusual about that. But one of this year's contestants came from even farther afield — 3147 miles away, to be precise.
The visitor, Bob Blumer of the Food Network's "Glutton For Punishment," lived up to his show's name. The happy host flew from Vancouver, British Columbia, to enter the competition. And he didn't even win — he came in third. "He'd never baked a pie before this week," explained Orchards spokesperson Megan Humphrey. "He's a cook more than a baker." And, she adds, Blumer was up against some stiff competition. Many of the 29 other participants are "very serious bakers." A bunch of them "enter every year." The competition is so popular that the orchard has to limit the number of incoming treats and maintains a waiting list in case any bakers have to bail.
Judges Barb Bardin of Let's Pretend Catering; radio personality Louie Manno, who used to own Burlington's Radio Deli; and Chef Michael Benoit, Healthy Living's produce manager, evaluated the pies on the quality of their crusts, the flavor of the filling and the sexiest looks. The only requirements: The pie must have a double crust and contain no fruits but apples. "People use all different kinds of things in the crust. Some people swear by butter, some swear by Crisco, some put vinegar in the crust. People use all different kinds of apples," Humphrey says.
Any trends? "Very consistently, the winners are very traditional apple pies. And the judges change every year," she remarks.
The famous face didn't skew the results, Humphrey attests, because the judging was "blind."
Who beat the big guy? Overall winner Millie Morris of Underhill, whose pie was designated "the apple of my eye" for its all-around greatness, also won for her perfect crust. Two Charlotters snagged the final two prizes: Dana Murphy for her filling and Susan Blood for her pie's good looks.
For Humphrey, the best part is that getting on "Glutton" didn't take any extra work: The show came to them. "It's everybody's marketing dream," she boasts. "Bob Blumer travels all over the world, and he looks for various food challenges. They were looking for some kind of pie-baking contest, and they went to our website . . . They thought this would be a great place for him to come and try his hand."
Unfortunately, TV takes longer to "bake" than an apple pie. The show won't air on the Food Network until some time in '09.