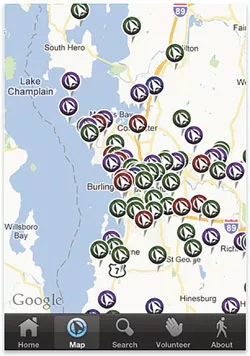 Local Motion, a Burlington-based nonprofit promoting "people-powered" transportation, has offered a Trail Finder map on its website for several years, noting routes for hiking, biking and cross-country skiing over a broad swath of Vermont. Now comes a more convenient mobile version — the Trail Finder app — which was developed by Burlington's Woodchuck Apps largely pro bono.
Like the web page, the Trail Finder app allows you to do just that: find a trail to suit your activity and geographical location. A regional map indicates exactly where the trails are. These visuals translate well to the app and are helpful for planning trips on the go. The map is quick, responsive and easy to read, and all the information is downloaded with the app itself — so no Wi-Fi connection is required when you're out in the wild.
In addition to searching by area, you can view results by ratings and a variety of features, including wildlife and pet policies. These options help you find just the right trail for you. The trails appear as colored lines drawn over a geographic map, which could assist in navigation while hiking or skiing.
It's worth noting that some of the trails are crammed with icons indicating such amenities as parking and bathrooms, making them harder to decipher. Also, a few times when I went to the comment page, I was unable to return to the map without completely shutting down the device. Perhaps that kink will get worked out in time.
On the interactive side, when you're on a trail, you can take pictures and email them to the Local Motion team to add to the database. You can't contribute as directly as you can with other apps, which allow you to upload images yourself, but it's still a fun feature.
Overall, Woodchuck Apps has done a nice job of translating the most useful website functions onto a mobile platform. Minor technical problems and too many on-screen icons were frustrating, but those are small complaints. Local Motion indicates that it intends to add more trails to the app in the future, covering the entire state of Vermont. Available for free, the app is a worthwhile tool for expediting "people-powered" recreation.
Trail Finder App: Available for free at the App Store. More info at woodchuckapps.com and localmotion.org.