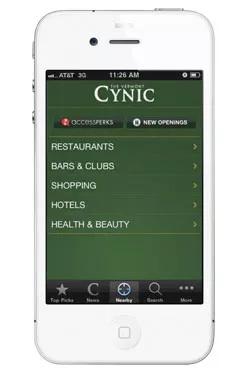 The Cynic Guide to the University of Vermont is a simple app intended to provide a very basic overview of the Burlington area (and not, in fact, of the university itself). Developed for the UVM student newspaper, the app was created by New York-based Access Network, which is "dedicated to the empowerment of media brands in the digital landscape," according to its home page. The Cynic Guide is one in a series of national guides. Though somewhat functional, it has flaws that keep it from being a "must download."
The app's primary focus is on assisting newcomers to the area, and it does that by offering a selection of restaurants, clubs, shopping locations and other notable destinations. However, unless you do a category search, the results display in a massive, unorganized list. The app also features a Top Picks page, but during my time viewing it, no picks were displayed. This might have been an isolated technical problem, but it was disappointing.
The biggest issue, however, is that some of the "nearby" locations aren't in Burlington, or even in Vermont. For example, the app finds zero hotel results within the Queen City; instead, the hotels listed are in Montréal. The Bars & Clubs list offers four Burlington hot spots; others are in Montréal, and one, a comedy club, is in San Francisco (which the app claims is 19.5 miles away)! The "nearby" Health & Beauty options are in Boston. Another negative: Narrowing the search options, rather than fine-tuning your quest, generally leads to a complete lack of options. Not very helpful.
The Cynic app also features a "review" feature for the locations, but these are just summaries, not evaluations, making the feature seem misleading. You can get an impression of the business, but not a sense of whether it's worth visiting. However, the information page for each location does have potentially useful information, including the address, the "vibe" and a link to the web page if there is one.
Finally, this app offers a list of articles produced by the Cynic — actual news articles, commentaries and letters to the editor. It's a nice, up-to-date feature but has some glaring technical flaws, particularly the random symbols that appear midsentence and after paragraphs.
Overall, the Cynic Guide is an ambitious effort that ultimately falls short. Still, the app doesn't cost anything, and you may be able to find places worth visiting — including ones in Montréal! Perhaps the snafus will be corrected in time.
The Cynic Guide is free at the App Store.