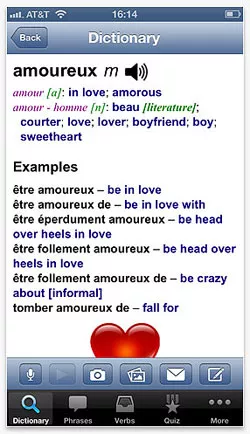 For many tourists in a foreign country, the language barrier is a problem. Who among us has not frantically mimed "Where is the bathroom?" Particularly useful for Vermonters and Québécois — on both sides of the border — Ascendo has created a comprehensive French-English Dictionary app to help guide native and non-native speakers through a conversation.
The basic version of the dictionary is a list of English words and definitions, and the French equivalent. (Americans, don't be put off by the British flag icon.) The free download comes with other features, including a "phrases" section for greetings, asking directions, transportation needs and more. A verb-conjugation option is really handy when you want to communicate beyond first person. There's even a quiz function to test your word comprehension. At the touch of a button, you can listen to a speaker pronounce each word and phrase in either language, too.
Should you choose to pay a bit more, you can upgrade to include more phrases and vocabulary words. It isn't absolutely necessary to make the app worthwhile, but for frequent travelers, the extra features may be worth the collective seven bucks.
You can also customize your interface options, changing the font type, size and color. It's not an essential feature but is a nice touch, and suggests that the Ascendo team is attentive to aesthetic detail.
For tourists eager to do more than wave their arms around to communicate, Ascendo has developed a definitive app for French-English translation (it also offers dictionaries in German, Italian and Spanish). With a host of great features in the free version and worthwhile additions in the paid upgrades, the Ascendo French-English dictionary is très utile.
French-English Dictionary by Ascendo Inc. Basic dictionary free; upgrades various prices totaling $6.97. Available at the App Store.