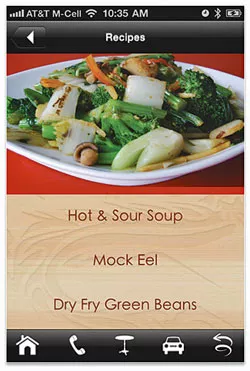 A Single Pebble, the app created for the Burlington restaurant of the same name by Outspring, Inc., is informative and well designed. Like most restaurant apps, it's meant for attracting diners into the place, but it's one of the most comprehensive I've seen, and its design is excellent.
The restaurant, which is located on Bank Street, regularly updates the app with new menu details, such as daily specials, at 11:30 a.m. for lunch and 3:45 p.m. for dinner. The app also features the regular menu for both; prices are listed for the dinner options. That's an important detail that doesn't always appear in online menus and, though a disclaimer on A Single Pebble advises users to contact the restaurant directly for accurate prices, it's still a welcome addition. However, I was disappointed that the lunch menu doesn't include pricing.
You can also call or make online reservations at the press of a button, which is convenient — and appropriate for an app that is about promoting a business. The app also advertises other restaurant services, such as cooking lessons, which can be scheduled at one's home for individuals or small groups.
I was most impressed with the recipes function. The team from A Single Pebble has posted a few simple recipes for users to try. When you want or need to dine at home but still feel like Chinese, this addition to the app is awesome. And, considering that A Single Pebble doesn't generate any profit from the app — or from diners who decide to cook in — it's a generous one, too.
Chances are, though, that anyone attempting to duplicate A Single Pebble's dishes at home will eventually want to go out to sample more — or more complex — entrées. When you're hungry, the photos on it just might make you drool. On a budget? Check the app in advance for the most affordable plates.
The app serves the restaurant and the user well. It's attractive, easy to read and use, and its other features make it a solid choice for Chinese-cuisine lovers. Plus, it's free.
A Single Pebble App: Free at the App Store.