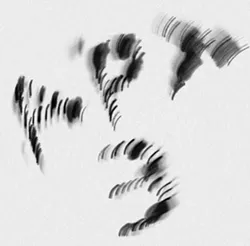 (Section Sign Records, digital download, vinyl)
There is a great word I learned from reading a friend's toilet paper once. He was an oddball living in the woods of North Carolina, and, God bless him, he had word-of-the-day toilet paper in his bathroom. As I walked into the commode, I saw the word "insouciance" printed on the roll. "A lighthearted unconcern," it read, and I tossed the word into the brain bin.
Why reminisce about a trip to the bathroom I took years ago? Because, as I was listening to Apartment 3's new self-titled record, I kept going back to what I'd heard about the band. Friends brought up Pavement and Hüsker Dü and threw around tags like "slacker indie rock" and "'90s revivalists" — all of which could be considered accurate.
That word, though: insouciance. It returned to me as Apartment 3 fuzzed out of my speakers. Perhaps it wasn't coincidence — the opening song is appropriately titled "Trying Sux." Apartment 3 all but start the album with a shrug, their voices joining together to wonder, "Why should I give a fuck at all?" before lead guitarist Dylan Adair starts tearing into notes like a man possessed.
The juxtaposition of the vocalists' ghostlike melodies — guitarist Ivan Marrinson, bassist James Tierney and Adair all sing — and the band's ability to go full-on raucous creates a sort of thematic tension throughout. Through the album, vocals float atop the songs, either just keeping above the stomp or turning into part melody, part mantra when they go for a Pixies-esque drive — as on "What U Want." The production is pure college radio lo-fi, but it fits Apartment 3's sound well — and the band is dialed in behind drummer Jon Kraus.
Apartment 3 nail that shadowy zone between extremes of rock music. They achieve a detached sort of bombast while being equally adept at finding melody. For the most part, they know better than to dwell overlong in either domain, though momentum slips a bit as the record goes on. And some of the tracks in the middle bleed together tonally.
Each time the album starts to lag, however, the band responds. "I Wanna Know U" jumps out with a thick, primordial guitar lick and features a truly '90s-style verse, complete with the lyric, "Do you wanna know me? You're always at my shows." And the herculean "Paying It Forward" might be an early contender for best local track of 2017.
It's a hell of a statement for a debut LP. The band celebrates its release this Saturday, February 4, at ArtsRiot in Burlington, along with locals Bison and Sleeping In. Apartment 3 is available for download and on vinyl at sectionsignrecords.com.