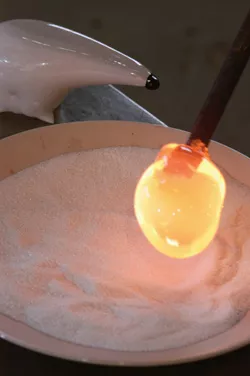 The last time Seven Days wrote about AO Glass, more than a year ago, the Burlington glassblowers had just moved into a new Pine Street workshop and were about to launch a brand-new community-supported business model. But they hit a huge roadblock: It took Tove Ohlander and Rich Arentzen more than 10 months to get city approval for their furnaces, and so they had to put everything on hold.
Well, the fires are burning again at last — just in time for the seasonal shopping crunch and this weekend's South End Holiday Hop. Ohlander and Arentzen will give a glassblowing demonstration on Saturday, showing off tricks such as brewing coffee on molten glass.
"The first three weeks [the furnaces were up and running], it was so hard to fathom that we could get up in the morning and go to work," says Ohlander. "We'd been living in limbo."
The problem with the furnaces, the couple explains, had to do with the fact that none of AO's glass equipment is factory made. "A lot of it we built ourselves," says Arentzen, so plumbing and mechanical inspectors, as well as the fire marshal, had to come in and approve everything.
"We were really hit with a situation that we had not expected at all from the city," says Ohlander. "We were almost not able to continue."
What kept them going? The support of family and friends, says Ohlander. But also, "the belief that Burlington is the right place for us to be, the inspiration we get from all the small businesses that are successful around us in the South End," she adds.
Those arty entrepreneurs are hoping for an extra boost this weekend. AO Glass and 30 other local venues will be participating in the Hop, organized by the South End Arts and Business Association. Time to knock off a few people on your holiday shopping list.
South End Holiday Hop in various locations throughout Burlington's South End Arts District. Friday, December 9, 5-8 p.m.; Saturday, December 10, 10 a.m.-5 p.m.; and Sunday, December 11, noon-4 p.m. Info, 859-9222. seaba.com, aoglass.com