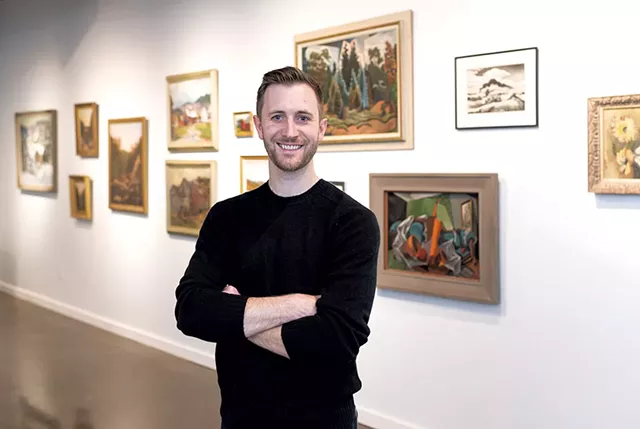 Courtesy Of Michael Heeney
Brian Bittner
Once upon a time, "going antiquing" meant edging through a packed and poorly lit space, trying to discern the treasures among the detritus. It was fun, but it was also dusty and cold.
Many antiques stores of that type in Vermont have closed over the past two decades as the business has moved to group or consignment shops, vintage stores, estate sales, and online sites. But there is still a pleasure in handling something valuable before buying it. A remarkably young antiques dealer in Shelburne has stepped in to fill the void — and remake the experience of antiquing in the process.
Last week, Brian Bittner, 36, opened an antiques showroom in a building on Shelburne Road that also serves as warehouse and offices for his business, Bittner Antiques. The 1,000-square-foot showroom is carved out of a 6,000-square-foot building from the 1980s. Bittner spent the past year and a half renovating the space and making it energy-efficient.
The showroom is not just warm and dust-free; it's rectilinear and white with a polished concrete floor, not unlike a gallery in a museum designed by Renzo Piano. Instead of being part of labyrinths of objects, each item is given its own reverential space.
A single George Nakashima New Chair from the early 1950s sits on a broad white pedestal three feet high in the center of the room. Another plinth shows off a rare 1890s salesman's model of a metal maple-sap evaporator. The back wall displays original 19th- and 20th-century paintings by Vermont-based artists, including Charles Heyde, Francis Colburn, Luigi Lucioni and Emile Gruppé.
A built-in glass-fronted showcase holds smaller treasures, including an earthenware figurine from the Tang dynasty (618-907); the Metropolitan Museum of Art in New York City owns a similar piece. A glass-topped case contains watches, bottles of "medicinal" cocaine from the early 1900s, Tiffany jewelry and coins. Pre-1920s postcards, each in a plastic sleeve, line minimalist shelves beside the door.
Bittner, a tall and lean former rock climber, had an easy, unassuming air as he led a Seven Days reporter around the building. While he chatted about the Vermont painters — he found the Colburn works through a family whose elder relative had been a colleague of the painter's at the University of Vermont — he never mentioned the Pablo Picasso limited-edition etching or the Thomas Hart Benton lithograph hanging beside them.
At a private opening last Thursday, the dealer-curator laughed when confronted with this oversight. "I feel like every piece in here is interesting," he said.
Beyond being knowledgeable about each piece, Bittner has a lively interest in the stories behind them. That maple-sap evaporator is one of the two or three earliest in existence, he noted; the salesman would have carted it through the Vermont woods by horse. The wooden highway signs for Burlington that hang above the entrance were used as barn flooring by a former transportation department employee after the state replaced them with metal signage. The shelves of antique-looking books in the hallway are merely old price reference guides, which emerged in the 1940s, Bittner said.
These days, Bittner researches pricing on subscription websites such as worthpoint.com, askart.com and liveauctioneers.com, he added. He warns customers to stay away from websites such as 1stDibs, where pricing is "arbitrary."
Bittner grew up in the antiques business, long before the advent of online transactions. He was a runner at his grandfather Jack Bittner's auctions, delivering items to winning bidders.
Jack, who "was known as a very fair, funny, kind" person, Brian recalled, started in the antiques business in the 1960s and opened Yankee Ingenuity Antiques in Brattleboro within a few years. Only one of Jack's 13 children, George — Brian's father — went into antiques. George still buys and sells at flea markets and antiques shows, as well as online from his Chester home, where Brian grew up.
Bittner went to college in Greensboro, N.C., but left behind that "sprawling city" and his studies after a year. He moved to Burlington at age 20, taking up antiques as a way to support rock climbing. Over time, the balance shifted, and he enrolled in a 10-day auctioneering program at Missouri Auction School, which his grandfather had also attended. There, he practiced saying "rubber baby buggy bumper" in rapid repetition.
Soon Bittner was trading in enough antiques to fill two rented warehouse spaces in Williston, a barn in Underhill and his own home. After buying a house in Shelburne five years ago with his fiancée, Rhiannon Kim, he began thinking about "getting everything under one roof."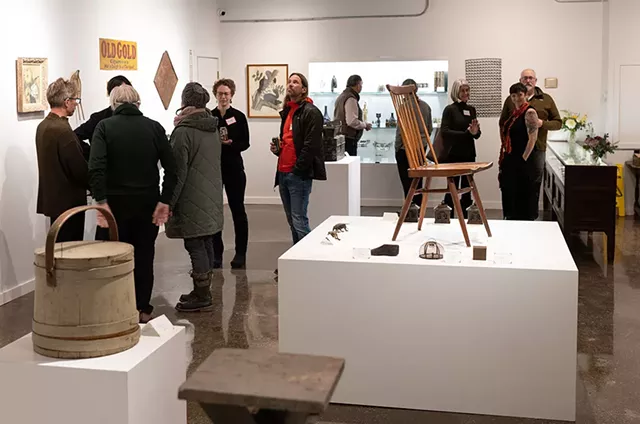 Courtesy Of Michael Heeney
The private opening at Bittner Antiques' new showroom
Bittner found his current building, across the street from the Lighting House, in April 2021. It was originally the home of Applied Graphics — an early Apple store — then a Bond Auto Parts. Eventually, it was purchased by the Pecor family, who planned an Aveda salon school but ended up splitting the space into seven units. Bittner bought the building and its two-acre lot from the Pecors for $1.1 million. He made the decision in 24 hours, he said, beating out a developer who planned to demolish the structure for housing.
Since then, he has replaced the building's outdated oil boiler with an energy-efficient natural gas one, installed seven heat pumps, upgraded the HVAC systems, replaced and insulated the exterior siding and interior ceiling, swapped in LED lighting, and knocked down most of the interior walls. (Global Maritime Transportation Services remains a tenant.)
The cost of renovations so far has totaled more than $500,000, of which $70,000 came from a Rural Energy for America Program grant from the U.S. Department of Agriculture. Bittner won a second REAP grant for a planned rooftop solar array that will provide all the building's electricity by this summer.
Bittner sources most of his stock from Vermont residents through house calls and appointments. He conducts about a third of his sales on eBay. He also attends the thrice-yearly Brimfield Antique Flea Markets in Massachusetts, the country's oldest outdoor antiques event. The New Hampshire Antiques Dealers Association — an exclusive coterie of 59 dealers who will have indoor booths at the 2023 annual New Hampshire Antiques Show — recently accepted him as a member. And he sells through private sales and auction consignments at Christie's and the like.
At the Shelburne showroom, which is open Wednesdays through Saturdays, he'll dedicate Thursdays to walk-ins who are looking to sell items. Ten percent of the first two weeks' sales will be donated to Vermont Releaf Collective, a Montpelier organization connecting BIPOC people with the state's land and agriculture.
It's a big step to open an antiques showroom in the current market. Longtime dealer Greg Hamilton, who has operated Stone Block Antiques in Vergennes since 1997, recalled during a phone call that 25 years ago there were so many antiques stores on Route 7, "you could spend all day getting from Burlington to Rutland." That number has decreased dramatically.
Hamilton has known Bittner since 2008, when Bittner joined the Vermont Antiques Dealers' Association; Hamilton said he "made" Bittner take his place as president when he stepped down. (Bittner served from 2016 to 2019.) Geared toward brick-and-mortar store owners, VADA folded in August 2021 due to dwindling membership.
"Brian is really stepping up his game," Hamilton said. "It would be very difficult for him if he didn't have contacts and a track record."
He is also "young and personable," Hamilton noted, and "his interest lies in art and silver and jewelry and watches and fine things, which lend themselves to a gallery setting. And he doesn't buy brown furniture" — as 19th-century wood furniture is known in the business — "because it's hard to sell; people don't want it anymore."
Bittner also benefits from his solid reputation, according to Shelburne antiques appraiser Lori Scotnicki.
"Brian's integrity is top-notch — in a business that can have some questionable characters," Scotnicki said. "I have assisted Brian on house calls, and as an appraiser, I know he is giving the client as much money as he possibly can. He never undercuts. I think that's why he's been so successful."
Bittner has two equally young full-time employees. Ray Garneau, 34, the operations manager, specializes in antique books, which he used to buy and sell at Strand and Ursus Books & Gallery in New York City. Online sales specialist Molly Finkel, 33, comes from another generational antiquing family in Philadelphia.
Bittner also employs Rick Heh part time. The coin specialist has run Rick's Coins out of his Underhill home for the past 15 years. The pair met when Bittner brought a coin collection he had acquired to Heh's house; they spent 10 hours going through it, Heh said.
Garneau said he is excited to see a set of John James Audubon's The Quadrupeds of North America — "illustrated by extraordinary, really stunning colored prints" — headed to the showroom floor, which he helped design. But he's especially looking forward to interacting face-to-face with people in a business in which he has worked largely online and by phone since he was hired in summer 2020.
"A big thing about this business is how personal and emotional it is," particularly when inherited items are involved, Garneau said. "People are looking to get the best deal, but they also want to feel that we care about the thing they're bringing in to sell. That's very much what Brian does, with warmth and care and trust."