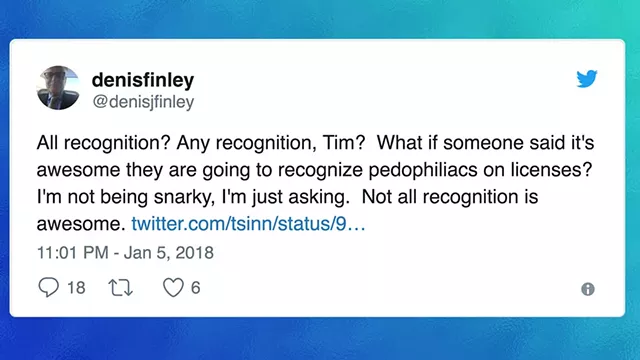 It took just 72 hours for a Friday night tweet to cost the Burlington Free Press' top editor his job.
Three days after executive editor Denis Finley suggested on Twitter that recognizing a third gender option on Vermont driver's licenses "makes us one step closer to the apocalypse," his corporate bosses summoned him to a Monday evening meeting and fired him.
"We encourage our journalists to engage in a meaningful dialogue on social media, but it's important that the conversation adhere to our overarching values of fairness, balance and objectivity," USA Today Network vice president Randy Lovely told the Free Press, which broke the news of its chief's firing.
Finley was just the latest journalist to lose his job after crossing a line in the perilous world of social media, where a premium on speed and snark can clash with traditional standards of reportorial objectivity.
In the past year, staffers from the New York Post, the Denver Post and CBS have posted career-killing comments that struck readers as racist, partisan or tasteless. President Donald Trump, himself a prolific and uncensored tweeter, recently called for another reporter, the Washington Post's Dave Weigel, to be canned over a factual error on Twitter.
Closer to home, Finley's defenders have accused the Free Press of caving to an oversensitive liberal readership and firing the editor for holding a minority viewpoint in lefty Burlington. To other observers, Finley's posts revealed not just an unpopular opinion but a fundamental disrespect for members of the community the Free Press serves.
"Since he's the editor of a general-interest newspaper, it's about basic human decency, and it's about not insulting your audience, your customers — some of whom are transgender, some of whom have family members who are transgender," said Northeastern University journalism associate professor Dan Kennedy. "I mean, why would you do this?"
The episode began late Friday when Rights & Democracy communications director Shay Totten posted a Vermont Public Radio story about the new gender identifier, writing, "This is awesome!"
Finley shared that post with a comment of his own: "Awesome! That makes us one step closer to the apocalypse."
In an interview the next day, Finley told Seven Days, "I was trying to be provocative."
He succeeded.
When Totten, a former political columnist for Seven Days, saw the comment and realized it came from the Free Press' executive editor, his "snarky columnist came out," he later recounted.
"So," Totten tweeted Friday evening, "is the @bfp_news exec editor transphobic, bad at Twitter, or both?"
When Totten signed off for the night, Finley didn't. For more than three hours Friday, in a string of 16 more tweets, he doubled down on his position — and then some.
In response to Vermont Democratic Party chair Terje Anderson, who asked the journalist what drove the apocalyptic comment, Finley quipped: "The world isn't coming to an end yet. I think it's just falling apart, piece by piece."
By 11 p.m., Finley was still at it.
When a user named Tim Sinnott wrote, "it's awesome because recognition is awesome," Finley fired back: "All recognition? Any recognition, Tim? What if someone said it's awesome they are going to recognize pedophiliacs on licenses? I'm not being snarky, I'm just asking."
In the Saturday interview, Finley said he didn't expect the backlash, which was only growing on social media.
"I do think the reaction was overboard, but that's not for me to judge," he said, adding that his comments were posted from a "personal account" and shouldn't be considered statements on behalf of the Free Press.
By then, journalists and others had scrolled through Finley's timeline and raised questions about other tweets he'd written.
Vermont-based freelance reporter Jasper Craven posted a string of tweets showing that Finley had repeatedly expressed opposition to Hillary Clinton and joked about allegations of sexual misconduct.
In another tweet, Finley suggested that former president Barack Obama's guest appearance on the first episode of David Letterman's Netflix show is "another reason not to subscribe" to the streaming service.
By Monday, as word of the controversy spread beyond Vermont's borders, Finley had gone silent. In a brief interview with Seven Days at 5 p.m., Finley said he was still employed as executive editor.
A few hours later, the company announced his firing.
Finley immediately called Seven Days back, explaining that the move was news to him.
"I did not want you to think I lied to you," he said. "I didn't. I was actually on my way to the meeting during which we discussed all this."
While Finley would not comment on Gannett's decision, he reflected on the social media firestorm he'd ignited.
"The reaction was overwhelming, I'll tell you that," he said. "It was pretty amazing to me."
Tom Kearney wasn't surprised by the backlash. The veteran Vermont journalist, who holds leadership roles at the Waterbury Record, Stowe Reporter and several other local newspapers, said Finley's top job comes with the responsibility to represent the Free Press.
"When you go into the arena like that, you carry the whole weight of the news organization with you," Kearney said. "So it's not just you. There's a representative factor there that says, 'I represent the spirit, the quality, the conviction, the integrity of the news organization.'"
In that regard, Kearney said Finley fell short.
"As I read those tweets, he was trying to pick a fight," Kearney said. "And I don't know why you do that."
Traci Griffith, chair of the department of media studies, journalism and digital arts at Saint Michael's College, rejected Finley's defense that he was posting from a personal account.
"Nope, not buying that," Griffith said. "The reality is that you're going to be judged ... based on who you are, whether it's in the private sphere or in that public sphere. You're putting it out in the environment. I don't think they're two separate things."
Based on the controversy Finley sparked, Griffith said, "I don't think the public views them separately, either."
Burlington resident Llu Mulvaney-Stanak, who identifies as genderqueer, was among the critics who leapt on Finley's remarks, tweeting that they were "inexcusable."
Mulvaney-Stanak said Finley's comments showed, at best, a major lack of understanding of the issues facing transgender and gender-nonconforming people. Even if there was no ill intent behind the remarks, Mulvaney-Stanak said, such ignorance is harmful.
"I can't imagine anybody in the queer community reading that tweet and reading it as anything other than trans-phobic, homophobic or, at the very least, completely out of touch," the Burlington resident said.
Mulvaney-Stanak said Finley's tweet was a "textbook example" of a person in a position of social privilege being ignorant of the disconnect between his own life and the lives of marginalized people.
As some critics called for Finley's resignation over the weekend and into Monday, others said the controversy created an opportunity for growth — both for the editor and for the wider community.
Even after condemning Finley's social media conduct, Griffith called it "a shame" that he was fired for it.
"I think there could've been a moment of 'Let's review and reflect on this and talk more about what it meant to the community and people who were affected by it,'" she said, "'and maybe give voice to people who don't normally get listened to or get heard, and maybe have more of a teachable moment.' But he's gone."
Griffith added that the firing could lead to claims that Finley's case is one of "political correctness run amok."
Indeed, news of Finley's departure drew criticism from a number of users on Twitter, some employing the hashtag #MAGA, who said it was darkly ironic for a newspaper called the Free Press to fire an editor for freely expressing his opinion.
Dan Feliciano, an Essex business consultant who has run for governor and state auditor, called the move "Orwellian" and "1984ish" in a comment on Facebook.
But Kennedy, the Northeastern professor, said Finley's Twitter feed was so "wildly inappropriate" that the Free Press had little choice.
"He's the one who lowered it into the gutter," Kennedy said, "because what he's doing here is, he is not just expressing an opinion, he is talking about human beings, some of whom are part of his audience, in insulting and demeaning terms."
As it announced news of Finley's firing late Monday, the Free Press reported that planning editor Emilie Stigliani had been named interim executive editor as corporate higher-ups search for Finley's replacement.
Griffith suggested management should rethink that recruitment strategy.
"He hadn't been here very long," Griffith said of Finley, who joined the Free Press in late 2016 after moving to Vermont from Virginia. "Maybe if you have someone who has a better sense of the community, they would have a better perspective."
She argued that promoting from within the Free Press would help reinforce the paper's connection to the Burlington community and avoid similar problems in the future.
"They've had a pretty long string of people coming from high up in the Gannett organization and being put into leadership positions within the Free Press, and maybe they should look at that differently," Griffith said.