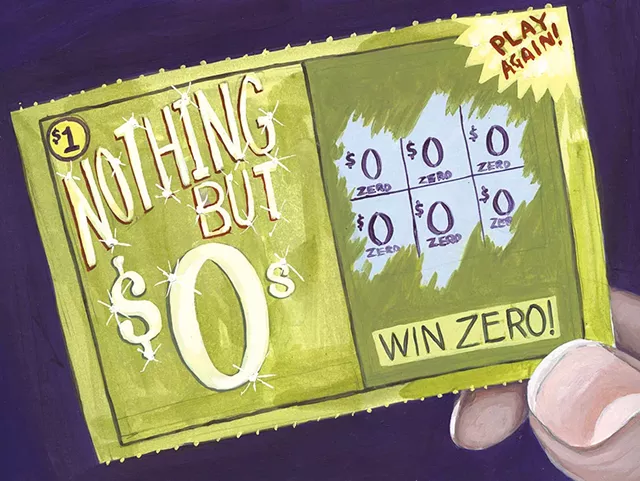 For 16 years, the Vermont Council on Problem Gambling and the Vermont Lottery Commission had a financial partnership to help Vermonters for whom the fun of gambling had become a money-sucking addiction.
Peter Espenshade intended to continue this relationship when his organization — the Vermont Association for Mental Health and Addiction Recovery — took over the problem-gambling council in 2014.
But earlier this year, Espenshade decided against applying for the $150,000 grant the lottery provides annually for problem-gambling services, including a hotline and training for mental health and addiction counselors.
"We don't want their money," Espenshade said. "We don't like the direction they are going."
He objected, for example, to the installation of touch-screen game consoles in 25 bars last fall — the first time lottery games have been available in establishments selling liquor. Noting that those bars are located in some of the lowest-income neighborhoods in Vermont, he suggested the lottery's marketing no longer urges gamblers to "play responsibly" — its longtime slogan. He also believes the promotional material targets young people.
"There is just too much of a conflict of interest to have our work overseen by the state's sole purveyor of gambling," Espenshade said. He will appeal to lawmakers this winter to "consider a direct gift of $75,000 to our organization each year, so we can repair the damage the lottery causes and try to return the lottery to something responsible."
The lottery has funded the problem-gambling grant since 1998, when it voluntarily adopted promotional rules that ban any suggestion that games of chance can solve financial problems. Lottery sales totaled $102 million in fiscal year 2014, of which $75 million came from instant tickets. The $150,000 that the legislature mandates to address problem gambling works out to less than 1 percent of the profits, which last year came to $22.6 million. The rest of the money goes to the state's education fund.
The Vermont Department of Health has always awarded the grant, and the Vermont Council on Problem Gambling had been the sole recipient — until this year. Gregory Smith, executive director of the Vermont Lottery, said the Department of Health asked him to take over managing the grant. For the first time, the lottery wrote the guidelines and awarded the funds. Smith said the health department officials vetted everything "to make sure we were asking for appropriate services."
When the Vermont Council on Problem Gambling chose not to pursue the grant last spring, Smith found a psychologist — Richard Barnett of Stowe — who was willing to take on the work. To be able to receive the funding, Barnett formed a nonprofit organization called the Center for Addiction Recognition, Treatment, Education and Recovery. At this point, its only employees are Barnett and an executive director.
"We have an organization that we are thrilled with," Smith said.
Barnett attended college and graduate school in New York City and worked for seven years at Hazelden Betty Ford Foundation before returning to his home state of Vermont 10 years ago. Already a licensed drug and alcohol counselor, he intends to get certified as a problem-gambling counselor.
Barnett said it is taking time to gear up to a full array of services for gambling addicts. He hired an answering service and relaunched the 24-hour hotline in late September. The first six weeks generated six calls for help, and he scheduled counseling sessions in each case within two or three days after the calls came in, he said. The gamblers all lived within 45 minutes of his office.
In an effort to duplicate that statewide, he's creating a network of specialists. Barnett contacted organizations such as the Vermont Addiction Professionals Association, the Vermont Recovery Network and the Howard Center to spread the word about the hotline, educational materials and training opportunities. He is updating and redesigning brochures.
He will offer his first training session on how to identify gambling problems to 25 Howard Center clinicians in December. He plans to run at least two more sessions in early 2016. "Honestly," he said, "I don't think we as mental health professionals do a good job screening for gambling addiction."
Meanwhile, Espenshade isn't going away. Despite ending his relationship with the Vermont Lottery, he plans to offer competing training options through the Vermont Association for Mental Health and Addiction Recovery to clinicians, funded with $16,000 in private grants. "We must continue this critical mission," he said.
Smith, who has been the lottery's executive director since 2012, disputes Espenshade's assertion that the lottery no longer emphasizes responsible play. "When I started, we only ran problem- gambling ads six weeks of the year," he said. "We have chosen to run them year-round."
The lottery isn't the only form of gambling that might lead to problems for some Vermonters, Smith added. Nearby casinos, racetracks, internet sites, bingo and pull-tab tickets sold in bars and clubs are temptations. Still, he said, "We fund awareness for the problems with gambling no matter how they are caused, and we are happy to do it."
The $50,000 cost of producing those radio and television spots and designing and printing brochures is borne by the lottery, rather than subtracted from the problem-gambling grant, Smith said. Most radio and TV spots air without cost as public service announcements. By comparison, the lottery spends $1.3 million on advertising to promote its games.
The 1998 rules restricting promotional language also prohibited children from appearing in advertising and specified that lottery marketing should not appeal to children. The lottery hasn't strayed from that, according to Smith.
Espenshade disagreed, citing an instant-ticket game featuring a cow riding a Polaris ATV and Zombie Patrol bumper stickers that depict club- and pitchfork-wielding people fending off the undead — the latter distributed free last year to promote scratch-off tickets.
Smith also defended the 25 touch-screen consoles in bars. "There are a lot of gaming opportunities in bars," he said, citing unregulated pull-tab tickets. "We are another product in that environment."
The consoles in bars "have been good to the businesses that have them, and they have more than met our expectations in terms of sales," Smith said. They offer tickets to games with drawings such as Powerball, as well as instant virtual games, and have generated $1.3 million in sales revenue since last fall, Smith said.
Those machines will have to be removed from bars, however, unless Smith persuades lawmakers to repeal a provision, enacted last session, which prohibits premises with liquor licenses from operating as lottery agents as of July 2016. He'll argue that if lawmakers object to gambling where liquor is sold, they need to ban other games.
Bill Keithcart, clinical supervisor for the DayOne addiction program at the University of Vermont Medical Center, said it is difficult to cite one mode of gaming as the gateway to problem gambling. "Anything can turn into a problem," he said. The remedy, he suggested, is "if money is being made, just make sure there is some set aside for treatment and prevention."
Gary Mitchell, who moved to Vermont three years ago from Connecticut, argues the current grant is too little. "One hundred and fifty thousand is almost an insult," he said, "but at least there is something coming our way."
Mitchell is the state's only certified problem-gambling counselor, as far as he knows. His primary job is program director for co-occurring disorders at Northeast Kingdom Human Services in Derby. "People think if there is no casino, there is no gambling problem," he said. "This is an untruth, a dangerous untruth."
How dangerous? No one knows how many Vermonters are afflicted with an addiction to gambling, because no data is collected. Hotline calls have declined in recent years. But the National Council on Problem Gambling estimates up to 3 percent of the population meets the criteria for problem gambling — that is, gaming habits disrupt their lives.
"You need to be asking that question," said Mitchell, echoing Barnett's earlier observation that addiction counselors fail to screen clients for that problem. Gamblers are secretive, he explained, noting they aren't identifiable the way a chronic drunk or someone shooting up drugs would be. "They don't come in unless there has been a serious change in lifestyle," he said, such as being cut off from family or losing a home.
In addressing the problems that result from gambling, Mitchell doesn't demonize the lottery. "The fight isn't with Greg and the lottery," he said. "The fight is to increase awareness and to take responsibility and provide the services for those who have addictions."
Mitchell recounted a scene he recently witnessed at a local convenience store. A man was buying one scratch ticket after another, using small wins to purchase more tickets. He was on a roll and couldn't quit despite the growing line of customers behind him — including Mitchell.
"We all do it," Mitchell said of gambling, mentioning Super Bowl pools and raffles. "It is not something we are going to erase. It is something we need to acknowledge."