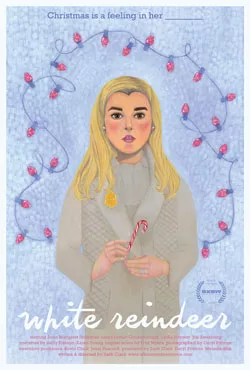 Some people seek out Christmas movies around the holidays. And others seek out anti-Christmas movies. Those in the latter category may want to drop in on White Reindeer, the latest drama from Brooklyn indie director Zach Clark. The pop-culture connoisseurs at the A.V. Club have proclaimed it "the least festive Christmas movie since Bad Santa," and Variety says the flick "will be treasured annually by those who have acquired its curdled-eggnog taste."
How did White Reindeer earn those prized accolades? It starts with a wacked-out premise: A real estate agent (Anna Margaret Hollyman) finds her Yuletide shopping rudely interrupted by her husband's murder. She sets out to spread Christmas cheer anyway — to the stripper with whom her deceased spouse was having an affair.
It sounds like a recipe for pitch-black comedy bordering on tastelessness. But, while Clark's film is certainly no It's a Wonderful Life, critics say it offers an unexpectedly compassionate view of its characters. Find out for yourself at a screening this Thursday presented by the Burlington Film Society and Main Street Landing Performing Arts Center — thermos of curdled eggnog optional.
"White Reindeer": Thursday, December 19, 7 p.m. at Main Street Landing Film House in Burlington. Free, donations accepted. burlingtonfilmsociety.org
The original print version of this article was headlined "Bah, Humbug"