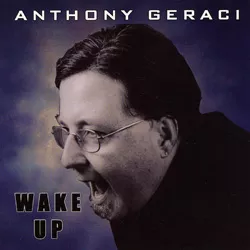 (Self-released, CD)
I feel for the backing musician. Whether relegated to the shadows outside the limelight, feeling lucky to get a call-out at a live show, or settling for a mention in the "Additional Musicians" section of the CD jacket, one can sympathize with bit-part players. And one can understand when they go all moth on us and spread those wings to fly to the spotlight. Unfortunately, not all are prepared to carry the responsibility that comes with being bandleader and sole songwriter. Anthony Geraci, longtime backing pianist for numerous blues greats, may or may not be ready for solo status; your opinion might change depending on which track you hear from his independent release Wake Up.
For a man with a musical résumé steeped in the blues — Geraci has backed up Muddy Waters, B.B. King, Otis Rush and Chuck Berry, to name a few — you might expect the Morrisville resident to dive right into some 12-bar action on his first true solo CD. Instead, my ears were assaulted by the Christian-rockin', echo-filled refrain of opening track "Tell Heaven to Wake Up": "Tell Heaven to wake up / It's time for a shake up," sings lead vocalist Ellen Whyte. The song almost had me swaying with my palms up and speaking in tongues. But it almost had me throwing up, too. Sadly, it wasn't the only song that inspired such a reaction.
The second cut, "Drowning on Dry Land," feels more jazz-lounge than blues and is Geraci's attempt to get some mileage from the drawn-out conflict in Iraq. From the song's chorus: "Paper printing in black and white / They don't know that we hate your fight . . . because we're drowning, drowning in a sea of sand."
It isn't until the third track, "Can't Stay Away," that Geraci plays what he plays best: blues piano. And man, can he play. Whyte sounds better suited to this genre and lyrical content as well. And backing musicians Paul Asbell (guitar), Michael "Mudcat" Ward (bass) and Mark Greenberg (drums) fall comfortably into a blues groove that would set a dead man's foot a-tapping.
So goes Anthony Geraci's Wake Up. Listeners will have to skip around for the gems and won't be disappointed when they find them. But I'm left hoping for a more blues-laden follow-up that will convince me this former backing musician is ready to go it alone.