Jeb Wallace-Brodeur
Annie Myers
It was April 2, but Mother Nature had played a late April Fools' Day joke on New York City. The snow was coming down hard at 6 a.m. as Manny Mejia and Amanda Burakoski navigated the slushy streets and sidewalks along their delivery route for more than two dozen customers across Manhattan and Brooklyn.
The 22-foot refrigerated truck bore the name Myers Produce, a stylized carrot logo, and the phrase "From Vermont to NYC & Boston."
At Café Luxembourg, a neighborhood landmark near Lincoln Center, the normally bustling dining room, lined with red banquettes, was brightly lit but silent. The pair carried in bags of carrots from Pete's Greens of Craftsbury and stacked flats of tomatoes from Long Wind Farm in East Thetford.
The door was still locked at MIMI, a tiny New York Times Critic's Pick in Greenwich Village, so Mejia left three boxes of pork and an invoice tucked in the restaurant's entrance enclosure. In lower Manhattan's Hudson Square, he handed large bags of beets and gold ball turnips down through the cellar doors of Houseman, another Times-blessed destination, before the truck forged on into SoHo to pioneering upscale grocer Dean & Deluca.
It was an unpleasant morning to be climbing in and out of a truck juggling heavy bags of blue potatoes from Hoolie Flats in East Calais, boxes of sausage from VT99 Meats in Greensboro Bend and tortillas from Vermont Tortilla in Shelburne.
"Annie doesn't cancel delivery for nothing," said Mejia, referring to company owner Annie Myers. "We have to get the product to customers no matter what."
That commitment to service has helped Myers' small Northeast Kingdom-based business grow from a startup to a significant regional distributor over the past four and a half years. In 2017, Myers purchased almost $1.4 million worth of vegetables, fruit and other regionally made food and beverages, which she then sold at a 20 to 40 percent markup, depending on the buyer and product.
Close to $1 million of that sum enriched the coffers of farmers and producers in Vermont; another significant chunk went to their peers in western Massachusetts; and a little went to a few in New York State, New Hampshire and Maine. Access to such market opportunities means a lot to small- and medium-size farmers and producers who have discovered that local has its limits.
"We'd been trying to open up that New York City market," said Tim Hughes-Muse, co-owner of Laughing Child Farm in Pawlet. "There are more than 8 million people in New York City; we have 5,000 people here around our farm."
Working with Myers has been "a boon" to his family's specialty sweet potato business. "It's really allowed us to scale up," the farmer said. "We're happy to sell regionally. We have to go where the people are."
On the other end of the equation, restaurants value the products and service Myers provides — and they can offer big-city prices for them.
Michael Navarrete, executive chef of Café Luxembourg, was "always an advocate for Vermont," he said, having grown up in Proctor and graduated from the New England Culinary Institute. But he couldn't reliably source the quality products he wanted until he discovered Myers Produce through another restaurant's Instagram feed.
"I saw all this beautiful stuff, and I thought, This is what I've been looking for," Navarrete said. Now, after two and a half years of working with Myers, "I'm still blown away by the quality, the consistency and the reliability."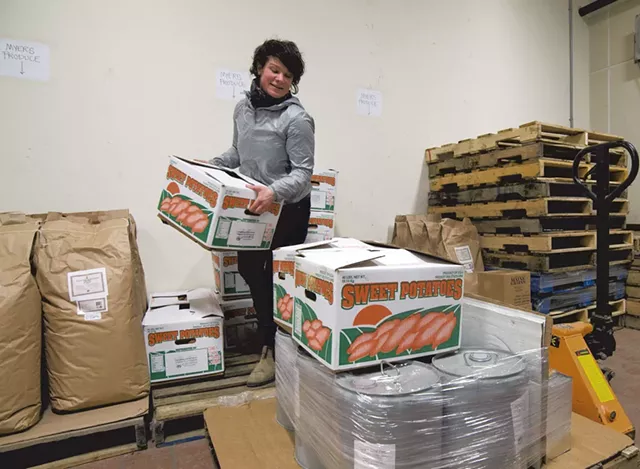 Jeb Wallace-Brodeur
Annie Myers
When Myers, 31, founded her company in late 2013, she recognized that the second and third of those attributes were as important as the first. "I knew early on that my priorities were to communicate well and be consistent," she said a few weeks ago in her warehouse space in Hardwick. "The food sells itself."
Stacked around her in the generic industrial building were sacks of black beans from Vermont Bean Crafters in Waitsfield, crates of Laughing Child Farm sweet potatoes and drums of maple syrup from Square Deal Farm in Hardwick. There were sacks of whole-wheat flour and jars of flake sea salt from Maine, butternut-squash-seed oil from New York State, and mesclun mix from Massachusetts.
Myers lives in the tiny Vermont town of Albany, but she spent her teenage years in Brooklyn and created her own regional food systems major at New York University. She has a shock of unruly jet-black hair and frequently flashes a dimpled smile. Like many New Yorkers, she learned to drive late — at age 24.
After college, Myers landed a job with Michelin-starred chef April Bloomfield, co-owner of the Spotted Pig, the Breslin Bar & Dining Room, and the John Dory Oyster Bar. She worked as a "forager" for all three NYC restaurants, responsible for finding and sourcing many seasonal ingredients.
"It was a super-intense place to work and a privileged place to be," Myers said. "A lot of my job was bicycling around to farmers markets, tasting and figuring out how to cobble together orders from all these small farms."
After a year, she left to work for one of her suppliers, a farm in Pennsylvania. "I loved it and wanted to keep farming, but the season ended," she said. Looking for somewhere to farm year-round, Myers learned about Pete's Greens in Craftsbury. She arrived in Vermont in November 2010, shortly before the farm suffered a destructive fire.
Afterward, farmer-owner Pete Johnson and his team had to build new systems from scratch. "It was a time of scaling up, of changing gears," Myers said. "That was a side I hadn't seen: farms that had capacity and interest in growing in a significant way."
And Myers recognized that such farms had a stumbling block to their growth: "It's a big leap from Hunger Mountain [Co-op] to Whole Foods." Three years after moving to Vermont, Myers set out to bridge that gap. She leased a van and started her own distribution business, with Pete's Greens as her first supplier.
"I'd been thinking about a business like this for a long time," she said. "I realized how badly people wanted the food we were growing. Restaurant friends in the city would say to me, 'I would drive up to Pete's for what you just showed me in a picture.'"
By April 2014, Myers was able to buy a used truck for $20,000. "I always knew there was room for a distributor that's entirely focused on regional products," she said. That's an expanding niche she's been able to fill, she noted, as other regional distributors have grown too big to accommodate the needs of smaller farmers. Other market sectors, such as Vermont cheese, she leaves to distributors who already service them well.
"I want to serve farms who don't have as much access to a big urban center," Myers said. "But I also always knew I'd need to go beyond Vermont and that farms [located] between Vermont and the city make sense."
Bill Suhr, owner and orchardist of Champlain Orchards in Shoreham, sells a significant amount of fruit through Myers. "Annie understands white-tablecloth [restaurants] and worked at Pete's, so she understands the production side and the critical link of moving quality produce to market," he said. By handling sales, marketing, all delivery logistics and account services, the Myers Produce team "helps us focus on growing," Suhr added.
Myers Produce now has three trucks and nine employees (four full time, including the owner) servicing about 150 steadily active accounts, with a roster of about 50 suppliers. Although Myers remains based in Vermont, the rest of her team operates out of NYC and Hadley, Mass., where her central warehouse is located. Company trucks pick up product from 95 percent of the food producers and deliver it to NYC and Boston, twice a week in the winter and five days a week in the summer.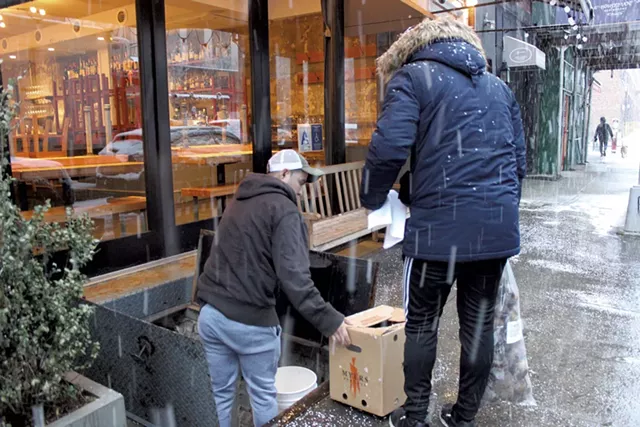 Melissa Pasanen
Deliveries to New York City
It's a lot to juggle, but Myers seems to manage it all with a firm, calm hand. Quick to give credit to her employees, she takes nothing for granted. "Everything feels fragile all the time. Order fulfillment has to be pretty much perfect," she said.
Her reputation is a strong asset. "A lot of what we do is extremely personal, and people move around a lot in this business," Myers said. Chefs often remain her customers when they switch jobs, while word of mouth brings in most new accounts. Myers Produce grew 50 percent last year and is projecting 35 percent growth this year, Myers said.
Among her larger customers is Dig Inn, a small "fast, fresh, casual" chain with 19 locations in NYC and Boston serving 100,000 meals a week. "Annie's a really amazing communicator; so many people in this industry are not," said Taylor Lanzet, director of supply and sustainability. "She's also making sure growers are making their fair share. Not all distributors do that."
There have been surprises, Myers acknowledged. "One of the most naïve parts of the original business plan was that it was actually going to be a winter business so I could keep farming," she said with a rueful grin.
Myers assumed chefs would have more direct access to produce during the summer. Indeed, her winter business is steady, with substantial sales of carrots and other root vegetables, winter greens, Asian pears, apples, greenhouse tomatoes, beans, grains, and items such as maple syrup.
But most such goods can't approach the high dollar value of lush summer produce. "You can highlight that your Castelfranco radicchio is from Vermont, but it's harder to do that for your yellow onions," Myers noted.
But even the less alluring produce can benefit from added value, and Myers' background has helped her to offer that in unexpected ways. Lanzet of Dig Inn explained how the company worked with her to source ingredients for a new spring offering dubbed Rescued Vegetable Salad. It features thinly sliced, perfectly edible but cosmetically challenged vegetables that might otherwise end up in the compost.
Myers attributes much of her business success to her farming experience. "You can't be afraid. You have to be willing to jump into anything," she said. "You can be managing a MailChimp project, and then, five minutes later, you're cleaning chicken shit off the wheels of a truck."
Or driving a 22-foot truck into NYC, which the late-learning driver is proud to say she can now manage with ease.