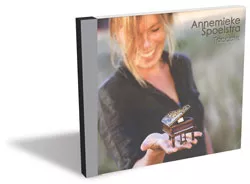 (Self-released, CD)
"To play (the piano)" is one definition of the Italian word toccare, the title of Annemieke Spoelstra's debut CD. The Dutch pianist, based in Burlington since 2004, plays accessible, evocative works on the solo recording, which features primarily 19th-century Romantic composers. They allow her to explore other aspects of the multitasking verb: to reach, to convey, to feel. In the brief liner notes, she explains, "To me, toccare … also means using touch to communicate … These composers have been masters in capturing what words cannot express."
Spoelstra makes herself an eloquent conduit for interpreting five masters, four of whom are well-known mainstays of the keyboard repertoire: J.S. Bach, Franz Schubert, Frédéric Chopin and Johannes Brahms. Six of the seven pieces consist of a single movement, such as an étude or a nocturne. They range from two to seven minutes each (average: about five). More than half of the album's length is Schubert's Sonata in A Major (1828), a four-movement work that starts on the second track.
One word for the Schubert: mesmerizing.
OK, a few more: It was hard to get past the sonata and listen to the rest of the CD, because the sonata kept whispering, "Listen to me one more time." And I'll 'fess up that I strongly prefer live keyboard music over the recorded stuff. An acoustics expert could probably explain the physics — resonance, overtones, e=mc something. I was surprised at how Spoelstra's recording of the sonata seduced me. Her refined approach demonstrates how the supposed "simplicity" of Schubert's style — once deemed a negative — is such an elegant asset.
The slow second movement of the sonata, "Andantino," is especially captivating. Schubert writes with exceptional melodic clarity, bringing a finesse honed from composing hundreds of art songs. Spoelstra plays fluidly, allowing the beauty of the themes to shine. Using dynamic and rhythmic shifts with precision, she builds the mysterious section's mood brilliantly.
Two virtuosic études from obscure Russian Sergei Bortkiewicz (1877-1952) follow the Schubert sonata. The first races, the second thunders, and Spoelstra renders both energetically. Chopin's "Fantaisie-Impromptus in C-sharp minor" is the performer's chance to show off her virtuosity. The popular pianist's throwdown features tricky cross-rhythms: triplets for the left hand, 16th notes for the right. Spoelstra carries off the challenge effortlessly, and lets you just enjoy the pretty piece. Like most of the tracks on her CD, both the playing and listening are smooth, rewarding and fun.
Annemieke Spoelstra performs Beethoven's "Fantasy, Opus 80 for Piano, Chorus and Orchestra" at the Vermont Youth Chorus and Concert Chorale's Spring Concert, Thursday, April 15, at the Elley-Long Music Center in Colchester, and Friday, April 16, at the Mahaney Center for the Arts in Middlebury.