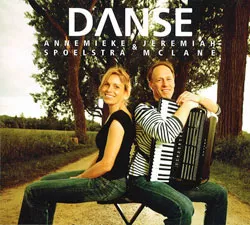 (Self-released, CD, digital download)
Just below the track listing on the back cover of their debut collaboration, Danse, Dutch pianist Annemieke Spoelstra and Vermont accordionist Jeremiah McLane present a quote by Scottish philosopher and satirist Thomas Carlyle. It reads, "Every day that is born into the world comes like burst of music and rings the whole day through, and you make of it a dance, a dirge, or a life march, as you will." As its title suggests, Spoelstra and McLane have to chosen to make a dance of this album/music/day. Despite moments of melancholy and quiet introspection, it is a celebratory collection that would likely have the often-acerbic Carlyle himself kicking up his kilt.
For the record, Spoelstra and McLane draw on 400 years of traditional folk melodies, from the 17th century to the present. They run the gamut from obscure Bulgarian traditional songs to compositions by better-known composers such as Béla Bartók and Antonín Dvorák. But despite the wide range of geographical, cultural and musical touchstones, there is remarkable cohesion throughout — perhaps owing to the care with which the duo rearranges each piece to fit its unconventional instrumentation.
To wit, the album's 10-minute opening track, "12 Armenian Folk Songs," is a suite by Armenian American composer Alan Hovhaness. It is playful at times, almost sinister at others. Yet regardless of mood — or mode — the palpable symmetry is unwavering, here or throughout the 60-minute recording.
Credit for this unquestionably belongs to the sheer caliber of performance. McLane is a master accordionist, a player who approaches his oft-derided instrument with the same care and precision as any virtuoso. Like, say, Annemieke Spoelstra.
Spoelstra is fantastically gifted player, a conservatory-trained prodigy who plays with profound skill, intellect and sensitivity. She is better at the piano than most of us will ever be at anything we do.
Spoelstra and McLane's collective chops give Danse the sense of being a classical recording, which in some respects it is. But what makes the album so remarkable is that the players never forget their source material, never mind their elite training. These are folk songs. And regardless of the beautiful and sometimes academic flourishes the duo imparts, the humble spirit of the music remains intact.
Danse by Annemieke Spoelstra and Jeremiah McLane is available at cdbaby.com. They play an album-release show on Saturday, January 26, at the Charlotte Congregational Church.