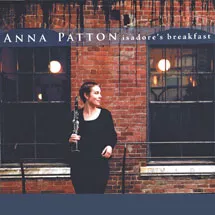 (Self-released, CD)
A well-played clarinet is one of my favorite musical delicacies in the world. The instrument has an incredible range and, in capable hands, can alternately deal out low-end rhythm swing or sweetly soar in its higher registers. The eminently capable Southern Vermont clarinetist Anna Patton performs with numerous area contra-dance bands, as well as the Balkan quintet Xopo, the swinging dance band Housetop and, most recently, with her multitalented dad's noted Gypsy-jazz outfit, The Will Patton Ensemble. Anna's debut release, Isadore's Breakfast, is a pure pleasure to listen to as the clarinetist struts her stuff, her instrument sailing and swooping from start to finish.
On the album Patton plays a wondrously varied mix of sultry French musette waltzes, bouncy contra-dance tunes, swing standards, two Irving Berlin classics and a boppin' original by her younger brother Ben — yet another talented member of this musical family.
The clarinetist's thoughtful and imaginative approach is evident in the company she keeps as well. Patton has enlisted the musical help of a boatload of fine local players, including Django Reinhardt acolyte Dono Schabner, ace chameleonic fiddler Mary Lea and the aforementioned proud papa — and Vermont musical treasure — Will Patton on mandolin and bass. Also making appearances are Vermont keyboard technologist Jeremiah McLane and well-known dance fiddler Ethan Hazard-Watkins, who also handles the album's graphic design and co-production.
It's a pleasant surprise to hear Anna Patton singing lead on some of the tracks. One thing a clarinet player can't do, of course, is sing while playing. For many of her fans this will be a first. But the vocal tracks show that Anna can really sing and, of course, swing. The disc also features great Andrews Sisters-style harmonies courtesy of Housetop band mates Erica and Naomi Morse.
Even though she's a relative youngster, Anna Patton clearly has a deep love for and intimate understanding of the myriad styles of music she plays. And even though the album switches gears on practically every track, the transitions work. With Isadore's Breakfast, Patton has provided listeners with an impressive snapshot of her considerable abilities as an arranger, vocalist and, most importantly, a clarinetist.