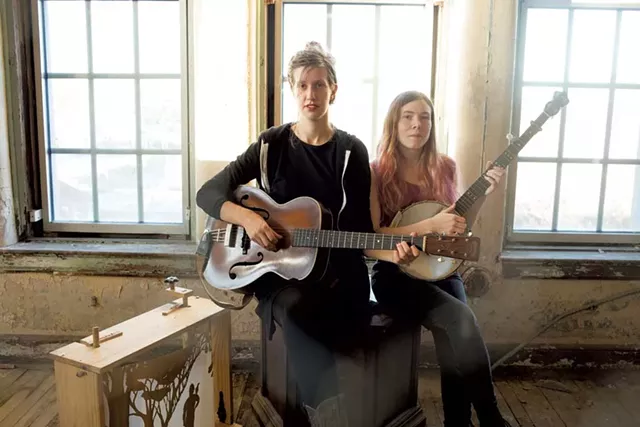 Courtesy Of Anna & Elizabeth
Elizabeth LaPrelle and Anna Roberts-Gevalt
On their latest album, The Invisible Comes to Us, Anna & Elizabeth went in a new direction — north, specifically. For the past five or so years, the Virginia-based duo has enjoyed a growing reputation in folk music circles, primarily for their pristine and inventive take on American traditional music. Like the majority of Americana acolytes, they have largely derived inspiration from the South — guitarist Elizabeth LaPrelle is a southerner. But the other half of the duo is a Yankee: Vermonter Anna Roberts-Gevalt.
The 30-year-old fiddler and vocalist was raised in Hinesburg. (Her father, Geoff Gevalt, is the founder and executive director of the Young Writers Project.) She attended Champlain Valley Union High School and was a member of the Vermont Youth Orchestra; she played viola and the fiddle's staid twin, violin.
After years of immersing herself in southern music, Roberts-Gevalt yearned to explore the traditions of her home. That curiosity led her to the Margaret MacArthur Collection of the Vermont Folklife Center, as well as the Helen Hartness Flanders Ballad Collection at Middlebury College. The two libraries house a treasure trove of archaic folk music and field recordings from all over Vermont and New England.
"I felt really inspired by the idea of exploring the music of where I'm from," says Roberts-Gevalt.
The resulting album, released on Smithsonian Folkways, is a combination of music hailing from the duo's native states, Vermont and Virginia. But it's hardly rote recitation of dusty old folk tunes. Not unlike the deconstructionist folk works of another Vermont-bred artist, Sam Amidon, Anna & Elizabeth take profound creative liberties with their source material, coloring ancient melodies with a palette of modern avant-garde techniques such as synths, drones and loops. As Pitchfork's Stephen Deusner wrote, the album is "audacious, subtly pushing at what folk music sounds like and what it can do."
Anna & Elizabeth perform a benefit concert for the Folklife Center this Saturday, April 21, at the Champlain Valley Unitarian Universalist Society in Middlebury. Seven Days recently spoke with Roberts-Gevalt by phone.
SEVEN DAYS: What led you to the Middlebury College archives?
ANNA ROBERTS-GEVALT: I had been aware of the archives for a long time, but it was very peripheral, like, "Oh, there's some folk songs from Vermont." I knew Pete Sutherland growing up, and he was connected to the Flanders family and Vermont music. So I had little whispers of Vermont music when I was getting into folk music. But I didn't really pursue it. I got into southern music, moved to Kentucky and Virginia, and delved pretty deeply into the fiddle and banjo tradition.
But, after our first two records, I thought it was time to do some work in this archive. I'm not from the South; I'm from this place. So, what's the music from where I'm from? What does it mean to research the music from my region? That's something I'd seen so many of my southern friends do. So I moved home for a month and went to the archive every day.
SD: And what did you find?
ARG: It was overwhelming. There were hundreds of names I'd never heard of, hundreds of ballads I'd never heard before. It's just a lot to sift through. But as a musician, the research becomes intuitive: I'm looking for songs that are interesting, or singers who are beautiful, or stories I find moving. When you know that you're looking for songs that you're going to turn into art for other people, it becomes very broad. But it was awesome. The archivists were so rad.
SD: I'm guessing that's the first time archivists have been called "rad."
ARG: [Laughs] They are!
SD: Your research extended beyond just the archives, correct?
ARG: I got to do some side trips, which I'd love to do more of. I took a trip to northern New Hampshire to interview the family of one of the singers. So I got to learn more about who these people were. I formed a friendship with the great-granddaughter of this singer, who took me to the house where the recording had been made in the 1940s. It's abandoned, but it was amazing.
That kind of work was an important part of the research, because otherwise it can be very dry — you're in a library listening to recordings that have a ton of white noise. But you know that the recordings don't come from dry places. They're from houses; they're from beautiful places in the countryside throughout New England. So I wanted to have some part of that experience be part of my experience with the music. Seeing the landscapes, meeting the people who have a connection to the songs feels like an important part of the process. It's part of the fun of making these songs come alive again from the depths of a library — how to reanimate them.
SD: The album has an atmospheric quality, a true sense of place. Is that something you and Elizabeth consciously tried to keep intact?
ARG: Very much so. There was a sense early on of wanting to expand the instrumentation beyond just us playing our instruments live. We see these songs as portals. And when you spend enough time with them, you start to see landscapes developing, or what the characters look like in your mind. What stories from your own life do you associate with this ballad?
SD: Can you give me an example of a song you found particularly evocative?
ARG: "Irish Patriot." To me, that's really connected to the image of a forest and someone coming out of the forest. I think using a broader musical scope, kind of inspired by what film music does — being illustrators with sound — and suggesting these bigger, immersive landscapes was something we did more heavily on this record than we've done before. That was the main goal of taking more risks and experimenting with the sounds we put on the record.
SD: In doing your research about New England music, what surprised you most?
ARG: Well, for one thing, there are way more songs about the ocean than there are in southern music. But I just kept thinking about how much I didn't know about New England music. There are these vast repertoires that I'd never heard of. In the South, a lot of these legacies are carried on and their names are still spoken.
So, to me, it drove home one of the ideas that I had going in, which was that, pre-radio, there was folk music everywhere. And every place had its own folk music. So one of the themes was to bring more visibility to the individual people, but also this idea that traditional music is present everywhere. And that feels cool. I'm proud to have a record that has a bunch of New England music, because that is where I'm from, and I think a lot of people still don't associate New England with traditional music.