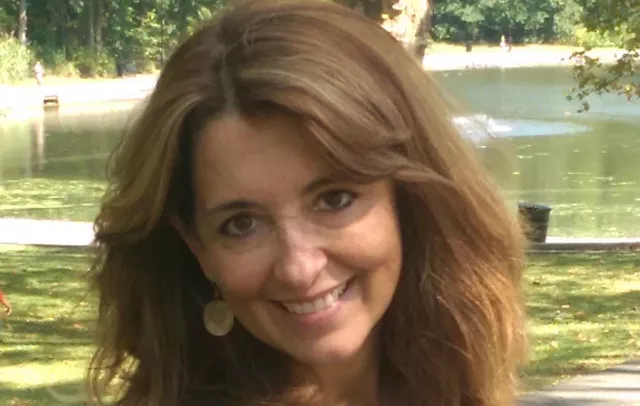 Courtesy of Ann Zuccardy
Ann Zuccardy
Ann Zuccardy won't go so far as to say her traumatic brain injury (TBI) was the best thing that ever happened to her. That would be the birth of her daughter in 1994. But Zuccardy, 53, contends that a serious blow to the head, which she suffered four years ago, actually made her smarter. Now she's using the lessons she learned during her extended recovery to help others get smarter, too.
At the time of her injury, Zuccardy was working in what she once considered her "dream job" — as a corporate communications specialist for National Life Group in Montpelier. While traveling in Germany in October 2011, she slipped stepping into a hotel bathtub and slammed her forehead into a tile wall.
Zuccardy was lucky, or so she thought at first. She never lost consciousness, and she felt just "a little drunk afterwards." She slurred a few of her words but felt "mostly OK" the following day.
After she returned to work several days later, however, Zuccardy's symptoms grew progressively worse. She began stumbling and slurring her speech more often and had difficulty focusing on printed material. Her short-term memory deteriorated; she had trouble remembering even simple tasks and facts, such as the day of the week. Then she began to vomit. But Zuccardy, who had given birth at home — in her living room, without pain meds — told herself, I can handle this, she recalls.
Eventually she admitted to herself that she couldn't. When Zuccardy finally went to see her doctor, he sent her immediately to the hospital. There, a brain scan revealed a "coup contrecoup" head injury. In layman's terms, that's a TBI in which the brain sloshes around inside the skull like JELL-O in a bowl, causing bruising both at the point of impact and on the opposite side of the brain.
Zuccardy was prescribed strict "brain rest," which meant no mental stimulation of any kind. For months, she couldn't work on a computer, watch television, read, drive or exercise. As someone who'd always read voraciously, and who made her living reading, writing and engaging in social media, she found that this seemingly minor blow to the head left her identity and self-worth severely bruised.
Zuccardy began gauging how her day would go by how many beers it felt like she'd had the night before. The day of an interview for this story was just a "two-beer morning," she says, or an average day. A six-beer morning means she'll likely fall down several times, slur her words or get lost driving to the store.
When Zuccardy's 12-week medical leave ended, she informed her employer that she couldn't return to work. Within months, she was diagnosed with clinical depression. Friends and family suggested she apply for disability benefits, but the fiercely independent woman says she never saw herself as disabled. That view was reinforced when she attended TBI support groups and saw people in wheelchairs with far worse limitations than hers.
"I've always been really creative and good at the art of reinvention," she says. "So I asked myself, How can I do the things I love and do them in a way that works for me?"
Two months after her injury, Zuccardy finally turned to a sphere of activity that had served her well throughout her career: social media. In December 2011, the self-described "accidental neuroscientist" launched a blog called I Want My Brain Back to air her frustrations and seek resources for recovery. Using voice-recognition software to type, Zuccardy learned about local physical therapists and speech pathologists who specialize in brain injuries. Soon she discovered that she could overcome her limitations through what she calls "creative adaptive mechanisms."
Zuccardy had grown up playing music and brain games with her family; now she devised creative strategies to help her perform what had been unconscious tasks. When she needs to cross a street, for example, she scans the crowd and finds the most responsible-looking person, often a mother with a small child. Then she attaches herself to that person and follows them. To cope with difficulty descending staircases, she grips the banister and uses her foot as a feeler to guide her steps.
Through her blog, Zuccardy also explored her evolving understanding of what it means to be smart. Previously, she'd defined it as the rapid recall of facts and figures; now she realized that true intelligence involves resilience in the face of adversity and change. Brain researchers call this neuroplasticity, or the brain's capacity to adapt, evolve and form new neural connections throughout life.
"Now, I define smart as my craving to learn," Zuccardy says. "This is the 'new smart.'"
In the spring of 2012, Zuccardy got a phone call from the organizer of a TEDx talk held in Phoenixville, Pa. TEDx is a speaker series created in the spirit of the original TED lectures that tout "ideas worth spreading." Zuccardy initially assumed such lectures were just for highly educated people and doubted she had anything interesting to offer.
"I thought it was a total joke," she admits. "I never thought of myself as a public speaker." But, as she was about to turn 50 and her only child was headed to college, it seemed like a good opportunity to reinvent herself.
While many TEDx speakers spend a year or more preparing for their lectures, Zuccardy had just four months. On the day of her talk, she was the first to take the stage, carrying a stack of notecards in her back pocket in case she lost her place. She never had to refer to them.
"It was a slam dunk," she remembers with a smile. "It felt so good. It made me feel so empowered."
Zuccardy didn't know it at the time, but she was experiencing what researchers call "posttraumatic growth" — positive psychological changes in the aftermath of a traumatic or stressful event. While her TBI was relatively minor, that wasn't the sole reason for her upswing.
Ashley Couture is a speech pathologist who specializes in brain injury rehabilitation at the University of Vermont Medical Center. Couture, who worked with Zuccardy after her accident, says that the severity of a patient's injury isn't necessarily predictive of the outcome. She's seen people with minor injuries have very poor recoveries, while others with severe injuries recover extremely well.
Other factors also play crucial roles, Couture explains, such as early intervention with rehab, support networks of family and friends, strong physical and mental health prior to the injury, and good coping mechanisms.
For her part, Zuccardy describes her lifelong love of game playing, international travel, music and foreign languages as very helpful in her recovery. Couture suggests that such habits benefited Zuccardy in two ways. First, when one engages in activities that boost both the right and left hemispheres of the brain, "It puts your brain in a more resilient state" and boosts overall neurological health.
Second, Couture says, taxing the brain throughout one's life builds overall coping skills and helps one find creative strategies to set and accomplish goals after the trauma.
"I would say Ann's recovery has been tremendous," Couture adds. "She's been successful with accomplishments, in setting goals for herself and achieving them."
Indeed, rather than "hunkering down and playing it safe," as some of her friends and family initially suggested, Zuccardy threw herself into the challenge of recovery. In 2013, she and Couture formed a support group for women who have suffered mild TBIs.
Emboldened by her first TEDx experience, Zuccardy sought out more speaking opportunities. In September 2014, she gave her second TEDx talk, at the Battenkill series in Manchester, Vt.
While Zuccardy referenced her TBI at that lecture, it wasn't her central theme. Instead, she explored the issue of how we get smarter by engaging in experiences that feel less safe to us than our normal behavior. As she told the audience, "Unsafe is uncomfortable, but it's where the real growth happens."
Since then, Zuccardy has delivered more speeches and keynotes, one every month or two. In May 2015, she gave the keynote address at the 28th annual conference of the Association for Applied and Therapeutic Humor in Philadelphia. She titled it "How to Create New Neural Pathways Through Play: Secrets of an Accidental Neuroscientist." To make her point, Zuccardy walked onstage backward wearing a bicycle helmet, then challenged her audience to eat lunch with their nondominant hands.
"Everyone LOVED her! She was so inspiring," writes former AATH president Mary Kay Morrison in an email. "The evaluations were overwhelmingly positive."
Despite such successes, Zuccardy doesn't want to be known as a brain injury expert or an inspirational speaker. While she acknowledges that hers is a good story, she knows it has a short shelf life, she says. Her goal is to speak to others about how they, too, can develop "the new smart," regardless of whether they've experienced a TBI.
"I'm convinced that ability is something that can be nurtured throughout our lifetimes," Zuccardy adds. "You just have to be willing to look silly and embrace your inner dork ... And be willing to make a mess."