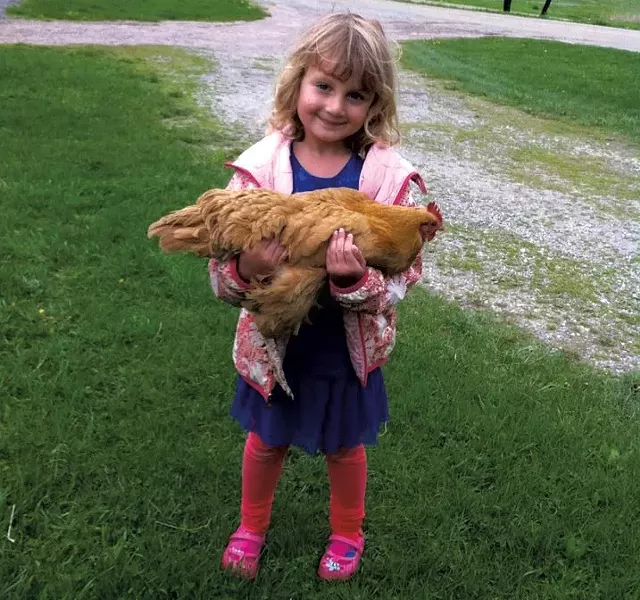 Alison Novak
Five-year-old Mira at Shelburne Farms
Growing up in the suburbs of New York City, I didn't have many opportunities to interact with barnyard animals. Seeing a goat or sheep was a novelty; it usually meant a one-off trip to a petting zoo or local farm. My Vermont-born kids, on the other hand, have almost daily encounters with animals. Though we don't have any livestock or pets of our own, it's a common occurrence to see free-range hens in a local yard or to pass horses or cows grazing in a field.
Since they were babies, we've also been taking 11-year-old Mira and 8-year-old Theo to Shelburne Farms. In this magical place, they've learned the proper technique for picking up a chicken, had the chance to feed and milk a cow and lead a sheep out to pasture, watched as newly born goats wobbled around on their unsteady legs, and hitched a ride on horse-drawn wagons and dog-pulled sleds (during the winter festival at the farm). It's my hope that these experiences in the children's farmyard during their formative years will make my kids more comfortable with all kinds of creatures as adults.
Many Vermont kids have much greater exposure to animals than my own do. Brett Stanciu writes about veteran educator James Messier, who's been teaching classes on animal science to teens in Franklin County for more than 50 years. Students learn skills that will prepare them for careers in agriculture.
Erinn and Sam Simon document the long-running Vermont Dairy Festival in Enosburg, where visitors celebrate our state's rich dairy heritage with events like a milking contest and Cow Plop Bingo.
We've written about animals outside of the farmyard as well. Read about the Howe family of Williston, who are raising backyard bees. "One to Watch" this month, features a 12-year-old boy from Barnard who trains a pair of 600-pound steers for ox-pulling competitions. Learn about a unique partnership between Vermont Fish and Wildlife and ECHO Leahy Center for Lake Champlain aimed at protecting threatened Eastern spiny softshell turtles.
In non-animal-related news, have your kids started the Good Citizen Challenge? It's a new initiative created by Seven Days and Kids VT that aims to help Vermont kids learn about civics, government, history and media literacy. Participants earn points by completing activities ranging from visiting historic sites to engaging in conversations with neighbors and elected officials. You'll find a scorecard in the center of this issue. Visit goodcitizenvt.com for more information.
And, if you haven't already, pick up a copy of our 2018 Daytripper summer fun guide, with dozens of suggestions for places to visit in our great state — including a few related to animals.