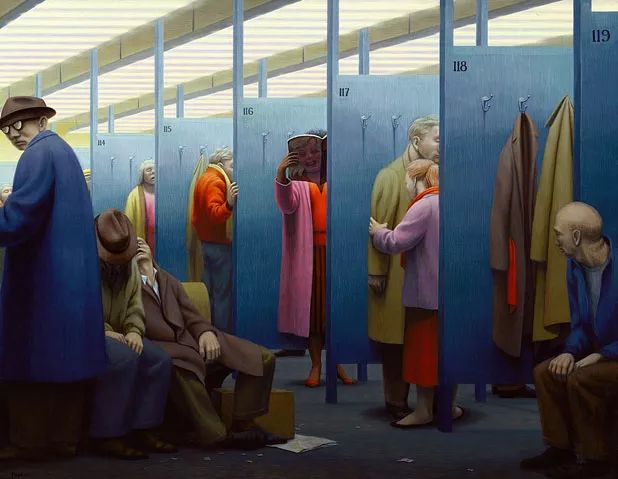 "The Waiting Room," by George Tooker, 1959
If ever there was a radical disconnect between artist and subject matter, it can be found in the personality and paintings of George Tooker.
Now 88 and nearly deaf, Tooker lives modestly in a semi-decrepit farmhouse on a craggy hillside in Hartland. He smiles placidly, Buddha-like, while discussing a body of work filled with haunting images of urban angst and alienation. Many of Tooker's paintings exude menace, but the man himself, clad in a checkered flannel shirt and denim pants, seems the very model of a mellow old Vermonter.
Tooker stopped painting in the last few years, so his meagerly furnished home displays no tools of his trade. It doesn't contain his paintings, either; those reside in museums, in private collections or in storage with his dealer in New York. Casual visitors could never guess that their gentle host is one of the great American artists of the 20th century.
Tooker abandoned the art world 50 years ago and, until recently, his reputation was fading. But now he's drawing attention again, thanks to a career retrospective shown late last year at the National Academy Museum in New York and currently on view at the Pennsylvania Academy of Fine Arts in Philadelphia. Hailing Tooker's "visionary imagination," the New York Times called the show "richly affecting."
Not that Tooker has spent the past few decades pining for such renewed recognition. He and his partner, William Christopher, didn't look back after leaving New York to settle in Hartland in 1960. Tooker says he "didn't really care" about being so far removed from a scene so enamored with aesthetic fads and art celebrities. Though his work received consistently positive reviews during his years in New York, "I wasn't particularly in fashion," Tooker recalls.
Abstract Expressionism was the style that dominated the late 1940s and '50s, and, although he drank with Jackson Pollock, Willem de Kooning and the other art heroes who frequented the Cedar Tavern in Greenwich Village, Tooker worked steadfastly in the representational tradition. He was also committed to a medium — egg tempera — that allows for none of the spontaneity integral to the Action Painting pioneered by Pollock. Tooker preferred to use this unforgivingly fast-drying mixture of egg yolk, water and powdered pigment, partly because of its association with luminaries of the Italian Renaissance.
Tooker's work has a classical formalism rooted in that knowledge of and respect for Western art history, yet his themes are entirely modern. And he developed an original style that might best be described as Social Surrealism.
In famous paintings such as "Subway" (1950) and "Landscape with Figures" (1965-66), Tooker plunges viewers into Kafkaesque labyrinths where lonely souls wander lost or stare forlornly. Theirs is a walled-in world bereft of human interaction and regimented by some unseen but palpable oppressor. Dread pervades these prison-like interiors. Everyone is adrift, frightened, suspicious.
Tooker says he chose to paint figuratively in part because it was the only way to express his political consciousness. "I painted things that I didn't like that I saw around me," he says. One of those things was racism. African Americans populate some of Tooker's paintings — not as exotics, but as ordinary individuals who share in the general disquiet.
"I felt very strongly about racial prejudice," Tooker says, noting that he marched in Selma, Alabama, in 1965 in solidarity with the voting-rights movement. "I was delighted to vote for Obama," he adds with a broad grin.
George Clair Tooker Jr. was born in Brooklyn in 1920, but his family moved to a then-rural part of Long Island a few years later. His father, a banker, was prosperous enough to send Tooker first to Phillips Academy and then to Harvard, where he joined the Young Communist League.
After being discharged from the U.S. Marine Corps because of an ulcer, Tooker enrolled in the Art Students League in New York. There he studied under Reginald Marsh, a painter of swarming scenes of working-class life. Around the same time, Tooker became intimate with Paul Cadmus, whose homoerotic images challenged conventions and whose "magical realism" style, rendered in egg tempera, cast a powerful spell on the aspiring painter.
Tooker met Christopher, another young painter, in 1949. They lived together in Manhattan and Brooklyn and spent weekends in Vermont, where they eventually purchased the 50-acre Hartland property for $1000 and took up residence in an old barn they gradually renovated. "I moved here because I could afford it," Tooker recalls. "I couldn't afford to live in New York at that time."
Tooker makes frequent mention of Christopher — "Bill" — who died in 1973. That loss turned the artist inward. He converted to Catholicism and began accentuating the spiritual element that been subtly present in some of his earlier works. He had started his career by depicting distasteful aspects of the world around him, but then, he says, his art evolved in the direction of "also painting things I did like."
What remained consistent was the luminosity Tooker was able to achieve through masterly application of egg tempera. Even at the peak of his production, he completed only two or three paintings per year — partly because his method was so exacting, and partly because it took time to get a fix on images he conjured from memories and reveries.
"In the Summer House" presents an enduring confluence of Tooker's ability to paint light and the melancholy that suffuses his work. In this 1958 composition, two girls hold paper lanterns on a latticed porch enclosed on three sides. One girl turns from the viewer, but her head is haloed by a lantern's glow; the other wears a somber expression as she hunches forward. No trace of childhood's joy is present in this painting — it's as though the girls were engaged in some somber duty. (One may think of Emily Dickinson's "Because I could not stop for death," in which children "strove" in their games at recess.)
Tooker's paintings evoke other literary associations — not surprisingly, given his Harvard degree in English lit. Orwell, for example, seems an inspiration for works that would have been perfect for an illustrated version of 1984.
Among visual artists, Tooker's work offers stylistic similarities to the Mexican muralists, particularly in the slightly flattened faces of his figures. His scenes of loneliness and sorrow have much in common with Edward Hopper's studies in stillness and creepy eroticism.
Tooker's art is uniquely itself, however. "I wasn't looking to make a lot of money," he says, reflecting on the path that took him out of the limelight ... and eventually into art history. "I lived simply and got along with what I have. I was able to do what I wanted to do."