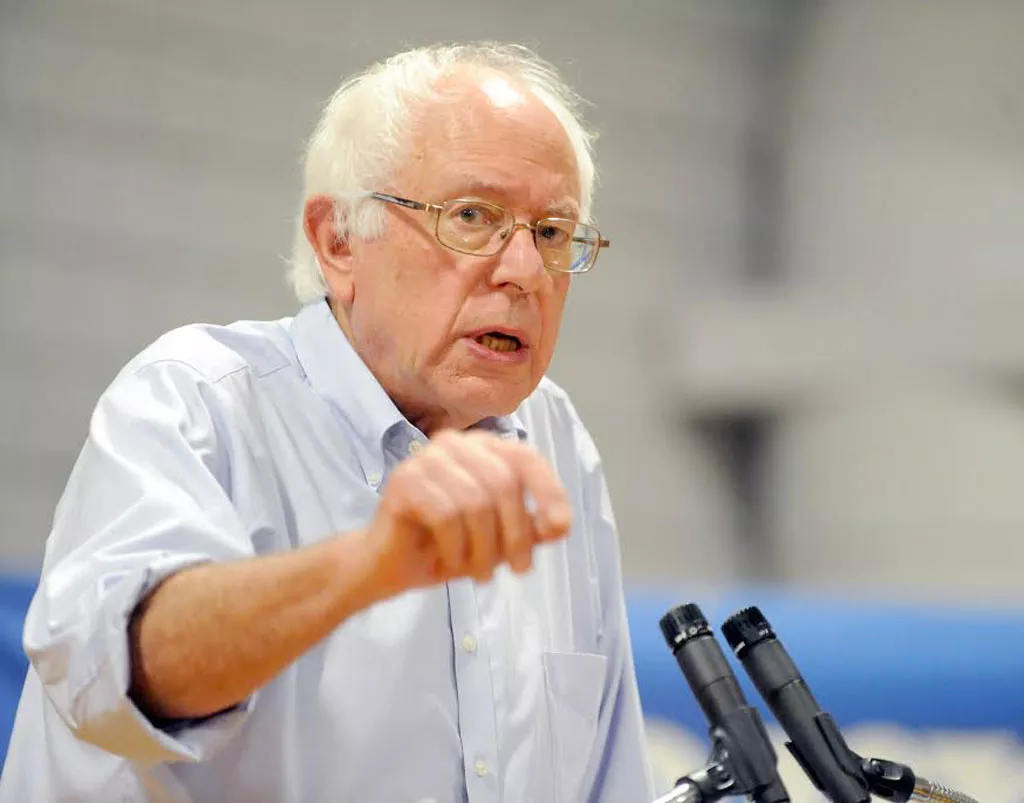 Jamie Gemmiti
Bernie Sanders
When Sen. Bernie Sanders (I-Vt.) announced three months ago that he'd seek the Democratic presidential nomination, the New York Times described him as a "grumpy grandfather-type."
That caricature has persisted — most notably in a recent Washington Post listicle with the irresistible headline: "7 ways Bernie Sanders reminds us of our grumpy grandpa."
According to some who have worked closely with Sanders over the years, "grumpy grandpa" doesn't even begin to describe it. They characterize the senator as rude, short-tempered and, occasionally, downright hostile. Though Sanders has spent much of his life fighting for working Vermonters, they say he mistreats the people working for him.
"As a supervisor, he was unbelievably abusive," says one former campaign staffer, who claims to have endured frequent verbal assaults. The double standard was clear: "He did things that, if he found out that another supervisor was doing in a workplace, he would go after them. You can't treat employees that way."
Like several others quoted in this column, the campaign worker would speak only on the condition of anonymity, saying that to do otherwise would constitute "career suicide" in a small state such as Vermont. But others echoed the former employee's story, saying the senator is prone to fits of anger.
"Bernie was an asshole," says a Democratic insider who worked with Sanders on the campaign trail. "Just unnecessarily an asshole."
"He yelled in meetings all the time," says one of Sanders' former Senate staffers. "He'd yell, 'I don't want to hear excuses! I want to get it done!'"
Victims of his management style aren't entirely negative about their former boss.
"I think he's got a ton of conviction," the same former Senate staffer says. "I just think he's kind of harsh to a fault. He's so focused on his issues that he doesn't have a softer side. I don't think he's a very nice man."
A former House staffer put it more diplomatically: "If there's a thing that I think is regrettable about Bernie, in the end, his soft touch is lacking."
In a statement provided to Seven Days, Sanders spokesman Michael Briggs defended his boss.
"Sen. Sanders has had very positive relations with people who have worked with him, many of them for decades," Briggs wrote. "Some people who were part of his team when he was the mayor of Burlington went on to his House and Senate staffs."
Briggs added that Sanders finds it "unfortunate that too many journalists and publications do not focus on the major issues of our time." Instead, he wrote, "Too many writers and publications look at politics as a soap opera and engage in gossip and personal attacks."
Call it gossip if you will, but Sanders is, after all, running for president. If he wins, he'll become the boss of some 4.2 million federal employees, have a standing army at his disposal and, you know, hold the nuclear launch codes. So an analysis of his management style and temper might be reasonable.
Criticism of Sanders' leadership abilities is nothing new. Steve Rosenfeld, a former Vermont journalist who served as Sanders' press secretary during his 1990 House campaign, wrote a book about his first successful statewide bid. In Making History in Vermont, Rosenfeld levels a tough assessment at his former boss, who passed him over for a congressional job at the campaign's end.
"At his best, Sanders is a skilled reader and manipulator of people and events," Rosenfeld wrote. "At his worst, he falls prey to his own emotions, is unable to practice what he preaches (though he would believe otherwise) and exudes a contempt for those he derides, including his staff."
Rosenfeld quotes Sanders himself in the book as saying, "Some people say I am very hard to work with. They say I can be a real son of a bitch. They say I can be nasty, I don't know how to get along with people. Well, maybe there's some truth to it."
Reached in San Francisco, where he now lives, Rosenfeld readily admits that his portrait of the candidate may be dated: "We all, over 25 years, get better at things and change." He points out that whatever managerial failings Sanders may have suffered from clearly haven't hobbled his career.
"There is a long line of people who can tell you anecdotes about Bernie being gruff and rude, but part of him being gruff and rude has gotten him as far as he's gotten," Rosenfeld says.
Sen. Anthony Pollina (P/D-Washington) joined Sanders' staff soon after Rosenfeld left it. He chalks up any early missteps to the stress his boss faced as a freshman member of Congress without a major party affiliation.
"I think, early on, he was kind of getting his feet on the ground. None of us had ever run a congressional office before," Pollina says. "He was under a lot of pressure to prove himself. A lot of people expected him to fail."
While Pollina says he never witnessed Sanders losing his temper at fellow staffers, he sympathizes with those who felt the job was a grind.
"He is a very hard worker himself. I mean, he is at it 24-7 — and that's really no exaggeration," Pollina says. "He works really, really hard, and he expects the people who work for him to work really, really hard."
George Thabault, who worked for Sanders when he was mayor of Burlington, sees that as a virtue, comparing it to "what you would expect from a CEO."
"He was a good boss and a demanding boss, in a way," says Thabault, now an auditor for the state Department of Vermont Health Access. "Sometimes you had to remind him that tomorrow's a holiday, so that 4:30 meeting — maybe the team won't be in the best mood."
In his statement, Briggs wrote, "It is true that in taking on some of the most important issues facing our country that he demands a lot, but no more than he demands of himself."
Even outside his staff, Sanders is well known in Vermont as a serious micromanager. Stories are legion of his calls to campaign aides en route to events to harangue them about the number of hot dogs and buns they'd bought.
"He is his own chief of staff," remarks one Democratic official who has worked with Sanders' office. "He's his own cook and bottle washer."
"It just never struck me as a hierarchy," adds Luke Albee, a former chief of staff to Sen. Patrick Leahy (D-Vt.). "It just struck me as being very linear, with him being the driving force on stuff."
According to Sanders' former Senate staffer, his tendency to micromanage often hobbled the office's work.
"Everything was done at the last second," that person said. "He made all the decisions."
But Darren Springer, a former energy adviser and chief counsel to Sanders, says he appreciated that the office environment was "collegial."
"Bernie and I talked frequently, and I could call him, email him or knock on his office door anytime," says Springer, who now serves as Gov. Peter Shumlin's chief of staff. Such access, he added, is "critical" to a legislative staffer to do his or her job.
Sanders' bristly nature is no secret to the public. Unlike most politicians — and practically all presidential candidates — he avoids personal interactions with voters whenever possible, preferring to make his points behind a podium. Occasionally, when his signature monologues are disrupted, anger gets the best of him.
When anti-Israeli protesters confronted him at a Cabot town hall meeting last August and interrupted him repeatedly, Sanders lost his cool.
"Excuse me," he snapped. "Shut up! You don't have the microphone."
Sanders seemed similarly frustrated when Black Lives Matter protesters interrupted him at a Netroots Nation conference in Phoenix last month. Though he did not erupt, he "flashed with annoyance," according to Time, and tried to talk over the protesters.
"Black lives, of course, matter. I spent 50 years of my life fighting for civil rights and for dignity," he said. "But if you don't want me to be here, that's OK. I don't want to out-scream people."
If there's one group Sanders particularly enjoys beating up, it's the media. Ever since reporters wrote off his early foray into electoral politics in the 1970s, he has considered them corrupt, shallow, stupid or a combination thereof.
During his unsuccessful 1988 campaign for Congress, Sanders famously towed a CBS "60 Minutes" camera crew into the Associated Press' Montpelier bureau to ask its writers, "How come you never cover my press conferences?" Two years later, as Rosenfeld recounts in his book, Sanders accused the AP of bias during a press conference on the Statehouse lawn, drawing rebukes from the rest of the press corps.
"When you're a politician dealing with the media, life is difficult," Sanders later wrote in his 1998 autobiography, Outsider in the House. "If you're getting screwed by the media, you don't have much recourse."
To Chris Graff, who served as AP bureau chief at the time, it was all a bit much.
"I felt he was overly antagonistic," Graff says, noting that the senator hates the media "probably at about the same level" as he hates billionaires. Graff is now vice president for communications at National Life Group.
Says Rosenfeld, who had to mend fences with the AP after Sanders' Statehouse tirade, "He thought I was a shitty press secretary because I wouldn't yell at Sue Allen, Chris Graff and the Associated Press." Allen, then an AP scribe, now serves as Shumlin's deputy chief of staff.
Years later, during a tough interview with Vermont Public Radio's Jane Lindholm, Sanders hung up on the "Vermont Edition" host while recording an interview. Lindholm had been grilling him on a fundraising email he sent just three days after a gunman killed six people in Tucson and injured then-congresswoman Gabrielle Giffords.
"It surprised me," Lindholm says. "It's unusual for a politician to hang up on you."
But Lindholm says she doesn't hold it against him.
"I don't think he sounded good in that moment to listeners, but I didn't think he was being rude to me," she says, adding that she appreciates that Sanders doesn't try to "sweet talk" the press. "Bernie's Bernie ... I don't know that his being prickly to journalists is a bad thing."
The public may not think so, either.
In recent weeks, Sanders has ramped up his criticism of the press — and received a largely positive response. A video of him berating reporters during an Iowa press conference last week has already attracted half a million hits. And a recent New York Times interview in which he criticized a reporter for asking about media coverage of Hillary Clinton's hair went viral.
Asked Monday in Conway, N.H., whether he thought it was "a winning issue to go after the media," Sanders said he did not. Then he jabbed his right index finger at the reporter who asked the question, CNN's Dan Merica, and asked the reporter whether he thought he covered climate change, poverty and African American unemployment sufficiently.
"Are you gonna discuss it?" Sanders demanded. "What I am asking you is: Help me! I mean, I'm not taking any of this personally. The American people want a discussion of the real issues."
Take it from the boss.