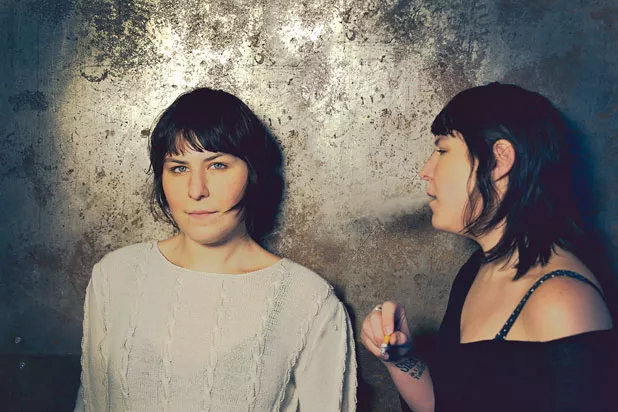 The cover image of Nuda Veritas' latest album, Verses of Versus, offers two opposing impressions of the Burlington-based songwriter, whose given name is Rebecca Kopycinski. On the left is a quiet, contemplative woman whose gray-blue eyes are piercing yet warm. A thin smile creeps toward the corners of her lips, her inviting visage framed by a pixieish hairdo and brightened by a white sweater.
Standing next to her, in profile, is a hellion in black. Unkempt hair hangs in limp, greasy strands above her shoulders. She sneers while exhaling the last drag of a cigarette held loosely between her thumb and forefinger, perhaps readying to flick it toward her twin in white.
"It's about paradox and irony and opposites," says Kopycinski, 27, explaining the central themes of her new record — though she could just as accurately be describing its cover art. "So many times, two extreme opposites can coexist as one. So this was supposed to be a picture of how that happens."
Her debut double album, Songs for Doing Dishes/Still Lives, released on local "other music" label Aether Everywhere, was also an exposition of opposing aesthetics. Dishes featured largely accessible, folk-based songwriting accented by ethereal experimental flourishes. Still Lives dove fearlessly down the rabbit hole, challenging listeners with an unwieldy assortment of ambient noise, drones and loops. Gestating for nearly two years, Verses of Versus is the offspring of those two discs and represents the artistic nexus where they intersect.
Sonically, the album melds the varying disciplines explored on her debut. On the a cappella opener, "Tension/Release," a blooming, unadorned chorus of Kopycinski ebbs and flows. The following track, "Sheets," employs ambient noises and loops of unidentifiable voices — perhaps taken from an answering- machine tape — to create a foreboding undercurrent of uncertainty beneath a bed of otherwise simple, pretty acoustic guitar and voice. Other songs, such as "L-I-V-I-N," are based almost entirely on constructing and then deconstructing repetitive electronic loops. Still others are mostly au naturel. "Zodiac for the End of Time (aka Lion's Share)" is entirely built on guitar and voice, while "Anachronistic Heart" comes to life in a swell of layered voices and harmonica.
"It's chaos mixed with beauty," Kopycinski suggests.
"Opposites Attack" is emblematic of her approach. A clean, staccato acoustic- guitar progression fights for space with a grimy and equally aggressive synthesizer line. The singer alternates between anguished wails and a controlled but exquisitely emotive melody. The song is Verses in microcosm.
"She has a great musical instinct," says Mars Pyramid Records founder Jay Blanchard. "And if the emotions she is trying to express require both a hand-plucked harp and a reversed loop of synthesizer noises, then she does it."
Blanchard is as intimately familiar with Nuda Veritas' growth and evolution as anyone, other than Kopycinski herself. He served as her recording engineer on Verses. He was also the public-relations director at Aether Everywhere when the label released her debut in 2009, though he views releasing that album under the AE banner as a double-edged sword.
"Rebecca gets lumped into the 'Burlington experimental scene' too often, usually to her detriment," Blanchard says. "While her affiliation with Aether Everywhere probably didn't help that, it did hopefully open her up to a new fan base that probably wouldn't have been interested in another female singer-songwriter otherwise."
He adds that while Kopycinski takes risks with her music, bewildering the listener is never the goal.
"The most important thing is always the music," Blanchard says. "The experimentation is only useful if it helps to accentuate her lyrics and melodies. It's never a superfluous flourish."
Verses is lyrically dense. Kopycinski says she initially intended to write more broadly. But she ultimately turned inward, using conflict in her own life for inspiration.
"I'm a total extrovert and, at the same time, a total introvert," she explains. Kopycinski lives alone. And she prefers to work and, especially, make music alone, calling herself a "complete creative control freak." Conversely, she admits a strong need to connect and surround herself with other people.
"Sometimes when you spend all that time with yourself, and don't foster those relationships … they might not be there anymore because you've neglected them," Kopycinski says, revealing the inspiration for "Sheets."
"I washed you right out of my sheets / so I could be alone when I sleep. / I don't need you, / Most, most, most of the time," she coos on the song. Then, at its conclusion, "When I need you you're not there, / Most, most, most of the time."
Blanchard says Kopycinksi's lyrical depth has evolved since her debut.
"While she has always been a great writer, her works have been becoming more and more intensely personal and … oddly, more universal as a result." He adds that she has adapted her poetry to suit her vocal style, consciously considering how words will sound when she sings them. On "Sheets," her lyrics are elastic. She bends and massages words so they become less traditional prose than simply part of the fabric of the larger tapestry. Like synthesizer loops, layered voices or guitar, lyrics are simply another weapon in Kopycinski's sonic arsenal.
"Rebecca is one of the most daring artists I know," says Blanchard. "She makes beautiful personal and creative songs. And the fact that she doesn't have a larger audience both locally and beyond is mind blowing to me."